Canadian musical artists often spend their entire careers honing their skills and working to produce music that is recognized on the national and international stage. The York graduates in the Ottawa Bach Choir—Athena Babayan (BFA '10), Kristen De Marchi (BFA '17), John Holland (PhD '18), Allen Mahabir (BA '15), Nicole Malcolm (BFA '14), and Kayla Ruiz (BFA '17)—managed to achieve that kind of recognition within only a few years of graduation.
Six alumni were members of the Ottawa Bach Choir, conducted by York University professor Dr. Lisette Canton, which took home the 2020 JUNO award for Classical Album of the Year: Vocal or Choral for their recording of Handel: Dixit Dominus; Bach & Schutz: Motets.
"Winning this JUNO award is like winning the Stanley Cup," explained York alumnus John Holland (PhD '18), a bass-baritone in the choir. "After years of perfecting your craft, it is the highest award you can win in Canadian recorded music."
York has been a leader in post-secondary music studies since the 1970s. The Department of Music was the first in Canada to offer integrated studies in jazz, contemporary improvisation, gospel music, world music performance, and ethnomusicology. Students studying music develop music skills and engage in music creation (performance, composition, improvisation), and community practice (education, community music, career-related placements).
"Dr. Canton has just done marvels when it comes to getting the best out of her choral singers," says Holland. "Inspiring them, but also teaching them the discipline of choral music and showing them that they can go and be professionals in choral music in Canada where people in the music world often think 'I'm a soloist or nothing'. The choral program at York has now proven that you can go and learn how to be a solid choral singer and then go on to win JUNO awards."
And while York's music program offers a huge amount of diversity in its program offerings, it's the people in those programs that really make the biggest difference.
"What I loved most about York's music program was the feeling of having really supportive people around me," said Kayla Ruiz (BFA '17), a soprano and soloist on the JUNO award-winning Ottawa Bach Choir CD. "Because singing is really intense, and it can be scary. When you have people around you that boost you up it just makes it so much better."
It was the same collaborative support system in the choir that helped make the first-time recording experience for some of its members, including Ruiz, a positive one.
"It was exciting and intense and terrifying at the same time," explained Ruiz. "But you know you're with all the other members of the choir, who are right there with you. So you're sharing that excitement and the scary moments and that definitely helped us help each other."
The recording received positive reviews from some of the industry's most respected publications including Gramophone Magazine, Fanfare, American Record Guide, and the Whole Note, and then - it was nominated for a JUNO Award.
The 49th annual Juno Awards ceremony, a celebration of musical artists in Canada, was cancelled just days before the event was expected to take place on Sunday, March 15 in Saskatoon, over concerns about the spread of the coronavirus.
The COVID-19 pandemic has dealt a blow to the arts, especially the performance arts in Canada. Performances were cancelled around the globe as the industry adjusted to ever-changing local guidelines around gatherings and learned how to perform in a virtual space.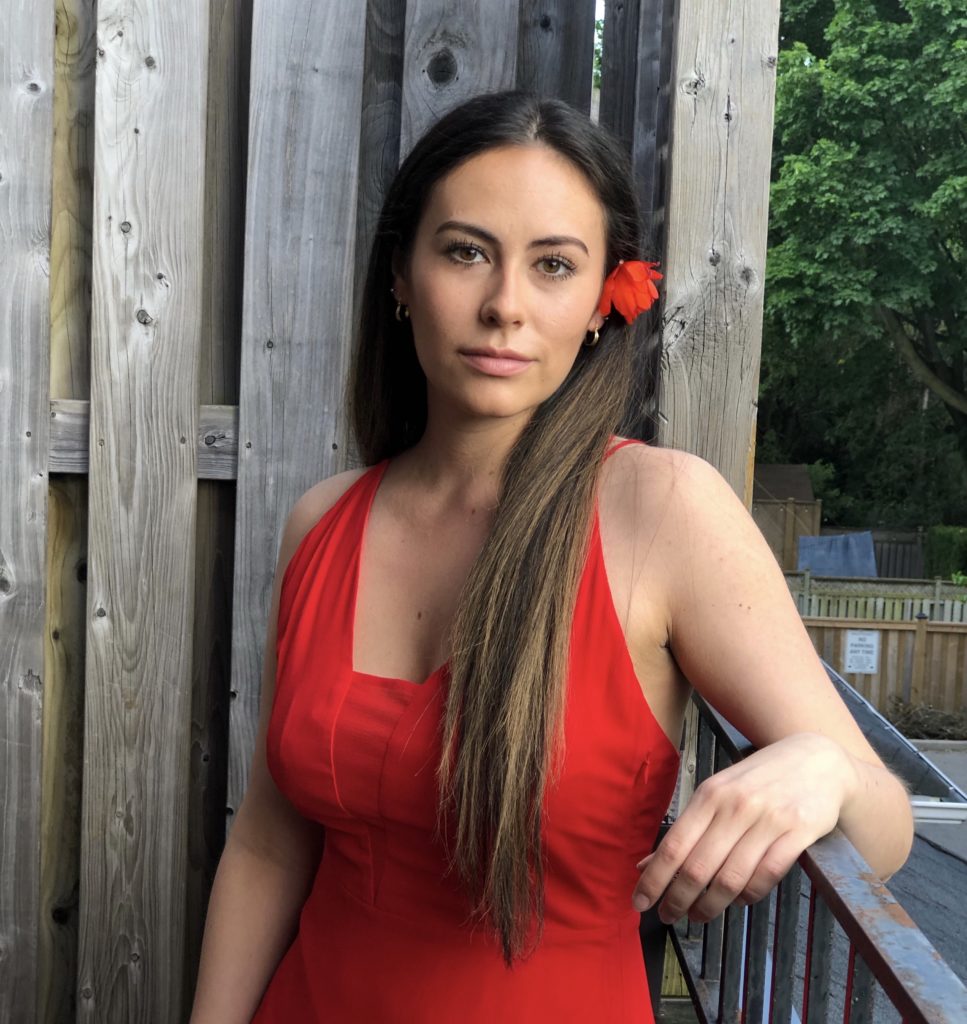 By mid-June, several months after the cancellation of the festivities in Saskatoon, the Juno Awards announced that they'd be holding a smaller scale virtual event on June 29.
"My mom knew how disappointed I was when the show was cancelled, since being nominated is such a big deal," said Ruiz. "So, to help me feel better, she laid out a 'red carpet' for me on the weekend the JUNOs would have taken place back in March and had me dress up in the dresses I would have worn."
The choir gathered via video-conference call, dressed in the outfits they'd purchased to wear back in March, to watch the event together. The call would probably turn out to be one of the most exciting video calls of their careers. After finding out they'd won in their category, there was a lot of celebratory cheering and screaming, admitted both Ruiz and Holland.
"When I posted on Facebook about winning the JUNO Award one of my colleagues, who was a mentor to me as well, replied saying 'Congratulations. This is forever,'" said Holland. "And I realized it is, it's something that can never really be taken away."
After months of uncertainty, the Ottawa Bach Choir safely resumed their performance season with a digital concert hall with hopes of returning to live music in 2021. The choir's award winning recording of Handel's Dixit Dominus is available for purchase on the choir's website, along with their digital concert hall recordings.