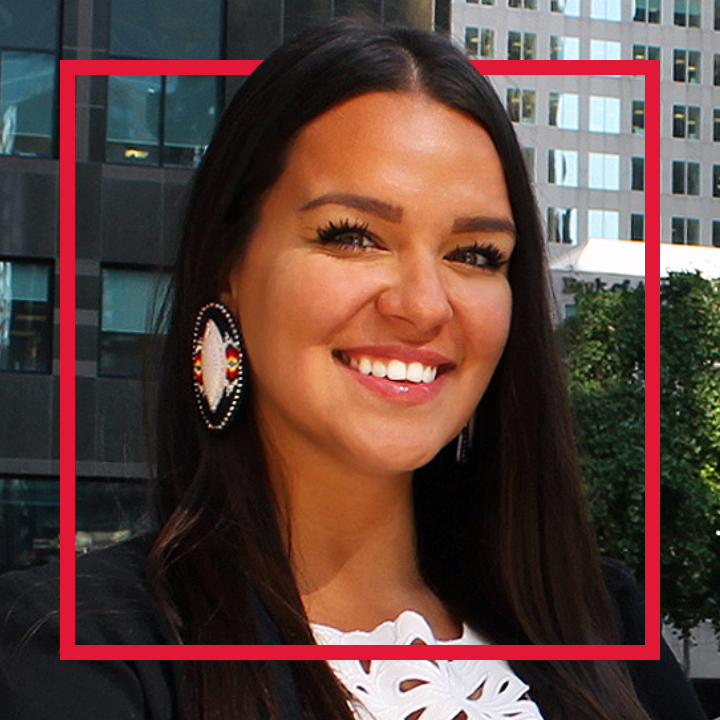 For Krystal Abotossaway (BHRM '13), arriving on York's busy, sprawling campus was overwhelming; but an unexpected invitation helped her feel at ease and introduced her to a community that would become a central part of her university experience.
"The first day at York was very scary for me," recalls Krystal. "I grew up in a small community and when I arrived on campus I immediately felt culture shock. I remember going to Scott Library and having to sign into a computer and receiving my York email. To my surprise I saw an email from our Indigenous counsellor inviting me to a potlatch. I suddenly had a sense of relief and packed my school bag, looking for the Centre for Aboriginal Student Services immediately. I spent the next four years going there everyday to use their services and creating a network of Indigenous peers and friends."
Today Krystal, an urban Ojibwe Anishinaabe Kwe from Aundeck Omni Kaning First Nations, is a sought-after expert, speaker, and leader on Indigenous engagement.  A senior manager at TD Bank, she is responsible for TD's Indigenous Peoples strategy, integrating colleague, customer, and community perspectives while continuing to build TD's brand as the employer, bank, and community partner of choice for Indigenous Peoples.
"A long history of colonialism, genocide, and racism has led to inequities in many facets of life for Indigenous Peoples," she says. "In workplaces across Canada, Indigenous Peoples are underrepresented, suffer a wage gap, and often experience isolation because of a lack of Indigenous role models at senior levels. Additionally, they are regularly surrounded by managers, colleagues, and senior executives who do not truly understand their history. Representing 4.9 per cent of the total Canadian population within Canada and seeing staggering unemployment rates within this demographic, I knew I had a calling to work on understanding the issues related to employment for Indigenous people. I've spent the last 10 years working with governments, private and public organizations on this "question" and coming up with solutions and involving Indigenous perspectives throughout the entire process. I hope to contribute to the unemployment rates within Canada and close the gaps."
As the president of the Indigenous Professional Association of Canada (IPAC), Krystal is helping to redefine the agenda and identify new measures for advancing the opportunities for and the capabilities of Canada's Indigenous Peoples. She is recognized across Canada – in the media and within the broader Indigenous community – as an expert spokesperson for bridging strategies that will enable more Indigenous youth to achieve their aspirations and dreams. Her thought leadership in advancing human resources knowledge on Indigenous engagement is informed by her academic background, including a degree in human resources from York's Faculty of Liberal Arts & Professional Studies (LA&PS), and ongoing leadership roles on multiple boards in the GTA.
Krystal hopes to become an executive at TD in the future and "really move the dial forward" for her Indigenous colleagues. She is once again a student at York, working on her Master of Human Resources Management.
"I want to create a safe workplace culture where all employees respect and understand the lived experiences of Indigenous within this country," she says. "It's unfortunate that the school system has only recently changed curriculum and made the necessary changes to truly show Canada's history. As a result, organizations must now play a role in educating and catching up generations before them that didn't have the same education. This is part of the reconciliation journey we are on."
To students just beginning their university experience, her advice is to network as much as possible for as long as possible. Krystal personally invites York students and fellow alumni to reach out via LinkedIn or social media to stay connected.
"The faster you begin a professional network, the better your outcomes will be when looking for employment and opportunities," she says. "I would also say to stay active in community and volunteer opportunities on campus. Part of being successful in this life is having access to resources and knowledge."
---