Stay connected with other York alumni through our new virtual book club.
In this online community, alumni can enjoy books related to lifelong learning, social issues, literature, psychology, and other user-submitted ideas. There is no cost to participate – you just have to get a copy of the book to enjoy.
How it works
Book club members will connect through a private online forum where they can discuss the current book and network with each other. The group will spend two months on each book, so you'll have plenty of time to read. You can sign up and learn more at: www.pbc.guru/yorku
Why should you join?
As a member, you will have an opportunity to both connect with fellow alumni and be part of a lifelong learning community!
From the Ashes: My Story of Being Métis, Homeless, and Finding My Way by Jesse Thistle (BA '15).
Thistle, who identifies as Métis-Cree-Scot, is a York University Ph.D. candidate in history and an assistant professor in the Department of Equity Studies. In this honest memoir, a Canada Reads 2020 finalist, Thistle writes about his painful experiences with trauma, addiction, and homelessness.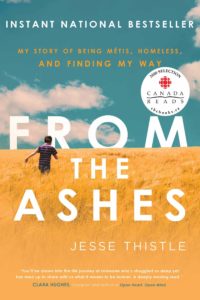 ---

Stay in touch: Update your info
Whether you're a student or one of our alumni, don't miss out on news from York Alumni & Friends! Sign up for the Alumni Matters newsletter and update or change your info and communications preferences today.
This is your Impact

Volunteer
Use your experience, build your network and keep connected to help York students and alumni.
Find Opportunities
Share your story
York alumni are making an impact. Inspire others by sharing your story.
Start Sharing