Alumni Networks | Stong College 3rd Annual Alumni and Friends Golf Tournament
8 September 2021
@
9:00 am
-
5:00 pm
To ensure the safety of our participants, the Stong College 3rd Annual Alumni and Friends Golf Tournament will be held in accordance with local and provincial COVID-19 regulations. More information and details, including any changes or modifications, will be posted on this page closer to the date of the tournament.
The Stong College Alumni Network is excited to host the annual Alumni and Friends Golf Tournament on Wednesday, September 8, 2021, at Silver Lakes Golf Club in East Gwillimbury, Ontario.
An alumni golf day had been a longstanding tradition at Stong College with the "Green Machine Invitation Golf Tournament" having been staged for 30 years, from 1975 through 2004. (Did you know? 'Green Machine' was the name of Stong's sports teams for many years and was created long before Toronto-Dominion adopted it for its cash dispensing machines!).
Groups will commence tee-offs at 9am EST. Registration is limited to the first 48 golfers. The cost for 18 holes of golf plus cart is $65 per player plus tax. There will be prizes for specific shots on designated holes and refreshments available afterward in the spacious clubhouse.
You may organize your own foursome or sign up as a single, twosome or threesome and be placed in a foursome. Family, friends and guests are welcome to attend.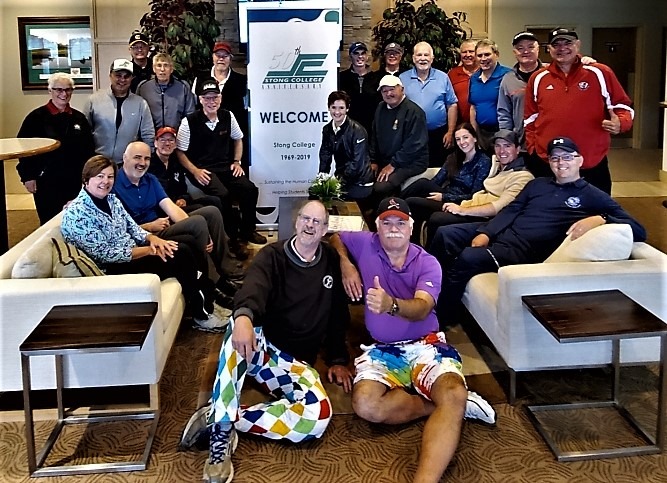 For more info and to register in this year's event, please contact:
Ralph Gauthier BA '74, ralphgauthier@msn.com 705.431.8514 (call only)
Steve Dranitsaris BA '73, sdrano@rogers.com 647.880.4214 (call or text)