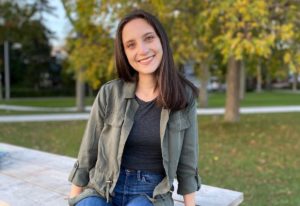 As the pandemic began to hit Canada, York alumna Jessica Gahtan wanted to do something to help keep family, friends, and the community around her safe. She was determined to help fill gaps in available personal protective equipment available to frontline healthcare workers, so she and some friends began to speak with local libraries, engineering students, research labs, and community members about using their 3D printers. They reached out to fellow students to assemble and deliver PPE and devised a contact-free pickup and drop-off system to ensure safe physical distancing. Through crowd-sourcing and applying for grants, the group raised over $30,000 in less than one month. They printed and delivered more than 5,000 masks and shields to frontline workers at local clinics, hospitals, pharmacies, retirement homes, and other institutions. They even took the next step by developing 3D-printed isolation tents for healthcare centres while working towards new innovations in N95 masks and COVID test swab prototypes.
Schulich graduates Luca De Blasis and Hemanth Soni also stepped up with a creative initiative to help fight COVID-19 called GroceryHero. Early in the pandemic, medical professionals worried about working on the frontline of the health crisis while also going out in their communities for essentials like groceries. Not wanting to put their communities at risk, they needed another solution. GroceryHero was created to fill this gap, matching volunteer shoppers to medical professionals in their neighbourhood. The deliveries are free, medical workers only reimburse the volunteers for the cost of groceries, and can stay safely at home to help protect themselves, their patients, and the broader community from virus spread.
Beyond the medical community, legal organizations have also become overwhelmed during the pandemic. To help fill these gaps, York University alumna Davina Shivratan launched a non-profit initiative called LawLinks to help match law students who want to volunteer their time with law firms, clinics and organizations that need help on projects.
LawLinks has matched law student volunteers on a wide range of projects including preparing research memos on an area of the law, updating fact sheets to reflect new legislative changes, writing articles and blog posts on areas of the law, and preparing public legal information materials. To date, LawLinks has had more than 250 registered volunteers with 53 students from Osgoode Hall Law School.
Gurbeen Bhasin (BA '92) and her team at Aangen worked tirelessly to provide meals and cleaning services to Toronto's most vulnerable populations – homeless and at-risk community members – who were hit hard throughout the COVID-19 pandemic. Their services have prepared and delivered 8,000 meals to city shelters and respites. They also launched a cleaning service for restaurants and stores to maintain proper hygiene protocols, and received a grant from Red Cross to help hire more cleaning staff to ensure local businesses reopen safely.