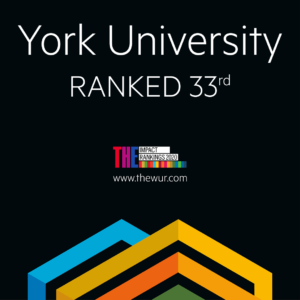 For the second year in a row, York University has earned recognition from Times Higher Education (THE) in its Impact Rankings, placing an impressive 33rd out of 767 universities. York ranked in the top ten in four key categories, and top 100 in 15 of the 17 United Nations Sustainable Development Goals measured by THE. York was ranked first in Canada (fifth in the world) for Clean Water and Sanitation, first in Canada (ninth in the world) for Reduced Inequalities third in Canada (ninth in the world) for Sustainable Cities and Communities, and first in Canada (10th in the world) for Gender Equality. On the national stage, York is ranked 8th which further exemplifies a commitment to building a stronger, more inclusive and sustainable country and world, reducing the impacts of climate change and responding to pressing global challenges. The 2020 THE ranking once again recognizes York University's position on the world stage of changemakers.
At the Faculty level, York is also achieving high marks globally. The Financial Times of London has ranked the Kellogg-Schulich Executive MBA the top EMBA program in Canada. The 2020 Financial Times ranking marks the 13th time that the Kellogg-Schulich EMBA program has been ranked first in Canada during the 14 years it has participated in the ranking. The Kellogg-Schulich EMBA program was ranked 37th globally and placed 10th among programs based in North America in this year's Financial Times ranking. The Kellogg-Schulich EMBA also ranked 16th in the world in the "International Course Experience" category; 19th in the world in the "Research" category; and 24th in the world in the "Work Experience" category. The Kellogg-Schulich EMBA Program has also been ranked first in the world and among the top 10 in the world by The Economist. The Kellogg-Schulich EMBA Program was also ranked fourth in the world among joint programs by QS Global EMBA in its 2020 global ranking.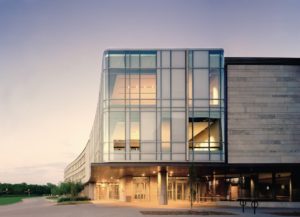 Beyond Business, York has also been recognized for the strength of our School of Kinesiology and Health Science by Shanghai Ranking's Global Ranking of Sport Science Schools and Departments. Universities are ranked by several indicators of academic or research performance, including papers indexed in Web of Science, total citations, citations per paper, papers published in top 25% journals, and percentage of internationally collaborated papers. York is ranked 21 in the world and within the top three institutions in Canada on this important global ranking.
On the national stage, York University placed Top 20 in 6 of the 9 Maclean's magazine program rankings including: Business (No. 8), Education (No. 5), Environmental Science (No. 14), Mathematics (No. 14), Nursing (No. 19) and Psychology (No. 6).These rankings consider both program reputation and research reputation for each program category. In the overall rankings for comprehensive schools, York University placed sixth, moving up one spot from the previous year.