Every day brings new uncertainty and risk as our students try to cope with this crisis in both their academic and personal lives - losing part-time jobs that help pay tuition and bills, the travel costs of returning home, and trying to keep themselves healthy and safe from a serious health threat. That's why we created York's Emergency COVID-19 Student Relief Fund to make sure that every student has a place to go, food to eat, and isn't forced to make a decision that could undermine their future. As the pandemic continues, this fund will be able to respond to meet the evolving needs of students, ensuring that they can continue their academic journey.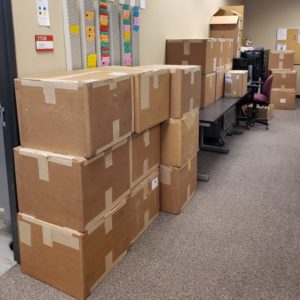 Our commitment to the York community extends beyond financial support. When public health officials urged Canadians to learn and work remotely, York U's Chief Information Officer and his dedicated team shifted gears to make sure they could accommodate the massive IT needs of our 55,000 + community. A top priority was supporting our students, faculty, and staff with the technology they needed to learn, teach, or work at home. York ordered 1,500 laptops and created a loan program to ensure every member of our now largely virtual campus community remains supported.
This support does not stop at hardware. We have also introduced the Student Virtual Assistant (SAVY), which interacts with students through a chat-like interface to help them get connected to resources for academic success, health and wellness, student life, campus services and career development. SAVY is a software-based agent, built on IBM's Watson platform through a collaboration between York's Division of Students, University Information Technology, York's Faculties and service areas, and guided and informed by students.
SAVY is populated with content to help students complete their academic journey at York. It will help them find accurate information relating to the questions asked, recommend relevant resources, offer directions and wayfinding, provide reminders about upcoming deadlines and connect students to other resources, people and places on campus. With SAVY, students can access general information via mobile phone and online, 24/7, 365 days a year. It serves as students' first point of contact, designed to provide relevant, targeted information without the need for searching. All undergraduate students can access SAVY via eClass (formerly Moodle for Keele Campus students) and the Current Students website.
We're also providing updates so students and Faculty can plan for the future. In November, the University announced its plans for the Summer term. After consulting with the government and public health authorities, and considering our guiding principles of academic integrity, fairness to students and the dissemination of regular, timely information, the university decided to continue offering a full selection of academic programming using primarily online/remote learning, with select in-person instruction. As guidance from public health authorities evolves, we will continue to explore opportunities to offer more in-person learning when it is safe to do so. Students and faculty will have access to the essential teaching and learning tools needed for a high-quality online education experience.