During the holiday season, we are very pleased to be able to provide students, faculty, and most staff with well-deserved extra days off during an extended break, to thank them for their continued service and dedication during the challenges caused by the ongoing pandemic.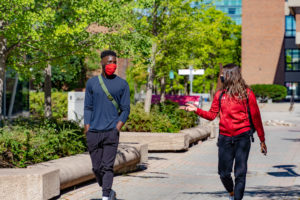 Over the break, we are also pleased to support York International (YI) in offering international students engaging programming including Virtual Coffee Breaks, a Winter Holiday Gala, and discussions on the YI Global Community Facebook page. YI will also give orientation sessions for new international students and will have staff on call 24/7 throughout the holidays for urgent and emergency situations for international students, including immigration advisors, support for students in quarantine, and more.
The coronavirus has made travel challenging for people worldwide and international students heading to York University have been no exception. Fortunately, international students, new faculty members from abroad and other community members will be able to rely on the University's support.
York University continues to cover the cost for quarantine housing and meals for its incoming international students through a new initiative designed to ease their transition to Canada during COVID-19. Under York's new program, students arriving in Canada will be transported to one of two airport hotels where they will observe quarantine in their rooms for two weeks, receiving three meals daily. They will also be given daily check-ins by members of the University community, as well as access to virtual programming to support their health and wellness, academic success and find community. Counselling staff are available by phone and online, and students also have access to all services and a range of activities online including academic advising, residence life, recreational opportunities via Zoom and online coffee breaks. York's quarantine plan is a pan-university effort that draws on staff support from York International, Housing and Conference Services, the Faculties, the Office of Student and Community Relations and the Division of Students. The university worked with Toronto Public Health to create the plan.