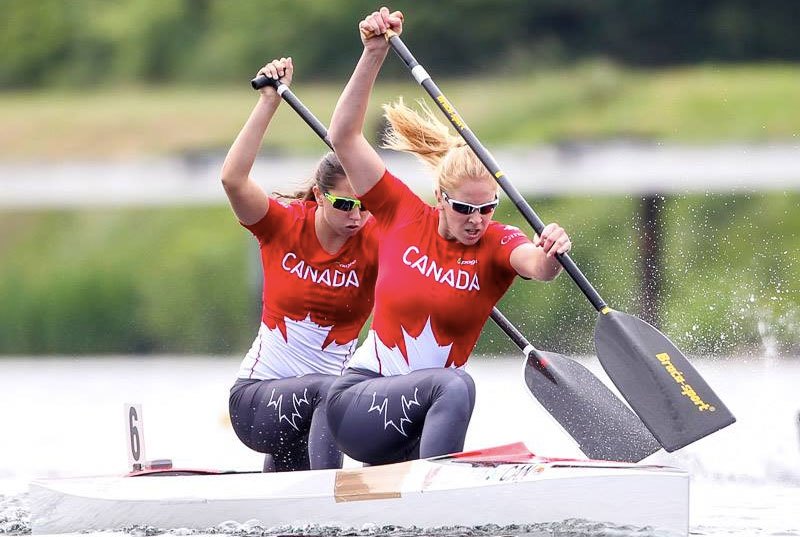 York University students, alumni and staff have a long history of success at the Olympics. At the most recent games in Tokyo, Japan there were a number of Lions representing Canada on the World Stage. Whether they were competing, officiating, coaching, supporting behind the scenes in health care, or working with the media, they inspired us all and gave us all something to cheer about.
Katie Vincent , an undergraduate student in York's Faculty of Health and a canoe-kayak sprint athlete won a Bronze medal in the Canoe Sprint – Women's Canoe Double 500m, with a finish time of 1:59.041. Katie also competed in the Canoe Sprint – Women's Canoe Single 200m – finishing eighth in the final with a time of 47.834.
York staff member became an Olympic TikTok sensation
Frankie Billingsley, associate registrar and director, student records and scheduling at York University, realized a lifelong dream when she travelled to Tokyo to be an umpire for women's softball. What she didn't know was she was about to become the subject of a viral TikTok video.
York University student-athlete set North American record at Tokyo Paralympics
Incoming York University student-athlete Charlotte Bolton joined the Lions in fall 2021 after an impressive Paralympic debut in Tokyo.
As the youngest member of Team Canada's Paralympic track and field team, the 18-year-old, finished sixth overall in both of her events – F41 shot put, with a best distance of 8.73 metres; and F41 discus throw, with a North American record-setting distance of 27.72 metres.
Go Lions!
Competing in the Tokyo 2020 Olympics were:
Jason Ho-Shue (Badminton), a Canadian badminton player and a student in the Faculty of Liberal Arts & Professional Studies.
Katie Vincent (Canoe-Kayak), an undergraduate student in York's Faculty of Health and a canoe-kayak sprint athlete.
Brandie Wilkerson (Beach Volleyball), who attended York until 2014 and starred for the women's volleyball team during her time with the Lions.
Results: Rank: 5 (eliminated by Latvia in quarterfinal)
Melissa Humana-Paredes (Beach Volleyball), a York alumna who previously played for four years for the Lions.
Shady El Nahas (Judo), a York alumnus who competed as a wrestler at York in 2017.
Brittany Crew (Shot Put), a decorated former Lion with multiple medal-winning performances at international competition and recently earned a slew of impressive awards for York at the national stage.
Pierce Lepage (Decathlon), a runner who graduated from York University in 2019 with a degree in interdisciplinary social science.
Bismark Boateng (Track & Field), who competed in track at York after transferring from Ryerson where he initially competed in soccer.
Khamica Bingham (Track & Field), a 2020 humanities graduate and highly decorated track and field competitor
Arthur Szwarc (Indoor Volleyball), who was a Lion for two seasons, earning accolades in both years for men's volleyball.
Syed Muhammad Haseeb Tariq (Swimming), a York University graduate from the Faculty of Liberal Arts & Professional Studies and former member of the York University Lions competitive swim team.
Other notable York affiliations
Two York-affiliated athletic therapists also joined the Canadian Olympic team. Alumna Andrea Prieur, a certified athletic therapist, was part of the Health Services team and alumna Natalie Ghobrial was with the women's softball team as their athletic therapist.
Two York graduates were heard on the broadcasts during events: Lance Winn, who graduated from York with a political science degree in 1991, called the play-by-play for the softball tournament on CBC, where Canada earned a bronze medal; and Andi Petrillo, an English and mass communications graduate, who split time with the legendary Scott Russell as studio host for the main CBC coverage. Behind the scenes, Anne-Marie Thuss was a member of the women's basketball team's staff as team manager. Her squad finished the round robin with a 1-2 record and did not advance to the quarterfinal due to point differential. Thuss competed with the Lions in the 1980s.
---
More on the Olympics
See the Lions Olympic results
Read the bios of York-affiliated athletes competed at the Tokyo Olympics