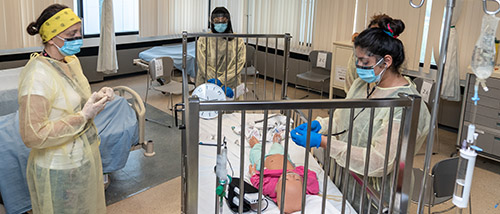 York is moving forward with plans to establish a new School of Medicine that will focus on training family and community doctors through an integrated and preventive model for health care, which aims to promote care beyond the walls of hospital facilities. The model is expected to create greater health equity for diverse communities in the GTA and underserved communities across Canada, including the more than one million Ontarians who do not have access to primary care.
York's Faculty of Health includes one of Canada's largest Nursing and Nurse Practitioner programs, as well as outstanding bachelor and graduate degrees in psychology, kinesiology and health sciences, global health, health studies, health policy and management, health informatics, critical disability studies, and neuroscience.
"Mackenzie Health is proud to partner with York University to advance the delivery of health care in York Region by supporting plans for a new School of Medicine in the GTA. A new medical school, coupled with our shared commitment and ongoing collaboration with York University to further health research, programming, education and more, will allow us to build capacity together to improve the health and well-being of our communities for generations to come,"
— Altaf Stationwala, President and CEO, Mackenzie Health.
Establishing a School of Medicine has been a long-term strategic priority for York, and the University is pleased to be moving ahead with plans to submit a formal proposal to the provincial government later this year.
In addition to the significant depth and breadth of academic programming and research in the medical field, York has developed a solid foundation through industry partnerships.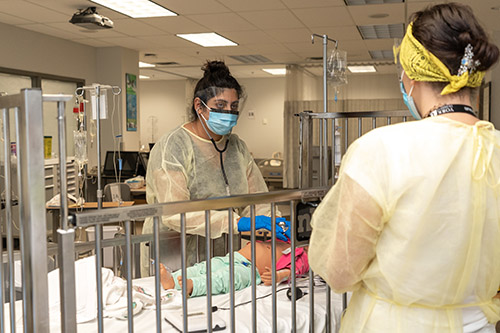 This year, York University and Oak Valley Health announced a local health partnership aimed at advancing innovative medical education and research collaboration opportunities as well as improving the health and health care of citizens in Markham, Whitchurch-Stouffville, Uxbridge and beyond.
Features of this partnership include:
future medical education partnerships
development of research capacity and opportunities between faculty and health care professionals and other hospital staff
clinical placements and experiential learning opportunities for students
continuing education and development for health care professionals and other hospital staff
health and wellness partnerships including clinics, community health initiatives, public and community education, global health initiatives and special events
information systems integration partnerships including learning management systems and test systems, and other mutually agreed educational or research programs including CIFAL York, to be housed at Markham Campus opening Fall 2023.
---
More on York's School of Medicine
Establishing the new School of Medicine at York