#10 - York University is rising above and breaking through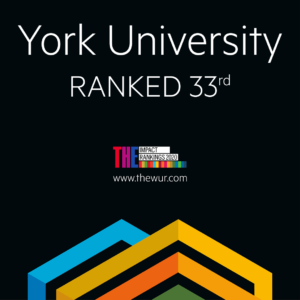 For the second year in a row, York University has earned recognition from Times Higher Education (THE) in its Impact Rankings, placing an impressive 33rd out of 767 universities. York ranked in the top ten in four key categories, and top 100 in 15 of the 17 United Nations Sustainable Development Goals measured by THE. York was ranked first in Canada (fifth in the world) for Clean Water and Sanitation, first in Canada (ninth in the world) for Reduced Inequalities third in Canada (ninth in the world) for Sustainable Cities and Communities, and first in Canada (10th in the world) for Gender Equality. On the national stage, York is ranked 8th which further exemplifies a commitment to building a stronger, more inclusive and sustainable country and world, reducing the impacts of climate change and responding to pressing global challenges. The 2020 THE ranking once again recognizes York University's position on the world stage of changemakers.
At the Faculty level, York is also achieving high marks globally. The Financial Times of London has ranked the Kellogg-Schulich Executive MBA the top EMBA program in Canada. The 2020 Financial Times ranking marks the 13th time that the program has been ranked first in Canada during the 14 years it has participated in the ranking. The program was ranked 37th globally and placed 10th among programs based in North America. It was also ranked 16th in the world in the "International Course Experience" category; 19th in the world in the "Research" category; and 24th in the world in the "Work Experience" category. It has also been ranked first in the world and among the top 10 in the world by The Economist and was also ranked fourth in the world among joint programs by QS Global EMBA in its 2020 global ranking.
Beyond Business, York has also been recognized for the strength of our School of Kinesiology and Health Science by Shanghai Ranking's Global Ranking of Sport Science Schools and Departments. Universities are ranked by several indicators of academic or research performance, including papers indexed in Web of Science, total citations, citations per paper, papers published in top 25% journals, and percentage of internationally collaborated papers. York is ranked 21 in the world and within the top three institutions in Canada on this important global ranking.
On the national stage, York placed Top 20 in 6 of the 9 Maclean's magazine program rankings including: Business (No. 8), Education (No. 5), Environmental Science (No. 14), Mathematics (No. 14), Nursing (No. 19) and Psychology (No. 6). These rankings consider both program reputation and research reputation for each program category. In the overall rankings for comprehensive schools, York placed sixth, moving up one spot from the previous year.
#9 - York University's community-first approach is supporting students, faculty and staff
During the holiday season, we are very pleased to be able to provide students, faculty, and most staff with well-deserved extra days off during an extended break, to thank them for their continued service and dedication during the challenges caused by the ongoing pandemic.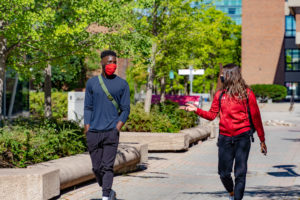 Over the break, we are also pleased to support York International (YI) in offering international students engaging programming including Virtual Coffee Breaks, a Winter Holiday Gala, and discussions on the YI Global Community Facebook page. YI will also give orientation sessions for new international students and will have staff on call 24/7 throughout the holidays for urgent and emergency situations for international students, including immigration advisors, support for students in quarantine, and more.
The coronavirus has made travel challenging for people worldwide and international students heading to York have been no exception. Fortunately, international students, new faculty members from abroad and other community members will be able to rely on the University's support.
York continues to cover the cost for quarantine housing and meals for its incoming international students through a new initiative designed to ease their transition to Canada during COVID-19. Under York's new program, students arriving in Canada will be transported to one of two airport hotels where they will observe quarantine in their rooms for two weeks, receiving three meals daily. They will also be given daily check-ins by members of the University community, as well as access to virtual programming to support their health and wellness, academic success and find community. Counselling staff are available by phone and online, and students also have access to all services and a range of activities online including academic advising, residence life, recreational opportunities via Zoom and online coffee breaks. York's quarantine plan is a pan-university effort that draws on staff support from York International, Housing and Conference Services, the Faculties, the Office of Student and Community Relations and the Division of Students. The university worked with Toronto Public Health to create the plan.
#8 - York University is supporting our students wherever they live and learn
Every day brings new uncertainty as our students try to cope with this crisis in both their academic and personal lives - losing part-time jobs that help pay tuition and bills, the travel costs of returning home, and trying to keep themselves healthy and safe from a serious health threat. That's why we created York's Emergency COVID-19 Student Relief Fund to help make sure that every student has a place to go, food to eat, and isn't forced to make a decision that could undermine their future. As the pandemic continues, this fund will be able to respond to meet the evolving needs of students, so they can continue their academic journey.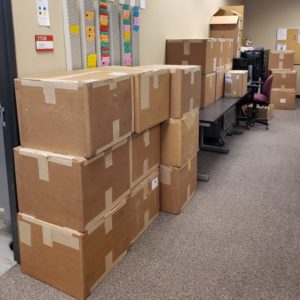 Our commitment to the York community extends beyond financial support. When public health officials urged Canadians to learn and work remotely, York's Chief Information Officer and his dedicated staff shifted gears to make sure they could accommodate the massive IT needs of our 55,000 + community. A top priority was supporting students, faculty, and staff with the technology they needed to learn, teach, or work at home. York ordered 1,500 laptops and created a loan program to ensure every member of our now largely virtual campus community remains supported.
This support does not stop at hardware. We have also introduced the Student Virtual Assistant (SAVY), which interacts with students through a chat-like interface to help them get connected to resources for academic success, health and wellness, student life, campus services and career development. SAVY is a software-based agent, built on IBM's Watson platform through a collaboration between York's Division of Students, University Information Technology, York's Faculties and service areas, and guided and informed by students.
SAVY is populated with content to help students throughout their academic journey at York. It will help them find accurate information relating to the questions asked, recommend relevant resources, offer directions and wayfinding, provide reminders about upcoming deadlines and connect students to other resources, people and places on campus. With SAVY, students can access general information via mobile phone and online, 24/7, 365 days a year. It is designed to provide relevant, targeted information without the need for searching. All undergraduate students can access SAVY via eClass (formerly Moodle for Keele Campus students) and the Current Students website.
We're also providing updates so students and Faculty can plan for the future. In November, the University announced its plans for the Summer term. After consulting with the government and public health authorities, and considering our guiding principles of academic integrity, fairness to students and the dissemination of regular, timely information, the university decided to continue offering a full selection of academic programming using primarily online/remote learning, with select in-person instruction. As guidance from public health authorities evolves, we will continue to explore opportunities to offer more in-person learning when it is safe to do so. Students and faculty will have access to the essential teaching and learning tools needed for a high-quality online education experience.
#7 - York Alumni are paying it forward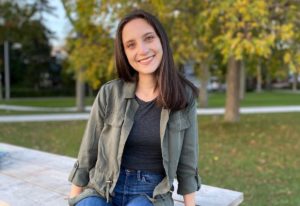 As the pandemic began to hit Canada, York alumna Jessica Gahtan wanted to do something to help keep family, friends, and the community around her safe. She was determined to help fill gaps in available personal protective equipment available to frontline healthcare workers, so she and some friends began to speak with local libraries, engineering students, research labs, and community members about using their 3D printers. They reached out to fellow students to assemble and deliver PPE and devised a contact-free pickup and drop-off system to ensure safe physical distancing. Through crowd-sourcing and applying for grants, the group raised over $30,000 in less than one month. They printed and delivered more than 5,000 masks and shields to frontline workers at local clinics, hospitals, pharmacies, retirement homes, and other institutions. They even took the next step by developing 3D-printed isolation tents for healthcare centres while working towards new innovations in N95 masks and COVID test swab prototypes.
Schulich graduates Luca De Blasis and Hemanth Soni also stepped up with a creative initiative to help fight COVID-19 called GroceryHero. Early in the pandemic, medical professionals worried about working on the frontline of the health crisis while also going out in their communities for essentials like groceries. Not wanting to put their communities at risk, they needed another solution. GroceryHero was created to fill this gap, matching volunteer shoppers to medical professionals in their neighbourhood. The deliveries are free, medical workers only reimburse the volunteers for the cost of groceries, and can stay safely at home to help protect themselves, their patients, and the broader community from virus spread.
Beyond the medical community, legal organizations have also become overwhelmed during the pandemic. To help fill these gaps, York alumna Davina Shivratan launched a non-profit initiative called LawLinks to help match law students who want to volunteer their time with law firms, clinics and organizations that need help on projects.
LawLinks has matched law student volunteers on a wide range of projects including preparing research memos on an area of the law, updating fact sheets to reflect new legislative changes, writing articles and blog posts, and preparing public legal information materials. To date, LawLinks has had more than 250 registered volunteers with 53 students from Osgoode Hall Law School.
Gurbeen Bhasin (BA '92) and her team at Aangen worked tirelessly to provide meals and cleaning services to Toronto's most vulnerable populations – homeless and at-risk community members – who were hit hard throughout the COVID-19 pandemic. Their services have prepared and delivered 8,000 meals to city shelters and respites. They also launched a cleaning service for restaurants and stores to maintain proper hygiene protocols, and received a grant from Red Cross to help hire more cleaning staff to ensure local businesses reopen safely.
#6 - A global pandemic hasn't stopped York University from advocating for a more just and equal society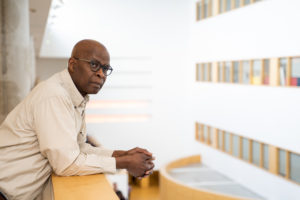 At the beginning of the pandemic, advocated for the collection of disaggregated data on COVID-19 in order to reveal and highlight the unequal health outcomes being experienced by people of different backgrounds. A Professor in the Faculty of Education, Dr. James is also the senior Advisor on Equity and Representation at York and is widely recognized for his research contributions in the areas of intersectionality of race, ethnicity, gender, class and citizenship. Thanks to his advocacy, the Government of Ontario began to collect and compare COVID-19 case data against neighbourhood-level data on race and immigration, revealing how racialized and lower-income communities in Ontario are disproportionately impacted by COVID-19.
Our work to counter inequality also continues at the Dahdaleh Institute for Global Health Research at York. The Institute partnered with Médecins Sans Frontières to create a Safe Water Optimization Tool Project to build, pilot, and scale a machine learning-enabled web-based tool that will help humanitarian responders ensure that water is safe to drink in crisis zones around the world.
Some of the people who are hardest hit by the pandemic have been seniors living in long-term care homes. York's Dr. Pat Armstrong is the Principal Investigator on an international study focused on Re-imagining Long-term Residential Care. The study brings together academic researchers and professional care providers to tackle four project themes including approaches to care, work organization, accountability, and financing and ownership. The research will re-imagine long-term residential care by identifying promising practices for thinking about, planning, and organizing long-term care.
#5 - York University teachers are quickly developing new ways of virtual teaching and learning
As COVID-19 challenged communities across the country, it threatened to shut down important scientific research in campus labs. The Advanced Light and Electron Microscopy Facility (ALEM) in the Faculty of Science would not be deterred and set up COVID-specific safety protocols to ensure the safe use of labs by researchers. Researchers also worked together to convert the ALEM facility into a Virtual Microscopy Lab that could be used remotely by researchers off campus through cameras installed in the lab and services such as Zoom and Teams.
Beyond the Faculty of Science, other teams are also using innovative virtual solutions to continue pursuing their passions. York's School of the Arts, Media, Performance & Design has taken an innovative approach to theatre production during the pandemic by delivering a Theatre @ York virtual theatre season. Through The Ashley Plays, third and fourth-year playwriting students have delivered a series of site-specific plays presented remotely. In the fall, York produced two plays commissioned for online presentation featuring a cast and crew of students from the BA/BFA program in Performance Creation, with support from MFA designers and others. During the winter semester, more virtual performances, festivals, and exhibitions will be presented by arts, media, performance, and design students.
Joining these efforts is York's Schulich School of Business, which has created remote internships for students in the MBA in India program, who couldn't travel to Toronto for their internships because of COVID-19. MBA in India students taking the Schulich Graduate Diploma in Culture, Communication and Leadership in Canadian Business (CCLCB) participate in remote internships through 21 breakthrough firms, connected by Schulich Startups. Students work on key projects 40 hours per week, all remotely due to COVID-19. The internship is a 12-week work placement that provides students with an opportunity to apply what they've learned and reflect about the experience through the Graduate Placement course. Created by Schulich professor Theo Peridis, the CCLCB provides MBA in India program students with an in-depth appreciation of cultural differences, business practices, conventions and vocabulary to succeed in the Canadian business environment.
Beyond the classroom, York has still more to offer online. One of the biggest challenges facing Canada's small-business community during the pandemic has been the rapid switch to online retail sales. Students from Schulich are helping these businesses to quickly gear up for online commerce. Students continue to participate in the City of Toronto's Digital Main Street ShopHERE program, a major new initiative that is supported by a team of leading global technology companies committed to helping Toronto's main street retailers survive the COVID-19 crisis.
The Virtual Microscopy Lab
Virtual Theatre Production
Schulich Virtual Internship
#4 - Programs at York University lead the way for in-demand skills and jobs for the future
Through the School of Administrative Studies, York students can earn a Bachelor's of Master's degree in Disaster and Emergency Management. Graduates of these programs develop the academic and technical skills necessary to aid in the prevention, mitigation, preparedness, response and recovery from regional and global disasters and emergencies.
In the fall, York introduced a new and dynamic team through the creation of the Faculty of Environmental and Urban Change. The new Faculty builds on existing academic and research excellence to become a leader in tackling environmental and social issues, and the climate crisis by bringing together the Faculty of Environmental Studies and the Department of Geography. The Faculty will prepare students to take on some of the most difficult challenges in the world today such as climate crisis, biodiversity loss, and increased urbanization while empowering them to be changemakers for a sustainable and just future.
York's commitment to justice and filling gaps in the workforce continues through our Bachelor of Education WAABAN Indigenous Teacher education program. In response to the Truth and Reconciliation Report, the Faculty, in collaboration with the Toronto District School Board Indigenous Education Centre, is welcoming a special group of students who will complete the Bachelor of Education degree with a focus on Indigenous worldviews. The program will educate a new generation of teachers better prepared to meet the needs of First Nation, Métis and Inuit students, families and communities. WAABAN will be grounded in Indigenous knowledge and pedagogy and will include teachings from Indigenous elders, educators, and community leaders.
#3 - York University is building a better future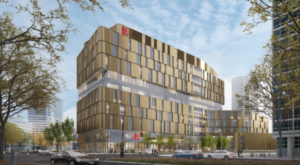 Construction is already underway on York's eagerly-awaited Markham Centre Campus (MCC), which will welcome our first students in the fall of 2023. The MCC will initially offer programs from four Faculties and the School of Continuing Studies. York Libraries will also provide a modern facility to support programs and research.
This year, we held a virtual ground-breaking for the new School of Continuing Studies building – the first Continuing Studies building of its kind in North America. It is home to cutting-edge Continuing Professional Education programs, the world-renowned York University English Language Institute, and an ambitious student population eager to build their futures.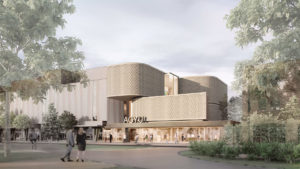 In November, Hariri Pontarini Architects won a bid to design a new stand-alone Art Gallery of York University. The new three-story building will sit at the heart of the School of Arts, Media, Performance and Design, contain a ground level event space with four separate gallery spaces, and become a centerpiece at York's Keele Campus. The new stand-alone art gallery is possible through a $5-million donation by philanthropists and art collectors Joan and Martin Goldfarb, igniting this expansion and re-centering the arts on campus.
#2 - The York University community is giving from the heart
As Canada went into lockdown in March, York's School of Nursing provided vital supplies to community health partners. Faculty of Health Dean Paul McDonald personally delivered supplies to Mackenzie Health in Markham, including more than 3,200 N95 masks, 6,200 pairs of medical gloves, and a ventilator.
Within days of COVID-19 being declared a pandemic, sociology PhD candidate Jade Crimson Rose Da Costa co-founded The People's Pantry. The grassroots group supports marginalized individuals affected economically by the pandemic – including queer, trans and BIPOC as well as sex workers and newcomers – by providing them with groceries and home-cooked meals at no cost.
Because of the pandemic, in-person teaching placements arranged through York's concurrent education program were also cancelled. Instead, over 260 York students in the program have invested their time back into the community by taking part in the Youth Empowering Parents program. Through the program, young people teach important skills to adults and seniors. The program has been adapted during the pandemic to include a postsecondary component to help fill community placements, allowing York students to continuing building their skills and give back to the community.
The pandemic and lockdown upended the winter term for students at York. In response, we created the York University Emergency Bursary to help registered domestic and international undergraduate students at York who suddenly faced unexpected financial need in March and April related to emergency housing, rent, food and other costs due to COVID-19. We also supported domestic and international undergraduate students on international study programs at partner universities during the same period through the York University Emergency Travel Disruption Bursary. The bursary also helped international students with international travel-related expenses due to COVID-19. Each of these programs ensured that the entire York community, no matter where they were, could get the support they needed to weather the pandemic.
#1 - York University researchers are charting a better course toward post-COVID world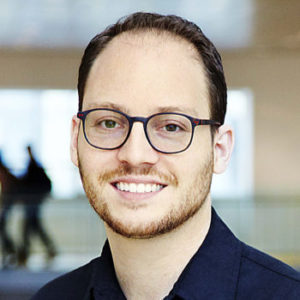 As COVID-19 began to spread around the globe, York's Dr. Steven Hoffman was appointed by the United Nations Deputy Secretary-General to lead the development of a UN Research Roadmap for the COVID-19 Recovery. The UN Roadmap engaged researchers, implementers, funders and citizens around the world as they identified key areas of focus for research and study. The goal was to prepare to rebuild after the pandemic, while fast-tracking progress towards the UN's Sustainable Development Goals.
York faculty members also joined the fight against COVID-19 within Canada. Led by Dr. Jianhong Wu, Canada's national COVID-19 math modelling team at the Fields Institute for Research in Mathematical Sciences continues to advise public health officials by assessing the transmission risk of COVID-19 and the trajectory of potential future outbreaks.
Early on, York's Artificial Intelligence Program — led by Dr. Murat Kristal at the Schulich School of Business — developed a COVID-19 Dynamics Dashboard that uses publicly available data to predict the number of new COVID-19 cases over the next five days in each country around the world. These predictive numbers, which have a 90% accuracy rate, will continue to help support our policymakers, healthcare administrators and public health officials as they make evidence based, informed decisions to stop the spread of COVID-19 and roll out life-saving vaccinations.