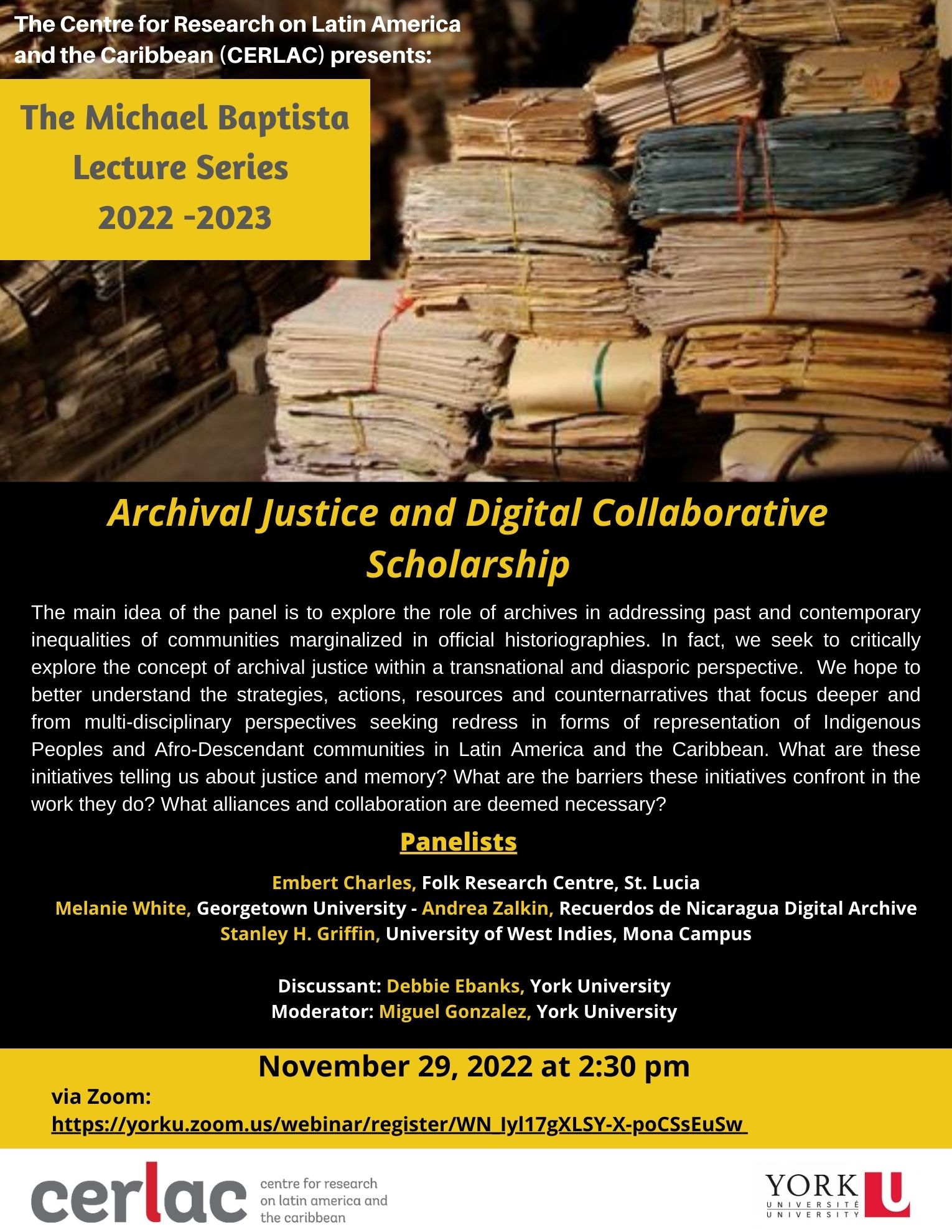 CERLAC Presents The 2022-2023 Michael Baptista Lecture Series: Archival Justice and Digital Collaborative Scholarship
The Centre for Research on Latin America and the Caribbean (CERLAC) presents:
The Michael Baptista Lecture Series 2022 -2023
Archival Justice and Digital Collaborative Scholarship
The main idea of the panel is to explore the role of archives in addressing past and contemporary inequalities of communities marginalized in official historiographies. In fact, we seek to critically explore the concept of archival justice within a transnational and diasporic perspective. We hope to better understand the strategies, actions, resources and counternarratives that focus deeper and from multi-disciplinary perspectives seeking redress in forms of representation of Indigenous Peoples and Afro-Descendant communities in Latin America and the Caribbean. What are these initiatives telling us about justice and memory? What are the barriers these initiatives confront in the work they do? What alliances and collaboration are deemed necessary?
Panelists
Embert Charles, Msgr. Patrick Anthony Folk Research Centre (FRC)
Melanie White, Georgetown University – Andy Zalkin, Recuerdos de Nicaragua Digital
Stanley H. Griffin, University of West Indies, Mona Campus
Discussant: Debbie Ebanks, York University
Moderator: Miguel Gonzalez, York University
Tuesday, November 29, 2022
6:00 pm
Online Zoom event 
Please register in advance for this webinar: 
https://yorku.zoom.us/webinar/register/WN_Iyl17gXLSY-X-poCSsEuSw
All registrants will be sent a personal link

Panelists Bio's:
Embert Charles is a trained communications specialist and development worker with competencies and experiences in the management of grass roots organisations. He has extensive experience with regional civil society organisations in the Caribbean. He serves as chair and was former executive director of the Msgr. Patrick Anthony Folk Research Centre in Saint Lucia. Other positions held included Communications Advisor to the OECS Natural Resources Management Unit, the Director of Information Services with the government of Saint Lucia and head of the regional body for telecommunications regulation on the Eastern Caribbean. He is member of the National Steering Committee of the UNDP GEF SGP in Saint Lucia. In addition to expertise in communications planning and media production, Charles also advises on matters related to electronic communications policy and strategy, cultural administration and environment issues. His is president of the World Association for Christian Communication (WACC)which facilitates programmes on climate change and communications rights, migration and communication rights, and portrayals of gender in the media at the local and global level.
Melanie Y. White is an Assistant Professor of Afro-Latin American and Caribbean Studies at Georgetown University. Her current research and book manuscript in progress examines the history of sexual and gender-based colonial violence against Black and Afro-Indigenous women and girls from what is today the Nicaraguan and Honduran Mosquitia. Linking this genealogy of racialized, gendered, and territorial dispossession with the centuries-long struggle for autonomy on the Mosquito Coast, she juxtaposes the history of intimate colonial violence in the region with the "counter-colonial intimacies" of Afro-Mosquitian women past and present. Specifically, she explores the historical record and contemporary artistic production to highlight Afro-Mosquitian women's embodied and creative practices of colonial refusal and intimate autonomy. Melanie is also the research and content manager at the Recuerdos de Nicaragua archive, a digital humanities project dedicated to preserving the history and culture of the Afro-descendant and Indigenous communities of the Nicaraguan and Honduran Mosquitia.
Andy Zalkin is a photographer, photojournalist and digital archivist based in New York. Zalkin graduated from the Fashion Institute of Technology with a BFA in Photography and Related Media and a Minor in Art History; she is currently a research assistant at the Picture Collection of the New York Public Library at Bryant Park, and a digital archivist for Recuerdos de Nicaragua, a database for cultural objects from the Miskito coast of Nicaragua and Honduras. Zalkin's recent work has been published in the New York Times and New York Magazine.
Stanley H.  Griffin is Deputy Dean, Undergraduate Matters (Humanities) and Senior Lecturer, in Archival and Information Studies in the Faculty of Humanities and Education, Department of Library and Information Studies (DLIS) respectively at The University of the West Indies, Mona Jamaica Campus. He holds a BA (Hons.)  in History, a PhD in Cultural Studies (with High Commendation), from the Cave Hill Barbados Campus of The University of the West Indies, and an MSc in Archives and Records Management (Int'l), University of Dundee, Scotland. His research interests include Multiculturalism in Antigua and the Eastern Caribbean; the Cultural Dynamics of intra-Caribbean migrations; Archives in the constructs of Caribbean culture; and  Community Archives in  the Caribbean. His most recent publications include Decolonizing the Caribbean Record: An Archives Reader (Litwin 2018), and Archiving Caribbean Identity: Records, Community, and Memory (Routledge, 2022) co-edited works with Jeannette Bastian and John Aarons, several book chapters and journal articles on Caribbean archival and cultural issues. Stanley is active on the executive of several academic, heritage, and archival professional societies, including the Caribbean's archival association, CARBICA, and is a member of the Editorial Board of The International Journal of Information, Diversity, & Inclusion.
Debbie Ebanks Schlums is an artist-researcher and Vanier Scholar pursuing a doctorate in Cinema and Media Studies at York University. Her research explores archiving methodologies of the Jamaican Diaspora through storytelling and media art installation. Debbie was Co-Director of the Fabulous Festival of Fringe Film (2016-2020) and Co-Producer of Saugeen Takes on Film and is a member of the Odeimin Runners Club media art collective forming new connections between Indigenous and Jamaican communities through the arts.
Miguel Gonzalez (PhD, York University) is an adjunct faculty in the International Development Studies program at York University, Toronto, Canada. In recent years Miguel has taught both in the undergraduate and graduate programs in International Development at York University. His current research relates to two broad themes and projects: First, indigenous self-governance and territorial autonomous regimes in Latin America. On this question he has published extensively (see for instance: http://www.fygeditores.com/fgetnicidadynacion.htm) and he co-edited a themed issue for a specialized academic journal in the field on indigenous studies (http://www.alternative.ac.nz). Miguel is currently co-editing a thematic issue of the Latin America and Caribbean Ethnic Studies Journal (LACES) on the topic of Indigenous Autonomies in Latin America (tentative date of publication is 2014). Recent publications include a book chapter on Central American Indigenous and Afro-descendants social movements which he has co-authored with leading scholars in the field (http://www.routledge.com/books/details/9781857436747/). Miguel's second area of interest is the governance of small-scale fisheries (SSF) in the global south, with a particular geographical concentration in the Nicaraguan Caribbean Coast. On this question he has just completed a paper that revolves around the health-related impacts of commercial lobster diving in the Miskitu Coast. Finally, Miguel is a researcher associated with the Global Partnership for Small-Scale Fisheries Research (http://toobigtoignore.net) and with the Centre for Research on Latin America and the Caribbean (CERLAC) at York University.