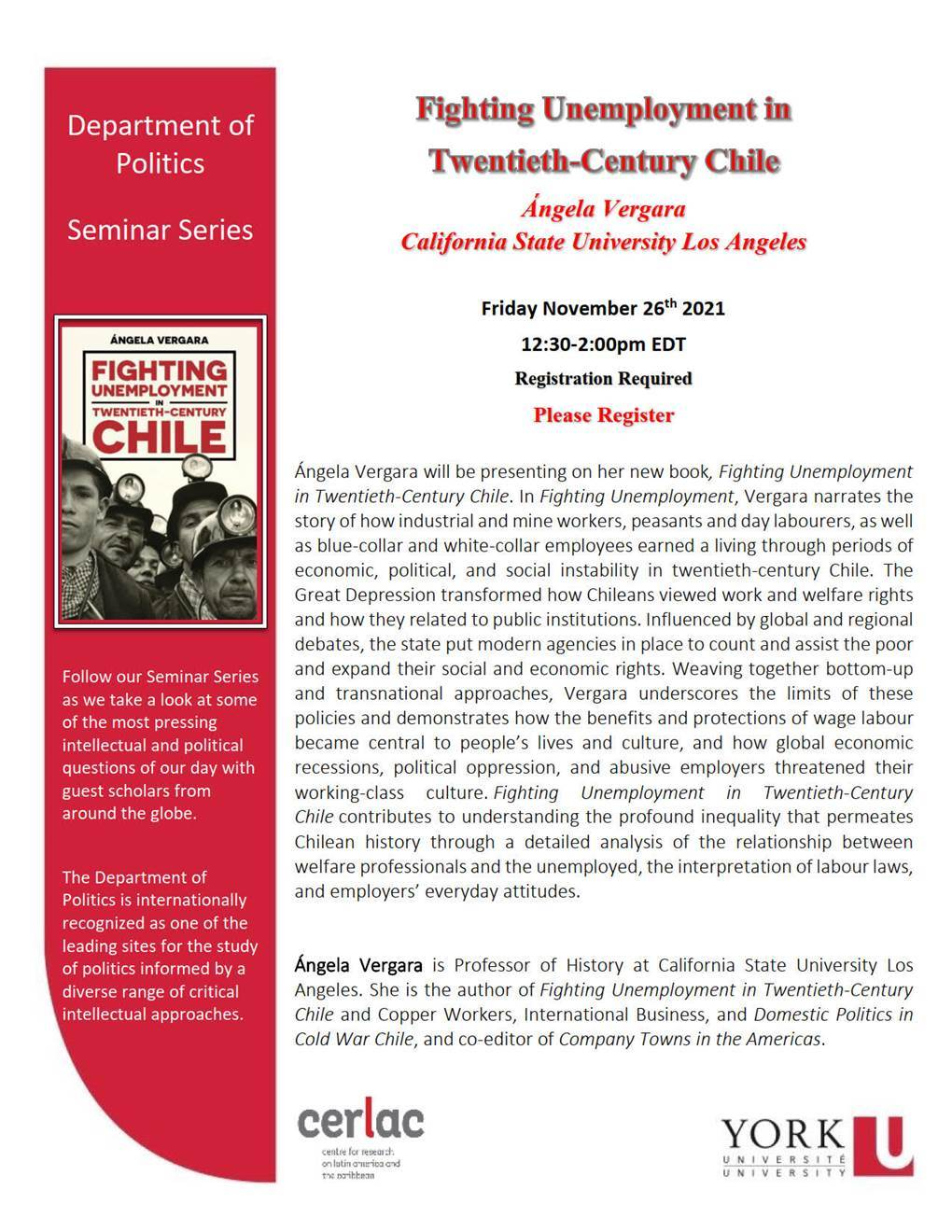 Fighting Unemployment in Twentieth-Century Chile with Angela Vergara
Fighting Unemployment in Twentieth-Century Chile with Angela Vergara. California State University Los Angeles
Friday November 26th 202112:30-2:00pm EDTRegistration RequiredPlease Register
Ángela Vergara will be presenting on her new book, Fighting Unemployment in Twentieth-Century Chile. In Fighting Unemployment, Vergara narrates the story of how industrial and mine workers, peasants and day labourers, as well as blue-collar and white-collar employees earned a living through periods of economic, political, and social instability in twentieth-century Chile. The Great Depression transformed how Chileans viewed work and welfare rights and how they related to public institutions. Influenced by global and regional debates, the state put modern agencies in place to count and assist the poor and expand their social and economic rights. Weaving together bottom-up and transnational approaches, Vergara underscores the limits of these policies and demonstrates how the benefits and protections of wage labour became central to people's lives and culture, and how global economic recessions, political oppression, and abusive employers threatened their working-class culture. Fighting Unemployment in Twentieth-Century Chile contributes to understanding the profound inequality that permeates Chilean history through a detailed analysis of the relationship between welfare professionals and the unemployed, the interpretation of labourlaws, and employers' everyday attitudes.
Ángela Vergara is Professor of History at California State University Los Angeles. She is the author of Fighting Unemployment in Twentieth-Century Chile and Copper Workers, International Business, and Domestic Politics in Cold War Chile, and co-editor of Company Towns in the Americas.
We thank the Centre for Research on Latin America and the Caribbean (CERLAC) for co-sponsoring this event.
Registration is required. Details as well as the Zoom registration link are found in the attached Poster and below.
*****
Friday, November 26, 12:30pm EDT
Please register
Follow our Seminar Series as we take a look at some of the most pressing intellectual and political questions of our day with guest scholars from around the globe.
The Department of Politics is internationally recognized as one of the leading sites for the study of politics informed by a diverse range of critical intellectual approaches.