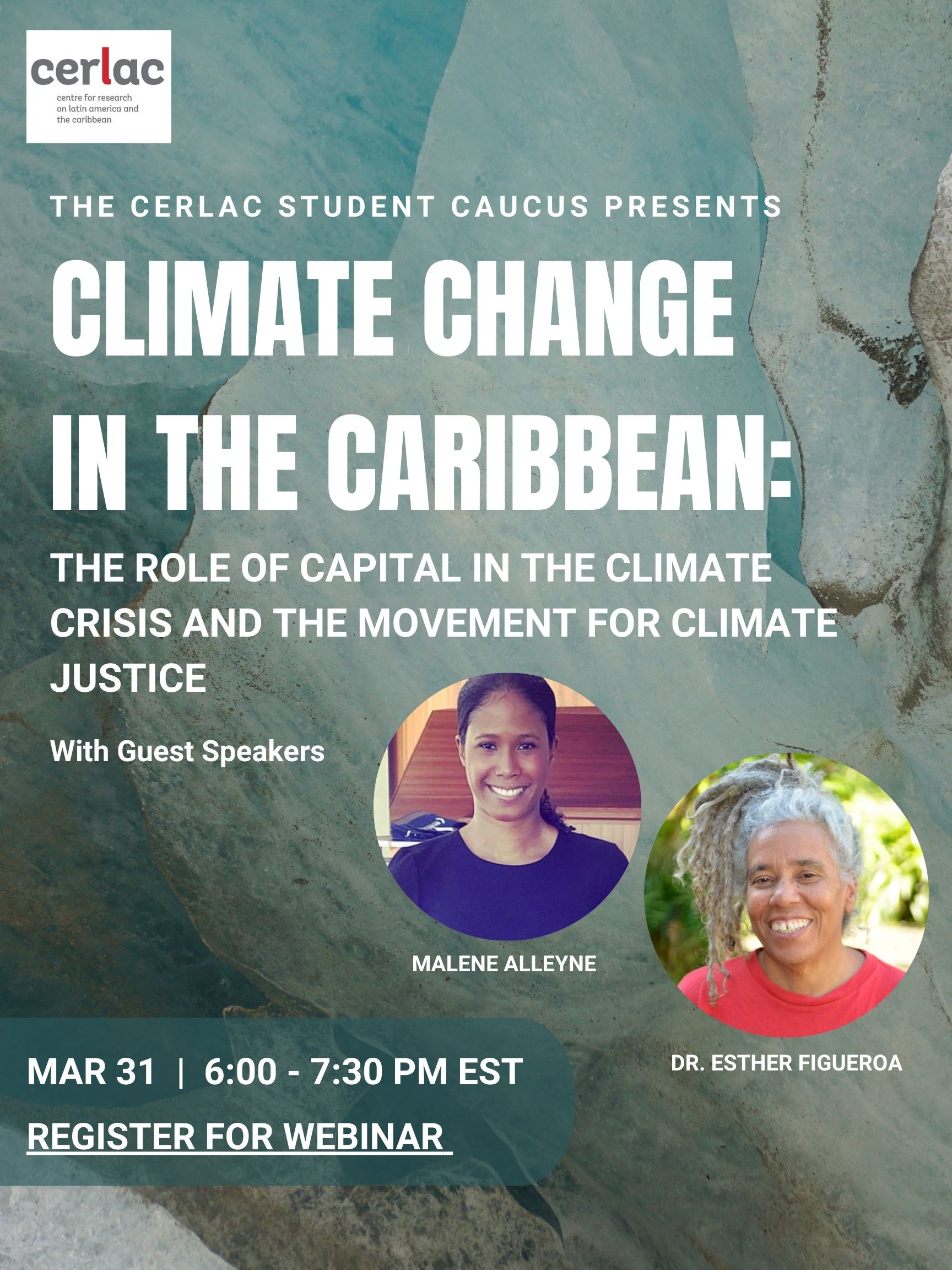 The CERLAC Student Caucus Presents: Climate Change in the Caribbean: The Role of Capital in the Climate Crisis and the Movement for Climate Justice
The CERLAC Student Caucus Presents: Climate Change in the Caribbean: The Role of Capital in the Climate Crisis and the Movement for Climate Justice
The CERLAC Student Caucus is pleased to present Malene Alleyne and Dr. Esther Figueroa to discuss Climate Change in the Caribbean. Join us for an important and timely presentation that will discuss the role that capital plays in the Climate Crisis and the movement towards Climate Justice in the Caribbean.
MALENE ALLEYNE is a Jamaican human rights lawyer and founder of Freedom Imaginaries, an organization that uses human rights law to tackle legacies of slavery and colonialism. She holds a Master of Laws degree from Harvard Law School and a Master of Advanced Studies degree from the Graduate Institute of International Studies, Geneva. She is qualified to practice law in Guyana and Jamaica.
ESTHER FIGUEROA, Ph.D., is a Jamaican independent film maker, writer, educator and linguist with overthirty-five years of media productions including television programming, documentaries, educationalvideos, multimedia and feature film. Her activist film making gives voice to those outside of mainstreammedia and focuses on the perpetuation of local and indigenous knowledge and cultures, theenvironment, social injustice, and community empowerment. Figueroa's films are screened andtelevised all over the world and taught at numerous universities. They include Jamaica for Sale (2009),the award-winning feature documentary about tourism and unsustainable development. Her latestfeature documentary Fly Me To The Moon (2019) is about modernity and the global aluminum industry.She recently created and co-hosted GEFF 2020, the first online film festival focused on global extraction.In 2013, Figueroa was Distinguished Writer in Residence at University of Hawai'i English Department.Her environmental novel Limbo (2013) was a finalist in the 2014 National Indie Excellence Awards forMulti-cultural Fiction.
Register in advance for this webinar:
https://yorku.zoom.us/webinar/register/WN_Fv5UDrUcTqOmLl25n4CoQg