The CITY Graduate Student Program is for graduate and 4000-level undergraduate students. It runs annually with fixed events in the academic calendar that both faculty and students can become familiar with and participate in. It is a three-part program where the first part is dedicated to professional training, the second part is a conference where students can showcase their urban research, and the last part consists of awards for best undergraduate and graduate essays on urban studies. The program is designed to run from September to April.
---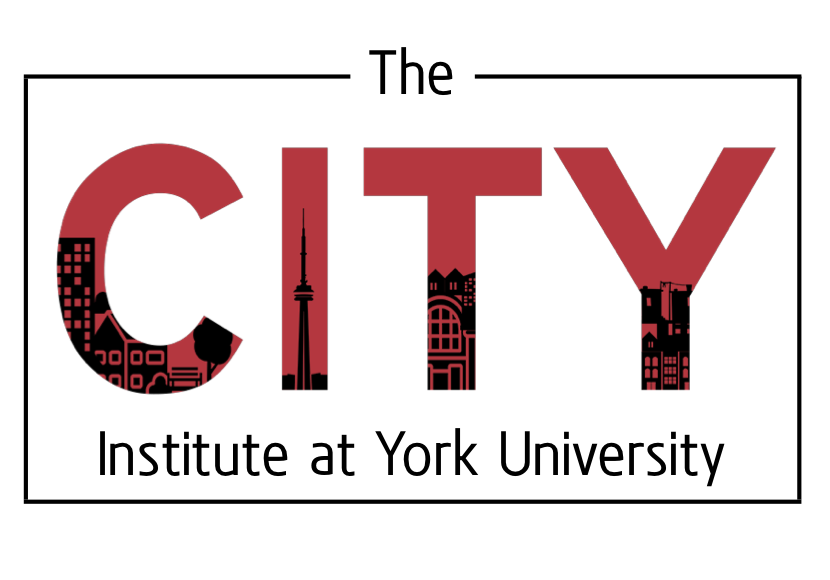 Graduate Student Conference
---
As part of the effort to facilitate conversation and knowledge exchange and to showcase the range of current urban research undertaken by York students, CITY is hosting its inaugural City Institute Graduate Student Conference on Wednesday, April 20, 2022, from 12pm to 5.10pm. The conference will be hosted virtually, via Zoom.
Students are encouraged to present on their work. Participants will gain communication skills through presentation delivery and answering live questions as well as being able to network with other researchers. The conference will also be an opportunity for researchers to learn from one other and engage in knowledge exchange and dissemination, as well as contribute to the academic community at York and beyond.
The conference will include various events and opportunities for engagement, including a presentation by a keynote speaker, graduate and undergraduate essay prize awards, and research sharing and networking opportunities.
---
Program
Time
Session
Welcome address
12.00pm to 12.05pm
Farida Abdelmeguied and Emily Lim. Student Representatives, City Institute's Executive Committee.
Student Presentations
12.05pm to 2.00pm
First session
2.00pm to 2.10pm
Break
2.10pm to 4.00pm
Second session
4.00pm to 4.10pm
Break
Student essay prizes
4.10pm to 4.30pm
Awarding of best essay prizes to graduate and 4000-level undergraduate students. Chair: Prof. Linda Peake, Director of the City Institute.Prof. Jeffrey Squire, Undergraduate essay prizes.Prof. Luisa Sotomayor, Graduate Essa prizes.
Keynote lecture
4.30pm

_

to

_

4.35pm

__

Introduction to the keynote speaker. Farida Abdelmeguied and Emily Lim. Student Representatives, CITY Institute's Executive Committee.
4.35pm to 5.05pm
Keynote lecture: The politics of water access and planning implications in the hybrid waterscape of a small Indian city. Prof. Nidhi Subramanyam.Assistant Professor, Department of Geography and Planning, University of Toronto.
5.05pm to 5.25pm
Open discussion. Moderator: Prof. Ranu Basu.
Concluding remarks
5.25pm to 5.30pm
Farida Abdelmeguied and Emily Lim.Student Representatives of the CITY Executive Committee. Prof. Linda Peake.Director of the City Institute.
---
Keynote Speaker: Dr. Nidhi Subramanyam
---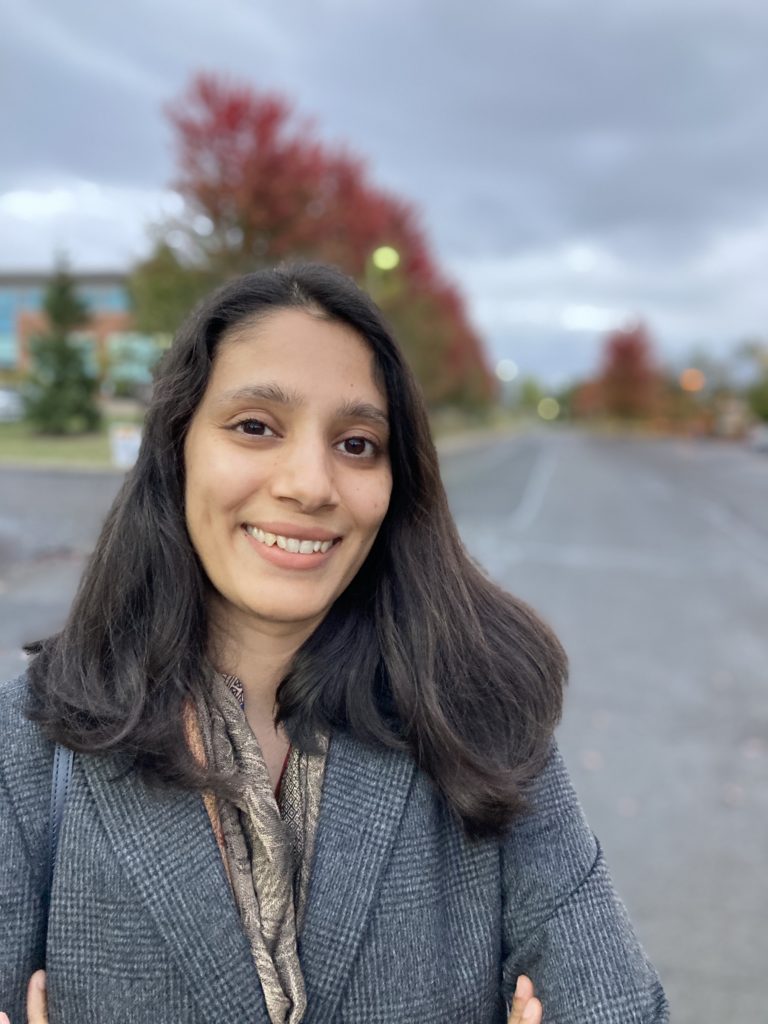 Dr. Nidhi Subramanyam is Assistant Professor in the department of Geography and Planning at University of Toronto and a faculty affiliate with the University's School of Cities, Data Sciences Institute, and South Asian Studies programs. Her ongoing research examines just approaches to plan and govern water infrastructures in the face of rapid urbanization and the growing impacts of climate change. She also investigates questions on urban governance and rural-urban transitions in cities of the global South. At their core, all her projects interrogate how planning processes reflect and reinforce the status quo in moments of transition and how different social groups contest inequalities and transform planning at such moments to create just and sustainable futures.
Dr. Nidhi Subramanyam has a PhD and Master's in City and Regional Planning from Cornell University and a Bachelor of Architecture from the University of Mumbai.
---
Call for Abstracts
Who could participate: Graduate and 4000-level undergraduate students from all faculties at York.
Topics: Any urban-related scholarly research.
Deadline: April 14th, 2022.

Please send your application in a Word file to city@yorku.ca Please indicate the following:
> The presenting options you are interested in as part of your application - 10, 15, or 20 minutes; independently or in a group. These options allow for a diversity of approaches.
> The title of your presentation.
> A 250-word abstract.
> A 200-word biography (including level of study and department).
---
For all inquiries and submissions please contact the City Institute at city@yorku.ca.
We look forward to seeing you in April!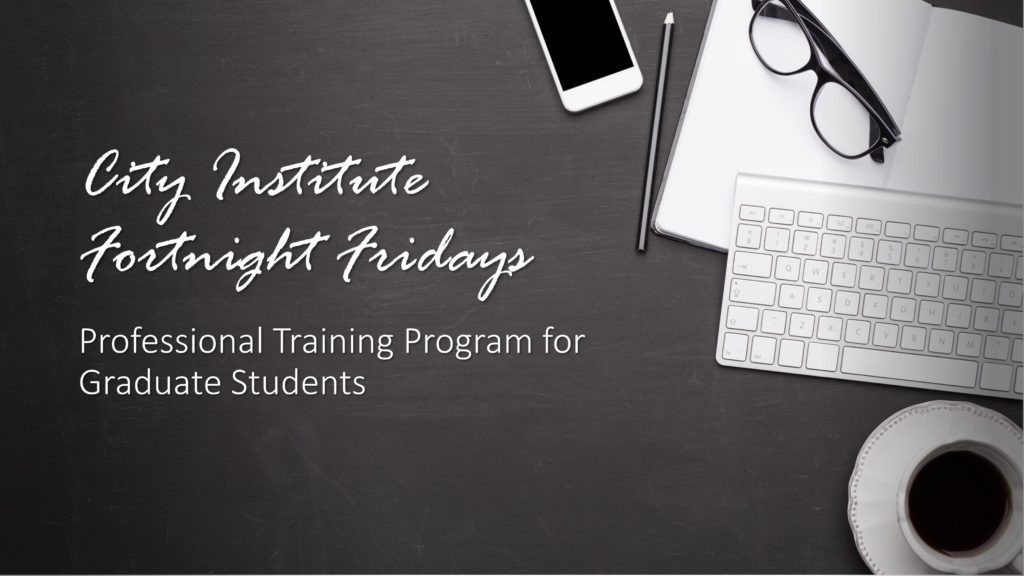 From January to April 2022, the City Institute will hold virtual professional training meetings for graduate and 4000-level undergraduate students who have great interest in urban studies. Once a fortnight CITY will hold writing sessions which will be monitored by a City Institute post-doctoral fellow who will provide writing tips and feedback. Every other fortnight a faculty member will give a talk on an aspect of professional training such as: writing a CV; writing abstracts & papers for publication; writing research proposals & grant applications; knowledge dissemination & engaging with social media; developing course proposals; applying for academic jobs; work paths outside academia; and job interviews.
Date
Topic
Speaker / Host
21 Jan
3-4:30 pm - Sit down and write!
(participants should bring their written work)
Dr. Nasya Razavi, CITY Post-Doc Fellow
28 Jan
3:00 pm - Writing a cover letters and CVs
4:00 pm - Developing a course proposal
5:00 pm - Writing papers & abstracts for publication
Prof. Amanda de Lisio, Health
Prof. Syed Harris Ali, Sociology, LA&PS
Prof. Shubhra Gururani, Anthropology, LA&PS

11 Feb
3-4:30: pm - Sit down and write!
Dr. Araby Smyth, CITY Post-Doc Fellow
4 Mar
3:00 pm - Writing research proposals
4:00 pm - Writing grant applications
5:00 pm - Using KMb and social media in research dissemination
Prof. Stefan Kipfer, EUC
Prof. Ranu Basu, EUC
Prof. Natasha Tusikov, Social Science, LA&PS
18 Mar
3-4:30 pm - Sit down and write!
Dr. Araby Smyth, CITY Post-Doc Fellow
1 Apr
3:00 pm - Publishing in urban journals
4:00 pm - Applying for academic jobs
5:00 pm - Work paths outside academia
Prof. Linda Peake, EUC; CITY Director
Prof. Luisa Sotomayor, EUC
Prof. Zachary Spicer, Public Policy & Administration, LA&PS

Participants can attend to more than one 'Sit-Down and Write!' session. They are requested to bring their written work.
The CIFF sessions can be added to York graduate students' Individualized Development Plan (IDP). The IDP webpage hosts a short overview of graduate professional skills programming at York: https://www.yorku.ca/gradstudies/wp-content/uploads/sites/184/2022/01/professional-skills-faculty-guide.pdf. We encourage you to use this guide and to add the CIFF meetings to it. Take the guide to your meetings with your supervisor to get feedback on the role of professional training for graduate students.
Non-York University students are welcome with limited slots.
Registration is free and is on-going until March 31, 2022.
For inquiries, please email city@yorku.ca.