McLaughlin College holds its Year-End Special Event each academic year near the end of the Winter Term to recognize and to acknowledge the outstanding work and efforts of all our students and most especially our graduating students. This special event features all our College's student leaders, staff, faculty, and Fellows, as well as some "surprise guests" and an outstanding inspirational speaker who will provide key messages to all our students as they progress to the next stage of their studies and, for those who are graduating, on to either graduate studies, professional schools, or to starting their careers.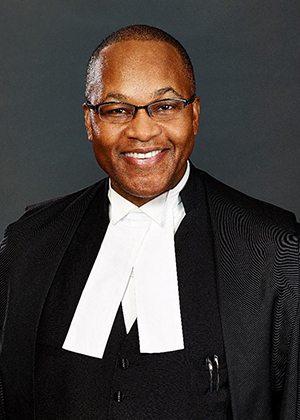 Justice Michael H. Tulloch
Be an Agent of Change
March 25, 2021
York alumnus Michael H. Tulloch, justice of the Ontario Court of Appeal was the keynote speaker at this year's McLaughlin College Year-End Special Event.
During his keynore address, titled "Be an Agent of Change", Tulloch noted that he is a proud and loyal member of McLaughlin College. As an undergraduate student in economics and business, he explained, that he was a student of Professor George Doxey, who was the master of McLaughlin College at the time, and he was invited by him to be his research assistant and teaching assistant. After completing his undergraduate studies, Tulloch attended Osgoode Hall Law School, and during his studies he worked as a lecturer at McLaughlin College and became a residence don and tutor at Tatham Hall. He said that his time at McLaughlin College was pivotal in his life.
Tulloch is an award-winning and highly regarded jurist and the first Black judge to serve on the Ontario Court of Appeal. He has received the Harry Jerome President's Award (2012); the Canadian Association of Black Lawyers Achievement Award (2012); the Osgoode Hall Law School Lincoln Alexander Award (2013); the Queen Elizabeth II Diamond Jubilee Medal (2012); Canadian Lawyer's Top 25 Most Influential in the justice system and legal profession (2017); and the Ontario Bar Association Distinguished Service Award (2018). In addition, he has honourary doctors of laws from both Ryerson and Guelph Universities and an honourary doctor of divinity degree from Tyndale University and Seminary. Tulloch has been involved with judicial education with the National Judicial Institute and with international justice reform through the Office of the Commissioner for Federal Judicial Affairs Canada.
Past Events