Critical Social Science Perspectives in Global Health Workshop
8 March 2022
@
2:30 pm
-
9 March 2022
@
1:00 pm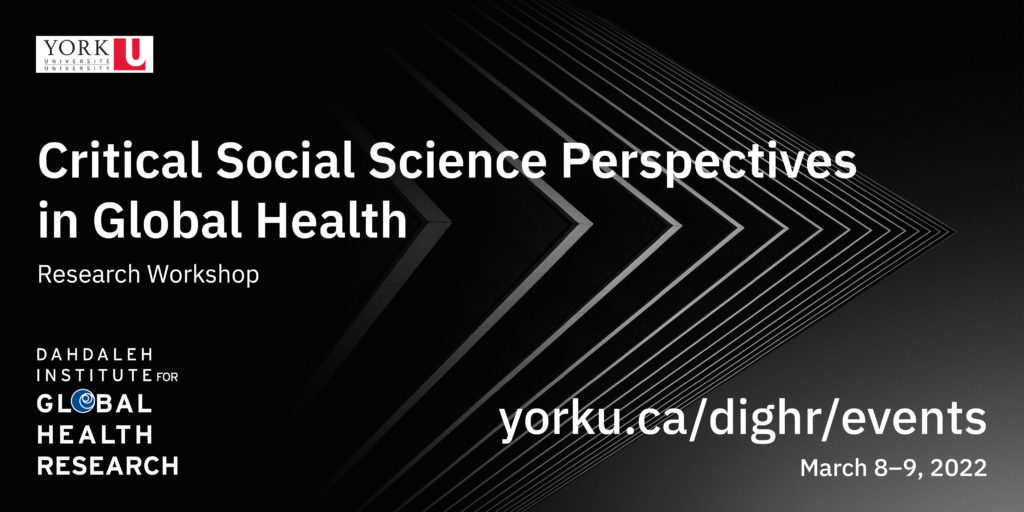 Challenging the divide between academic and applied research, the Dahdaleh Institute for Global Health Research invites the York University community to join our ongoing discussion on critical social science perspectives in global health research.
Please join us at the third annual Workshop on Critical Social Science Perspectives in Global Health—a two-day online workshop.
Participants will engage with members of the research community at York University from a variety of disciplines, which we hope will lead to new insights, collaboration, and research opportunities.
Day 1: March 8, 2:30–4:30 p.m.
Day 2: March 9, 1–3 p.m.
The workshop will include presentations from members of the Critical Perspectives in Global Health (CPGH) Steering Committee, a keynote presentation by Prof. Amrita Daftary, research updates from last year's CPGH Seed Grant recipients, and presentations from York University researchers on their current or planned critical global health research.
Register below.
As a key part of the CPGH Program, the Dahdaleh Institute welcomes CPGH Seed Grant applications and will grant five York researchers seed grants of up to $5,000 CAD each. These seed grants will support critical global health research at York University that contributes to the themes of the Dahdaleh Institute: 1) planetary health, 2) global health and humanitarianism, and 3) global health foresighting. Read more about these research themes at yorku.ca/dighr.
Agenda
Tuesday, March 8, 2:30–4:30 p.m.
Welcome and Overview (Mary Wiktorowicz)
Introduction – Critical Perspectives in Health Research: What's All the Fuss About? (Eric Mykhalovskiy)
Keynote – Getting Critical Perspectives into Mainstream Journals: The Publication Pipeline (Amrita Daftary)
Q&A
Research Presentations by 2021 Seed Grant Recipients

Human Rights Violations and Mistrust Among Refugees in South Africa: Implications for Public Health During the COVID Pandemic (Michaela Hynie and Aron Tesfai)

Critical Perspectives on the Epidemiological Dimensions of COVID-19 in Sub-Saharan Africa: What Can the World Learn? (Oghenowede Eyawo and Aisha Duale)
Q&A
SHORT WORKSHOP PRESENTATIONS

Covid-19 and Healthcare Waste Management in the Global South (Jeffrey Squire)

Tracing Unemployment in South Africa During the COVID-19 Pandemic Using Twitter Data (Zahra Movahedin Nia)

Rising Above Anti-Black Racism and Structural Violence: Health Equity for Quilombola Women in Brazil (Simone Bohn)

Physical Activity and Health Inequality in Canada: An Intersectional and Life Course Approach (Cary Wu)
Q&A
Closing
Wednesday, March 9, 1–3 p.m.
Welcome and Recap (Mary Wiktorowicz)
Research Presentations by 2021 Seed Grant Recipients

Decolonizing the Social Determinants of Health to Identify Areas for Mobilizing South-South Partnerships of Humanitarian Solidarity (Jessica Vorstermans)

A Systematic Review of the Literature on the Health Effects of Sanctions, from the End of the Cold War Through COVID-19 (Nora Yousefi)

Situated Neurology: An Ethnographic Study of Neurology in Kenya (Denielle Elliott)
Q&A
Break (10 min)
SHORT WORKSHOP PRESENTATIONS

Drawing on Urban Political Ecology to Enhance Governance Approaches to Antimicrobial Resistance and One Health (Raphael Aguiar)

Who Deserves Health Care: An Exploration of the Contestation and Negotiation Strategies and Practices of Health Care Advocates (Sarah Marshall)

SMART Conservation? The Illegal Wildlife Trade and the Shift from Intimate Government to Algorithmic Ontopower in Belize (James Stinson and Tieneke Dykstra)

"Waiting Until They Come Back": Public Authority and the Temporary Institutionalization of the Ebola Response in Monrovia, Liberia (Hillary Birch)

The Urban Political Ecologies and Pathologies of Ebola Virus Disease in West Africa (Stefan Treffers)

A CommunityFirst Approach to Health and Humanitarian Crises (Megan Corbett-Thompson)

On Public Sentiments Toward COVID-19 Vaccines in South African Cities: An Analysis of Twitter Posts (Blessing Ogbuokiri)
Q&A
Closing
Register
Registration has been closed for the event.