Dahdaleh Institute Global Health Seminar with Dr. Courtney Howard - "Summers of Smoke: living well through the wildfires of the climate emergency"
June 30
-
1:00 pm
-
2:00 pm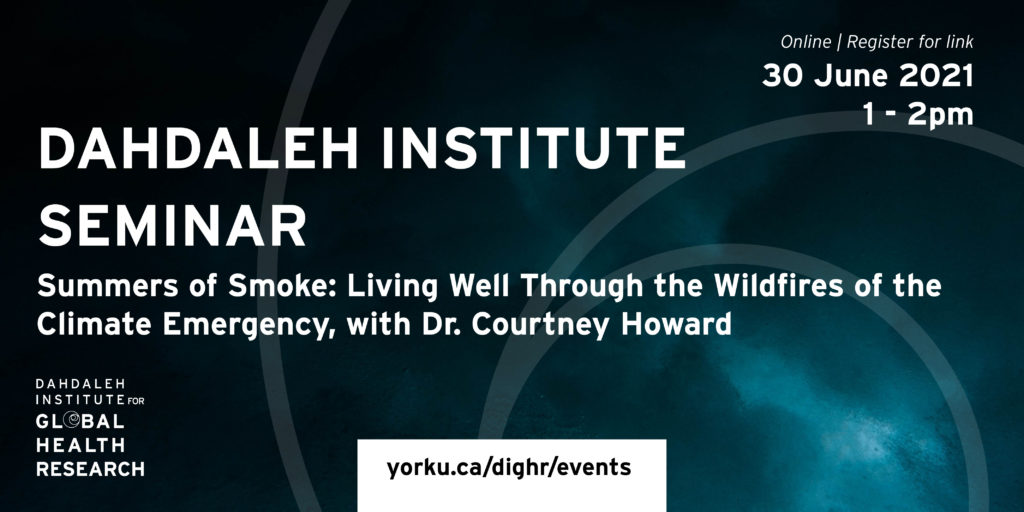 In 2014, hundreds of wildfires throughout the NWT led to what became known in Yellowknife as the "Summer of Smoke." In partnership with the Yellowknives Dene, the Ka'a'gee Tu First Nation, and with Dahdaleh Institute Director Dr. James Orbinski as principal investigator, Dr. Courtney Howard conducted a quantitative and qualitative investigation into the impact of the SOS on health and wellbeing. It was determined that the community had lived through one of the longest and most severe smoke exposures in the global literature base. It was associated with a full doubling of emergency department visits for asthma over the course of two and a half months. Qualitative analysis showed themes of isolation, disconnection from the land, and worry about what climate change could mean for future summers--as well as the fact that people who had actively prepared for the wildfires--felt better. The research asks the question "What must we do now to prepare to live well through these summers of smoke?"
The presentation and discussion on June 30 will pull key lessons learned from the SOS study as well as from a recently published paper looking at the emerging threat of smoke impacts on health from forest fires and climate change. Dr. Howard has contributed to the "The Limits of Livability" paper through her work with the Global Climate and Health Alliance. Find out more about this new paper here: https://climateandhealthalliance.org/the-limits-of-livability/
About Dr. Courtney Howard
Dr. Courtney Howard is an Emergency Physician in Yellowknives Dene Territory, a Clinical Associate Professor in the Cumming School of Medicine, University of Calgary, a Community Research Fellow in Planetary Health at the Dahdaleh Institute for Global Health Research, and Past-President of the Canadian Association of Physicians for the Environment (CAPE).
Dr. Howard has researched menstrual cups and wildfires and led policy work and advocacy regarding ecoanxiety, movement-building, active transport, plant-rich diets, divestment, carbon pricing, coal phase-out, hydraulic fracturing, and with regards to Canada's Oil Sands. She led the 2017-2019 Lancet Countdown on Health and Climate Change Briefings for Canadian Policymakers and was the 2018 International Policy Director for the Lancet Countdown.
As Co-chair of advocacy for the WHO-Civil Society Working Group on Climate Change and Health, Dr. Howard helped to launch a global healthy recovery initiative asking G20 leaders to focus on low-carbon investments--which gained the support of two-thirds of the world's healthcare professionals. She sits on the boards of the Canadian Medical Association, Health in Harmony, the Global Climate and Health Alliance, the Steering Committee of the Planetary Health Alliance, and the Editorial Advisory Boards of the Lancet Planetary Health and the Journal of Climate Change and Health.
When not engaged in planetary health nerdiness, Dr. Howard can often be found with her two daughters, dancing on the shores of Great Slave Lake
RSVP