Seminar Series - Decolonizing Global Health Research II: Dr. Shahram Khosravi
27 January 2021
@
1:00 pm
-
2:00 pm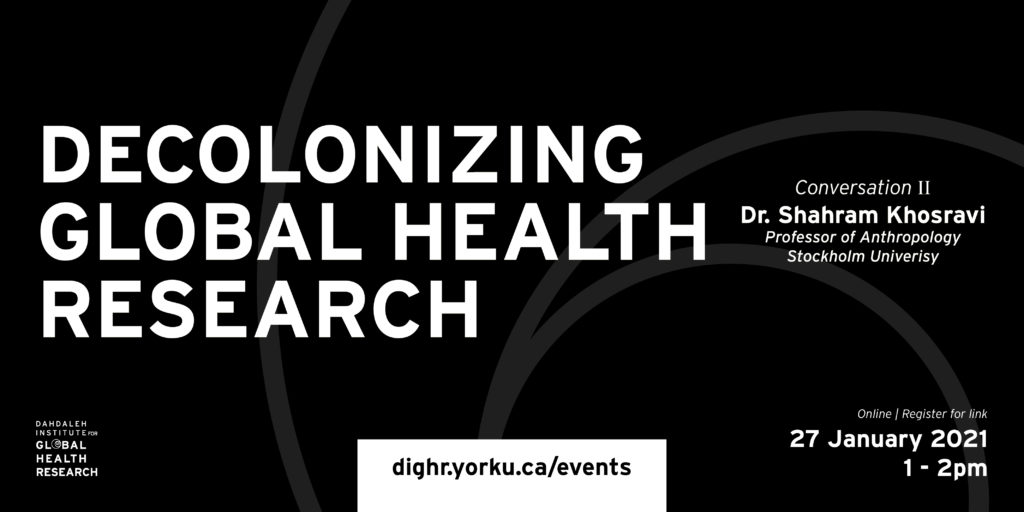 The Dahdaleh Institute for Global Health Research will be hosting Dr. Shahram Khosravi as part of our 2-year Seminar Series on "Decolonizing Global Health Research". This is an Institute-wide commitment towards decolonising global health and addressing racial inequality in and through the research that is conducted.
What does decolonisation mean? Can scientific public health and humanitarian research be decolonised, and if so how? What are the ethical challenges of decolonized research methods? How can we design and develop research methods that meaningfully engage with marginalized communities? And, how can peoples' deeply personal and generational experiences with structural racism and intersectional violence sensibly be translated into practical responses and policies?
These are some of the questions that we seek to engage with as part of our commitment to acknowledge personal and collective biases and positionalities in relation to global health and humanitarianism. We see this as a fundamental step to foster the elaboration of methodologies, collaborations and actions that center decolonial and intersectional lenses.
The upcoming seminar will feature Dr. Shahram Khosravi, who is a former taxi driver and currently Professor of Anthropology from Stockholm University. Dr. Khosravi will be discussing his research on "Auto-ethnography as Decolonial Methodology". He is the author of academic books and articles but he prefers to write stories. He has been an active writer in the international press and currently he is working on an art book on Waiting. Two years ago he also started Critical Border Studies, a network for scholars, artists and activists to interact and discuss border studies .
Registration
Registration has now been closed. If you have any inquiries regarding this event, please contact dighr@yorku.ca.