Gender Differences in Working and Employment Conditions in Central America, with Douglas Barraza and Eduardo Castro
In Central America, the economically active population includes roughly similar numbers of men and women, but unemployment is higher among women owing to structural imbalances in the labour market. In fact, women's representation in the occupied economically active population is only half of men's, with serious consequences for women as they lack access to social security, and, most importantly, to retirement pensions.
Douglas will discuss how his team is measuring the social and health implications of gender differences in working and employment conditions in Central America and the policy recommendations emerging from his research.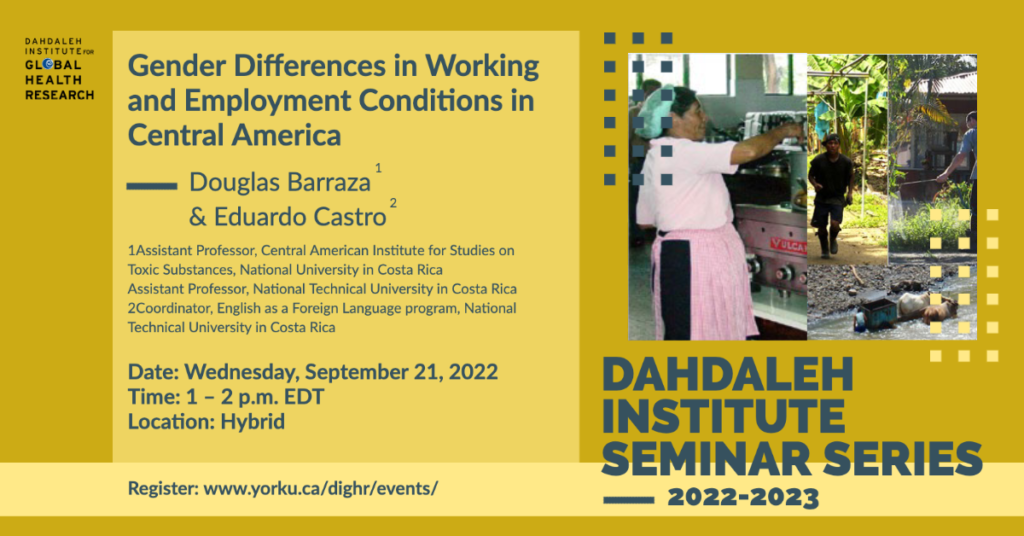 Speaker profiles
Douglas Barraza is an assistant professor at the Central American Institute for Studies on Toxic Substances at the National University in Costa Rica (UNA) and is currently completing his doctoral studies at Wageningen University and Research Centre, the Netherlands. He is also an assistant professor at the National Technical University in San Carlos, Costa Rica, where he coordinates a project to foster critical thinking among students and faculty. Douglas has extensive expertise in occupational and environmental health as well as in developing occupational and environmental indicators to facilitate international and regional comparative research. He is a founding member of the EcoHealth Community of Practice in the Americas (CoPEH-LAC) and a partner of Ekosanté with Dahdaleh Institute Faculty Fellow Martin Bunch.
Eduardo Castro is the coordinator of the English as a Foreign Language program at the National Technical University in Costa Rica. He has worked with visiting York students and supported the involvement of York and Costa Rican students in the Las Nubes Grounded Project, promoting participatory documentary filmmaking that spotlights rural community lives. He has co-organized a number of conferences for English teachers and is committed to sustaining teachers' enthusiasm about enriching the hearts and minds of their students.
Register below and join us on Wednesday, September 21 at 1 p.m.
RSVP
Registration is now closed.