HPV Vaccine Access and Cervical Cancer Policymaking Process in Ghana, Rwanda, and Canada, with Eric Asempah
Cervical cancer is a global health issue that claims over 600,000 lives yearly. The number of those deaths are disproportionately concentrated in underserved regions, with sub-Saharan Africa (SSA) bearing a significant burden of global cervical cancer cases are reported. Yet, the prophylactic vaccines that can prevent HPV-related cervical cancer, is currently not easily accessible in most low- and middle-income countries (LMICs).
Graduate scholar Eric Asempah has successfully defended his PhD dissertation in the Faculty of Health, School of Health Policy & Management. In this presentation, he will share his research on HPV vaccination policymaking and priority setting using the human papillomavirus (HPV) vaccine as a marker. Through a comparative case study looking at Canada, Rwanda, and Ghana he seeks to understand the convergence and divergence in policymaking and the context within which the HPV vaccine and cervical cancer program were planned, formulated, and organized for implementation as a health intervention instrument to a major public problem. Eric's research aims to facilitate access to life-saving vaccines in underserved regions by leveraging creative approaches to effectively address a public health problem, with or without plentiful resources.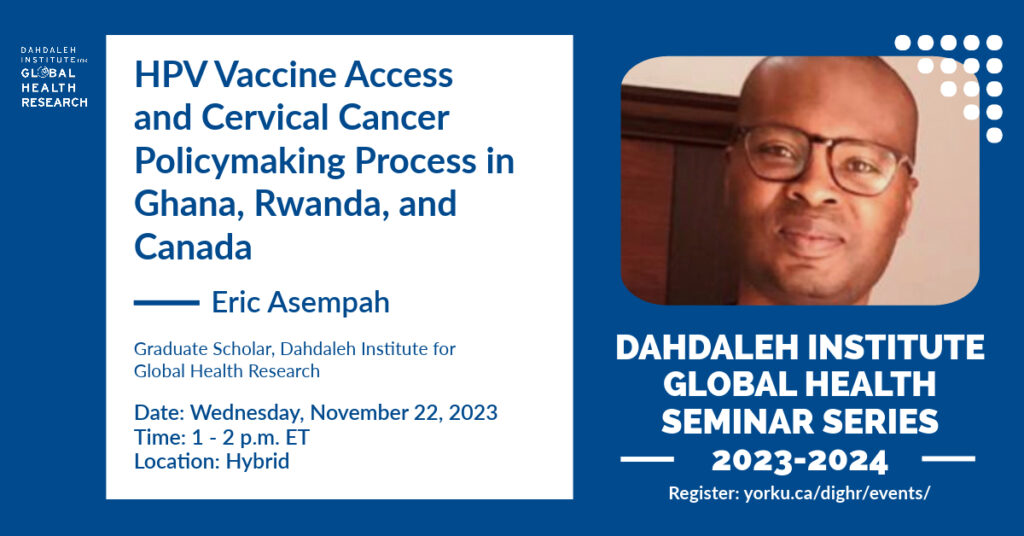 Speaker Profile
Eric is a health policy researcher and pharmaceutical professional with over 14 years of industry experience and has a deep passion and interest in public health policy and equity. He engages in research that focuses on innovative policy models and frameworks that support public policymaking process and health equity. His current research is on HPV vaccination policymaking and priority setting to promote access to life-saving vaccines in underserved regions. Eric is also a graduate scholar at the Dahdaleh Institute.
Register below and join us on Wednesday, November 22, at 1 p.m.
RSVP
Registrations for the event has closed.