Humanitarian Water Engineering Course Fall 2023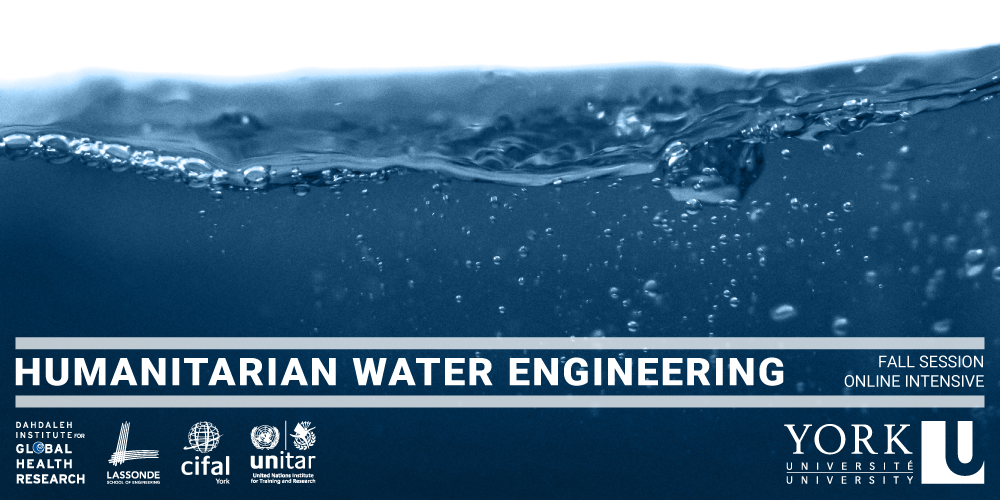 The Humanitarian Water Engineering Intensive Course offers participants an opportunity to gain essential knowledge and skills on safe water supply in humanitarian emergencies. The course covers the theoretical fundamentals of, and practical considerations for, the design and operation of water supply systems in humanitarian response including source water selection, water quality, water treatment, distribution and the safe water chain, and outbreak preparedness and response.
Over the course of twelve weeks in Fall 2023, participants will engage in a rich, multifaceted online learning experience consisting of curated readings, knowledge-testing quizzes, lectures from experienced humanitarian practitioners and engineering faculty, and small group problem-based learning (PBL) activities guided by talented facilitators. A certificate will be offered to participants upon successful completion of the course.
Learning Objectives
Participants will gain an understanding of how to get safe water from sources to populations in precarious situations. The course provides a comprehensive overview of five core technical elements of safe water supply in emergencies:
Water quality characterization and risk assessment
Water source development (groundwater and surface waters)
Water treatment methods, process selection, and design
Safe water supply chain (distribution and delivery)
Waterborne disease outbreak preparedness and response
Participants will gain an understanding of the operational context of humanitarian response by engaging with the following cross-cutting themes throughout the course:
Humanitarian principles, structures, and standards
Water, sanitation, and hygiene (WASH) and public health
Needs assessments, monitoring, evaluation & learning (MEL), and project management
Human factors and community engagement
Operational research and emerging questions