Methodologies for Co-Designing Community Responses in Sierra Leone, with Megan Corbett-Thompson, Jessica Farber, and Osman Sow
In this presentation, Megan Corbett-Thompson, a CommunityFirst Fellow cosponsored by the Dahdaleh Institute for Global Health Research and the SeeChange Initiative, will reflect on the importance of applying participatory methodologies that enable the effective involvement of community members to respond to the health challenges identified by communities. Together with Jessica Farber and Osman Sow, they will examine the context of building effective solutions to humanitarian health crises in Sierra Leone.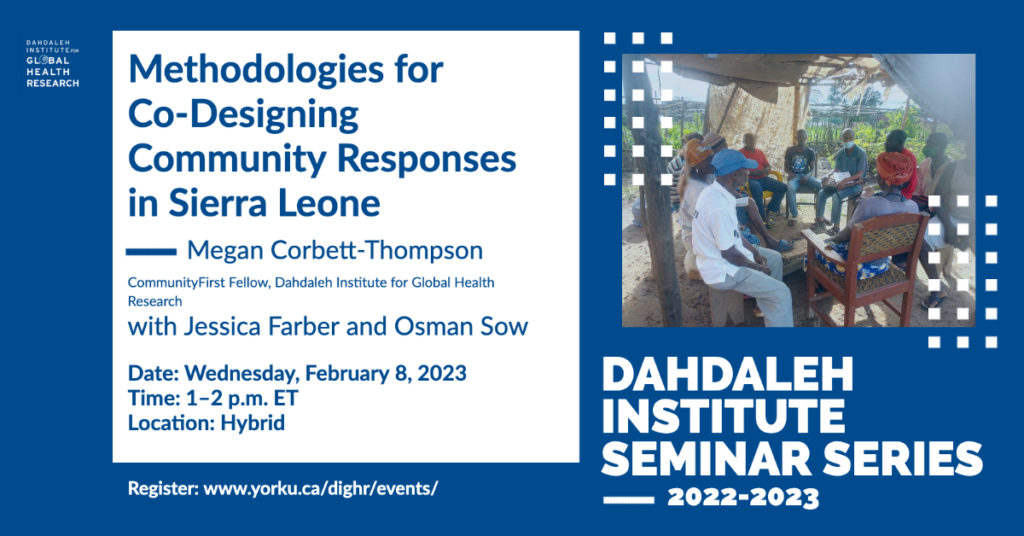 Speaker profiles
Megan Corbett-Thompson holds a BSc in environment, ecological determinants of health from McGill University and currently works as a project coordinator for SeeChange Initiative, an organization supporting community-led responses to health and climate-related emergencies. She conducts research on ethical and equitable humanitarian interventions and community-led approaches to the pandemic and other public health emergencies. As well, she has experience in the humanitarian field in Latin America, focusing on human rights work, migration, and environmental health promotion. She has advocated for migrant rights, directed community-based integration programs, and provided humanitarian aid in Mexican border towns. She has also developed projects aimed at protecting human health and the environment from contaminated sites and harmful mining practices. Megan completed an internship at UNICEF Geneva in the Strategic Planning and Partnerships Division.
Jessica Farber is leading SeeChange project with Médecins Sans Frontières (MSF), piloting the CommunityFirst approach in vulnerabilised communities globally. She works with community leaders and institutional partners to organise, prepare and respond to health crises. She also has experience in outreach, advocacy and project coordination with forced migrants and asylum seekers in Montreal and Mexico. Jessica holds a B.A. in International Development from McGill University.
Osman Sow holds a BSc Honors in Community Health and Clinical Sciences at Njala University. During the Ebola pandemic Osman worked for US Center for Disease Control and Prevention as a Disease Surveillance Officer in Freetown and with Save the Children at Kerry town by treating Ebola patients as a community health officer (CHO). Currently working for MSF Holland for more than 7 years at the Magburaka government hospital in the paediatric and neonatal unit as clinical officer. He is also volunteer as an instructor to train and implement the national Emergency Triage Assessment and Treatment Course (ETAT+). Osman has also been supporting SeeChange Initiative in the COVID-19 response in the Tonkolili District.
Register below and join us on Wednesday, February 8, at 1 p.m.
RSVP
Registration for this event has closed.