Planetary Health Film Lab 2022: Filmmaking with Indigenous Youth from Ecuador, with Mark Terry
Join us to hear from Dahdaleh Institute Research Fellow Mark Terry about this year's Planetary Health Film Lab, held in Ecuador.
The Planetary Health Film Lab is an interdisciplinary program culminating in an intensive week-long workshop designed to provide participants with the knowledge, skills, and tools to make short documentary films for the United Nations. The 2022 edition of the Planetary Health Film Lab was offered to 16 Indigenous youth from Ecuador with a story to tell about climate change and health. Their films were produced in the Indigenous languages of Kichwa and Shúar.
Mark will share details about the youths' filmmaking process and about the end-of-workshop festival showcasing the 16 films. He will also present his plans to present the films at the UN climate summit, COP26, in November.
Register below and join us on Tuesday, September 13 at noon.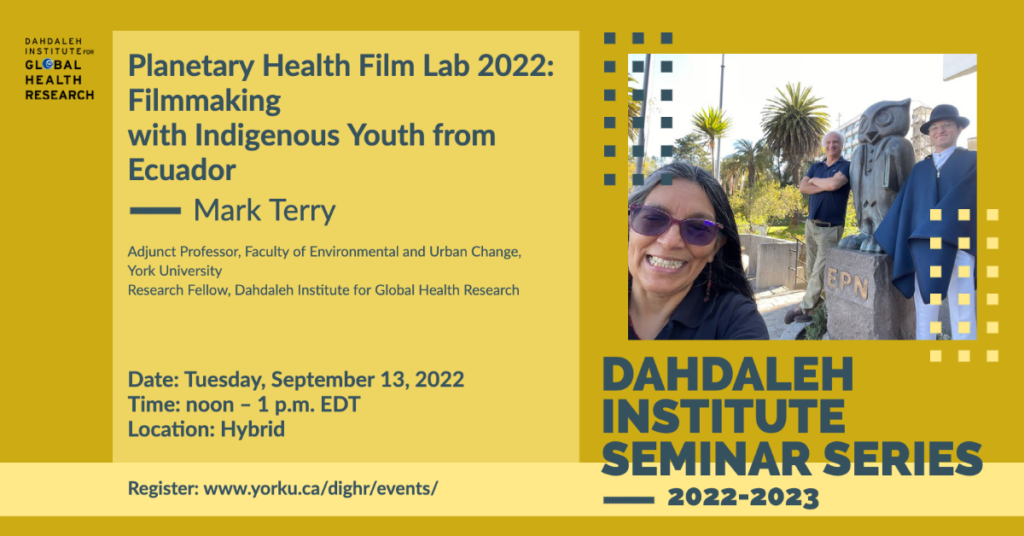 Speaker Profile: Mark Terry—a research fellow of the Dahdaleh Institute and professor at York University—is a documentary filmmaker and Fellow of the Royal Society of Canada. As a project co-lead of the Dahdaleh Institute's Planetary Health Film Lab, he has trained and worked with youth from India, Canada, Italy, Colombia, Ecuador, Australia, and throughout the Arctic. Mark has attended every UN climate summit since 2009, presenting environmental documentaries he has made or curated from young filmmakers around the world. These films are part of another research project of his called the Youth Climate Report, a digital database adopted for the COP conferences by the United Nations Framework Convention on Climate Change in 2015.
RSVP
Registration is now closed.