Report Dashboard are provide to allow website owners and administrators to view key metrics and statistics about their website's traffic and performance. This include information about the number of visitors to the site, where they came from, what pages they viewed and how long they stayed on the site.

Our goal is to give website owners and administrators a better understanding of how their website is being used for them to understand how they can improve it to better meet the needs of their visitors through a simple visual representation.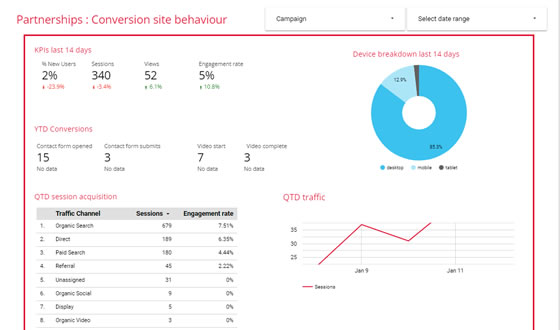 Request GA4 Report Dashboard
Anyone who is York-based and affiliated with a website can request for a report dashboard. If you are from outside York, please request that someone from within York email you the data you require. Access to GA4 Report Dashboard data is provided with the intent that it is used to monitor and improve webpage performance.
Access to the York University GA4 Report Dashboard Reports is granted manually based on the information provided below. Please note that there will be some delay between submitting the form below and receiving your dashboard.
Note: some groups like to use a common account for the entire organization. We still require a York-affiliated person to be the contact for that account.