Kathleen is a second year BEd student who participated in York's GO GLOBAL student exchange program this past summer. Below is a Q&A with Kathleen about her international exchange experience in Freiburg, Germany.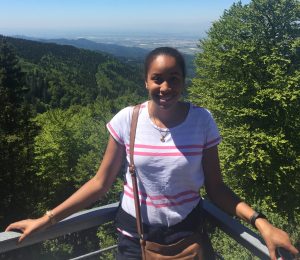 Where did you go on your international exchange?
My international exchange was held at the Pädagogische Hochschule Freiburg (Freiburg Teacher's College) in southern Germany. The college is in the middle of the beautiful Black Forest mountain range in Germany.
Why did you choose to participate in York's GO GLOBAL exchange program?
I chose to go on this exchange because of the "travel bug" I developed over the last few years. I didn't have the option to study abroad with my first degree, which is something that I have always been interested in. Pedagogically speaking, I thought that it would be enriching to experience education outside of the Canadian context in order to bring new perspectives on teaching and learning back to my classroom in Ontario.
What has this experience taught you about yourself?
Living abroad gave me an opportunity to learn a lot about my own identity. Being an unknown face in a new place allowed me to grow as a person in ways that I had not anticipated. I also developed a true appreciation of our educational system and Canadian culture. As amazing as it was to experience the foreign aspects of another country, I realized how much I love the familiarity of home and the unique blend of cultures we are privileged to have in Canada.
How will this experience inform your future teaching practice or career in the field of education?
This experience has taught me to consider the different ways that I will interact with English language learners in my future classroom(s). For four months, I was able to experience what its like to study in a different country surrounded by people whose native language is not the same as mine. It was difficult at times, but I feel that I have a better understanding of the process that many of my future students whose mother tongue might not be English will be going through.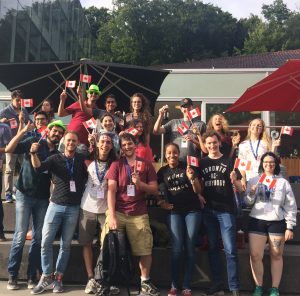 How did the BEd program prepare you for this experience?
The course Studies in Communities and their Schools helped me get the most out of my experience abroad. This course emphasized the importance of engaging with the community around you in order to better understand the environment that you're in. By engaging in activities with the German students in the exchange program, I was able to gain a better understanding of their culture and learned how to understand and speak a bit of German. Also, the support and guidance that I received from faculty and staff in York's BEd program was amazing and played a big part in helping me to prepare for this experience. I was given information on what to expect while on exchange and was advised on what courses I could take to satisfy my degree requirements and make the most of my experience while away.
Would you recommend York's exchange program to other teacher candidates?
I would absolutely recommend the exchange program to others! This experience was very fulfilling both professionally and personally. I had the opportunity to interact with students from all over the world who share the same love for teaching as I do. Going on this exchange has changed the way I view my teaching practice and philosophy and has allowed me to experience and fall in love with a culture outside of my own.
What are you presently up to?
I am currently in my second year of the Consecutive program, in the Junior-Intermediate division. I am still trying to figure out what I would like to do in the future, but going on this exchange has made me very interested in teaching abroad. I am also in the process of furthering my proficiency in German so that I can possibly teach in Germany one day. After my brief practicum experience this summer, teaching English as a second language has become something that I am interested in as well, which could be another option for me in either country.
Students enrolled in year 1 of the BEd degree and students in year 2 of the BA, Educational Studies program in the Faculty of Education are eligible to go on an international exchange. Check out York International for a schedule of upcoming information sessions and to explore the broad range of international exchange opportunities that are available.