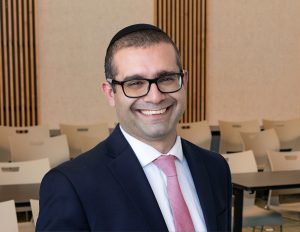 Farhad Mordechai Sabeti (BSc '08, BEd '08, MEd '12) always knew he wanted to pursue a career in education. The York University alum is currently the Executive Director at The Bnei Akiva Schools in Toronto.
For Sabeti education was always something he felt a passion for, "There was always something for me about school environments that spurred creativity, innovation, and a sense of community that is in many ways unique," explains Sabeti. He sees his career in education as an opportunity to contribute to something meaningful and valuable.
Sabeti was a math teacher at his alma mater after completing the consecutive bachelor of education program at York's Faculty of Education. "I had many formative experiences as a student there," he says. "It was exciting to go back as a teacher and contribute to a community that gave me so much, and also to partner with some of my former teachers who had supported me as a student there." After one year of teaching he decided to return to York University to pursue a Master's of Education (MEd) degree on a part-time basis.
He took part in the Research at York (RAY) Program during his studies where he was given the opportunity to work on a research project alongside a professor. "I was incredibly fortunate to learn with instructors that were genuinely invested in my growth as an educator, leader, and individual," Sabeti says reflecting on his time at York.
Sabeti's advice to students at York's Faculty of Education is to take advantage of the resources and opportunities available to them during their studies and to build strong relationships with students and faculty members. "Your classmate are going to be your extended support group as you go out into the world of education," he said. Sabeti explains that one of the Faculty of Education's greatest strengths is that its programs are taken by a diverse group of people. "My second piece of advice is to look for ways to make the program suit your needs, interests and goals." He explains that not everyone who gets a degree in education ends up teaching in classrooms, "There are lots of people who are working in areas that are still connected to education but may be on the periphery."