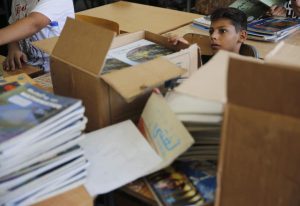 "The COVID-19 pandemic provides parents with an opportunity to select books that address issues confronting children around the world and to engage children in discussions about children's lives," writes Associate Professor Aparna Mishra Tarc in her recent op-ed for the Conversation Canada. In our efforts to protect children from political strife in the world, adults may forget that children are listening and watching. But children see and hear everything going on around them.
While adults worry about the future, their livelihood and survival, children's feelings of fear, responsibility can go unheard.
Renowned children's writer Maurice Sendak says that exemplary children's literature tells hard truths to children in language and images they can grasp. Reading in ordinary times, as well as times of crisis, plays a key role in addressing children's growing understanding of their place in their families, communities and world.
Reading then becomes more than a school activity. Reading is a worldly activity, one that brings renewed meaning and significance to children and their lives in relation to others.