Charles Hopkins, York's UNESCO Chair in Reorienting Education towards Sustainability, will be a featured presenter in the Times Higher Education University Impact Forum on Monday, June 14.
The event, which will be presented in a virtual format, is free for all York University faculty and staff to attend. The forum will look at the global inequities exposed by the COVID-19 pandemic and how this unprecedented health crisis has disrupted the education landscape and the opportunities to build back better and reimagine a new era for learning and pedagogy.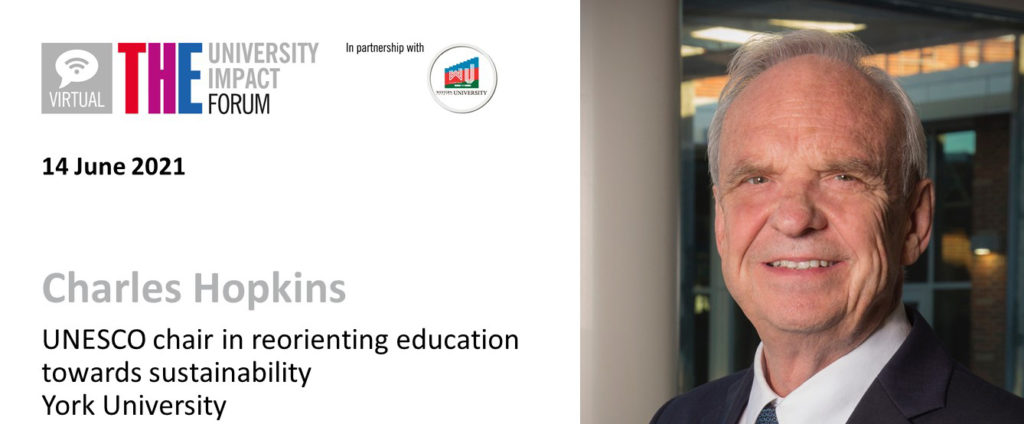 York University through Hopkins, who is a long-standing UNESCO Chair, will be the only Canadian University represented at the forum, which features an international cohort of 22 speakers. University delegates, including faculty and staff, can attend the forum free of charge. Register at https://www.timeshighered-events.com/impact-education-forum-2021/page/1801948/register.
During the forum, presenters will address the role of universities in achieving the United Nations' Sustainable Development Goal #4 on quality education. Their comments will explore:
Universities' commitment to improving access to education,
building inclusive models of education,
embracing a culture of lifelong learning,
a new era for micro-credentials,
the role of partnerships in delivering SDG4,
sustaining high-quality educational research with impact, and
is the future experiential?
Hopkins will participate in the discussion with Paul Basken, Times Higher Education's editor for North America. They will discuss the topic "Quality education for a resilient recovery," which will focus on how the pandemic has highlighted many of the inequalities among learners around the world and, those who do not have equitable access to remote learning. How can universities ensure that education is more effective, impactful and inclusive than it was before the crisis? Their discussion will take place June 14, from 9:30 to 10 a.m. EST (2 to 3 p.m. GMT+1).
More about Charles Hopkins
Hopkins holds the UNESCO Chair in Reorienting Education towards Sustainability at York University in Toronto, Canada. This chair, established in 1999, was the first UNESCO Chair to focus on Education for Sustainable Development (ESD) as a central concept and a purpose of education. Since 2017, ESD has been recognized as an integral element of Quality Education and as a key enabler of all SDGs.
Hopkins coordinates two global research networks focused on ESD. One network is the International Network of Teacher Education Institutions (INTEI) focusing on reorienting teacher education towards a sustainable future. The second network, #IndigenousESD aims to engage ESD content and pedagogy in reorienting education and training for Indigenous youth. Both networks are each active in over 50 countries to address the SDGs, in particular SDG 4 and the Global Education 2030 Agenda.
In 2020, his Chair was appointed to serve as focal point for SDG 4 in the Global Cluster of Higher Education and Research for Sustainable Development (HESD), hosted by the International Association of Universities (IAU) and Hopkins was invited to co-chair the York University President's Sustainability Council Knowledge Working Group.
Hopkins is a founding developer of the UN University´s Regional Centres of Expertise on ESD and is advisor to the program. He is the Co-Director of the Asia-Pacific Institute on ESD in Beijing, China. The Chair also collaborates closely with UNESCO-UNEVOC and Colleges and Institutes Canada (CICan) to enhance the Greening of Technical and Vocational Education and Training (TVET).
Article from the June 10, 2021 issue of Yfile.
---