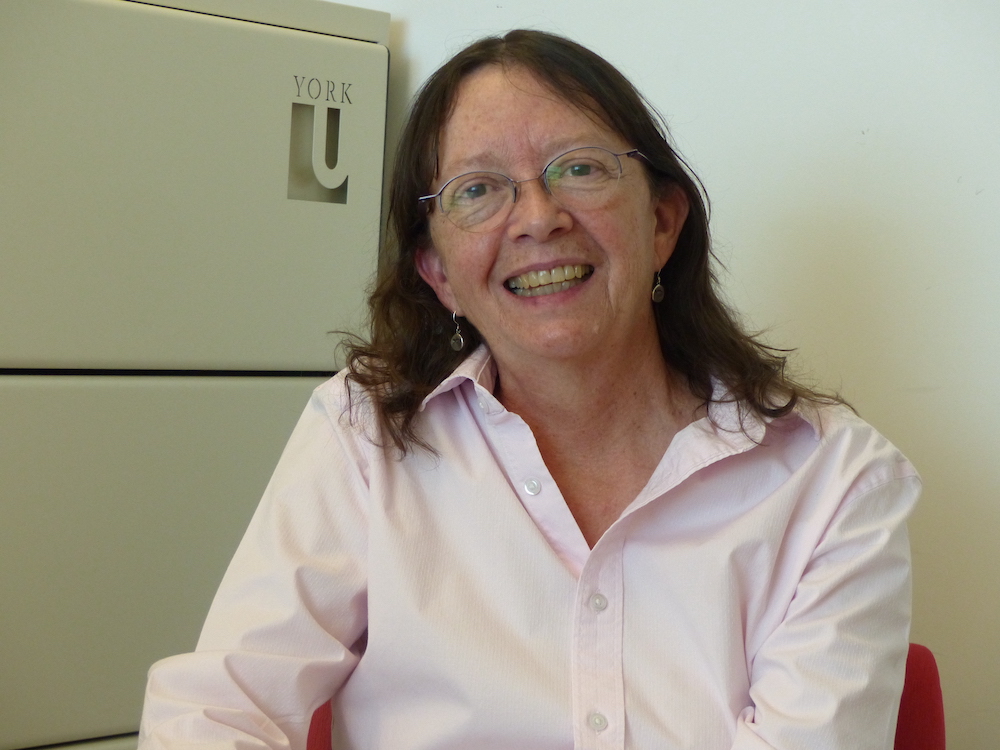 As much has she enjoyed her career at the York University Faculty of Education, Naomi Norquay, who recently retired July 1, is ready for the next phase of her life.
"I'm excited to retire," says Norquay. "It's time to put on some other shoes.
"I started school when I was six and I've been going to school on the Tuesday after Labour Day for 60 years. I don't know what it will feel like not to do so, but we'll see."
Norquay began her professional life as an itinerant music teacher for the Toronto District School Board but "it wasn't enough for my mind." She had earned a double bachelor's degree in music and history and thought about taking a history course. After a conversation with a history professor at York, Norquay found herself enrolling in the master's degree program in social history. Next, she went on to earn a doctoral degree at the Ontario Institute for Studies in Education at the University of Toronto where rather than studying music education in the schools, she explored "how white women like me navigate teaching in multiracial, multi-ethnic schools."
During her PhD program, she worked as a teaching assistant for Professor Don Dippo at York and became familiar with York's Faculty of Education. While she was completing her dissertation, York's Faculty of Education began a hiring spree. Norquay applied and landed a job. She felt "very lucky," and spent 30 years teaching at the faculty in the pre-service education and graduate programs.
"There will always be complexities with teaching, but I loved it very much," Norquay said. "Being a professor provided a very creative space to think, do research and teach."
She believes strongly that as a teacher, "I need to teach who's in front of me. As a young, white, Anglo, upper-middle class woman, I was often teaching students who had very different experiences than I did. I did ongoing work to get to know my students and always read widely to learn about who I was teaching."
It's an approach that also informed her research, which grew out of an interest in the history of her family's property in Grey County, land that had been settled by Black refugees from American slavery. She began doing archival research into their lives and discovered "stories that were hidden or silenced by others. The arc of my research fits with my sense of teaching who's in front of me. My teaching and research have informed each other and I continue to be amazed by students who are surprised that they haven't heard this history."
Norquay says her favourite time in the school calendar was always the week after Labour Day when the campus "bursts with energy. It's a joyous time. The commons are full and there are crowds of kids. I love that."
She expects to be on campus visiting the Ontario Archives, because there are still Grey County research projects on her to-do list, but Norquay also looks forward to lots of music and gardening. She was trained as a classical cellist and also plays clawhammer-style banjo music with friends; recently, Norquay has also been composing.
She will take away fond memories of many colleagues and students and has good memories of being part of the advisory group for the Jean Augustine Chair; working as a YUFA steward; serving on hiring committees in other faculties; doing guest lectures on a fictitious poet for Professor John Lennox's graduate English classes; and learning from colleagues seconded from various boards of education.
Winding down, she's enjoying getting in touch with former students and reflecting on her 30 years. "Obviously, there won't be a building named after me," Norquay says humorously, "but I hope I am appreciated and remembered fondly."
---