A look into Vicky Talwar's (BEd '05) interdisciplinary art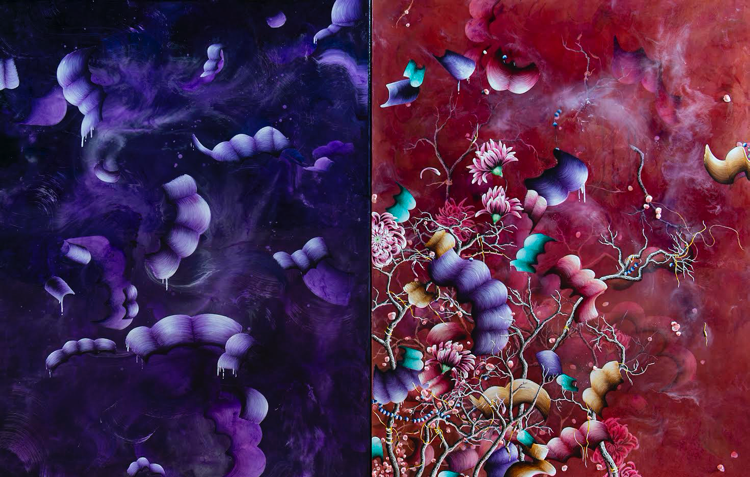 Culture and identity have always been focal drivers of Vicky Talwar's (BEd '05) artistic practice. Born and raised in Canada, she moved to New Delhi, India with her parents at 13. Having then acclimated to a new school system and a new life, Talwar then moved back to Canada with her family at 19.
"There was a lot of cultural disruption I experienced," she says. "This whole experience was confusing and traumatic, which brought up this cultural disruption, and has really made me embrace the contrasts of my identities. I look at the in-betweenness of my identities. Not exactly Hindu, or Canadian—but in-between."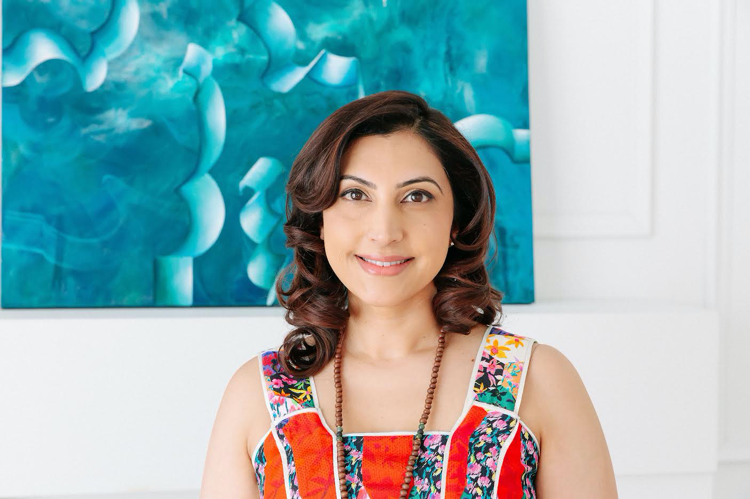 With each relocation, Talwar left an important part of herself behind. Her starting point in each new place was one of "incompleteness," she says. Today, she uses her art practice to express her multiple identities to confront her own sense of double consciousness.
Having recently completed her Master's in Fine Arts in the Interdisciplinary Art and Media Design program at OCADU, Talwar examines ways of displaying relationships between spaces from the cultural viewpoint of hyphenated identity. In such fashion, she is ever inspired to deepen her research using these key themes to reveal her experience as a Hindu-Canadian.
Talwar's paintings, mixed media, and installation artworks emphasize colour, materiality, traditional techniques and experimental processes. They serve to address themes of cultural hybridity, movement, displacement and memory.
"One of the ways I engage with these themes is by exploring the nature of colour and materiality," Talwar says. "The main focus of my practice is to see how the application of specific colours evoke emotions and memories. I investigate how they affect my body and emotions.
"In the studio, I think about the gestures and movements I make while working and why I place certain strokes on my canvas. I juxtapose one style of painting with another, further suggesting a cultural disruption."
Her approach may perhaps be best understood through her painting Rising Above, in which she aimed to capture a push and pull effect through a responsive approach to the elevated emotions she encountered.
"I find that my colorful ribbon-like brushstrokes trigger a state of tranquility."
Talwar is now developing more ways of engaging authentically with themes such as movement and memory. She is currently working on a sound recording that utilizes multiple different vibrational sounds that encourage healing.
In addition to being a mixed-media (interdisciplinary) artist, Talwar also serves as an educator with the York Region District School Board—an experience she says has empowered her to reflect the diversity, and the strength of the student demographic in York Region.
"My eagerness to share my worldview and personal experiences through my teaching and my artistic expression has been demonstrated in detail throughout my academic and professional career in the visual arts."
Talwar says that her creative and critical approaches in her teaching practice allow her to analyze and support culturally diverse artists. Learning about the creative practices of these artists further inspires her to create art in new ways and to think about potential subject matter for her artworks.
"The best advice I can share for artists thinking about a career in the arts is to remember that being authentic to oneself is essential," she says. "Try not to change your approach in art making just to gain popularity or art sales.
"Expressing my identities and lived experiences authentically encourages me to pursue my artistic career."
Talwar graduated from the Faculty of Ed in 2005 with a Bachelor's of Education. Her teachable was Junior/Intermediate Visual Arts. "My time in the program helped me gain valuable resources to enrich my teaching practice," she says. "I was able to provide my students with tools and strategies that led to better outcomes in the classroom." Through her classes at York University and the teaching placements she was placed in, she was able to learn how to build positive relationships with students by connecting with them through personal experiences and responding to their individual needs in a culturally responsive way.
You can find more of Talwar's interdisciplinary art at her upcoming solo exhibition on July 9, 2023 at Station Gallery in Whitby, as well as her website and Instagram pages below.
https://www.instagram.com/vickyspaintings/
Article by Dennis Bayazitov special contributing writer