Decolonizing Mental Health and Well-being - FESI 2020 webinar 3
25 November 2020
@
7:00 pm
-
8:30 pm
Join speakers Jennifer Mullan and Cheryl Woolnough for a conversation on disrupting the myth of neutrality that permeates our approaches to mental health in education. This myth of neutrality contributes to the oppression of racialized and minoritized youth in schooling and beyond. The speakers will discuss how the historical trauma of racism and colonization have impacted populations, and continue to influence our current modes of operation through systemic structures that have been left unexamined and unchallenged.

The webinar will culminateby discussing suggestions of strategies to decolonize mental health practices in Ontario classrooms. The session will be moderated by Sayema Chowdhury, co-chair of the FESI 2020-21 organizing committee.

This webinar is aimed towards classroom educators, system leaders as well as community members and caregivers who are looking to critically examine approaches to supporting mental health and wellbeing of all students
Register online at: https://fesi.blog.yorku.ca
Registration is FREE
Webinar session URL will be sent once your registration has been received.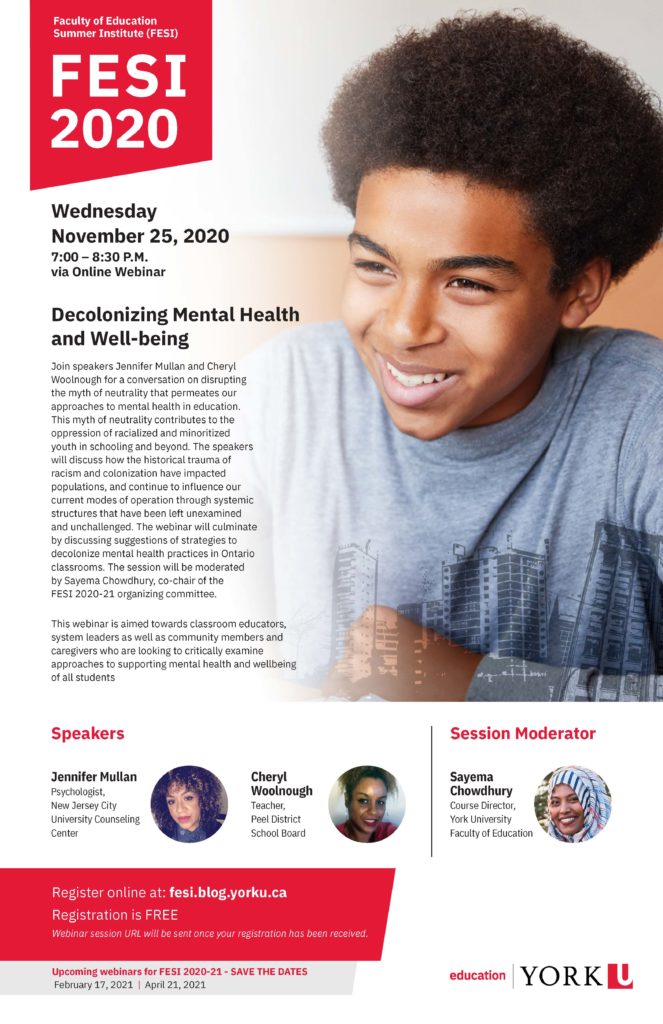 Related Events