The Education of Black Youth: A National Conversation with Educators
24 February 2021
@
7:00 pm
-
9:00 pm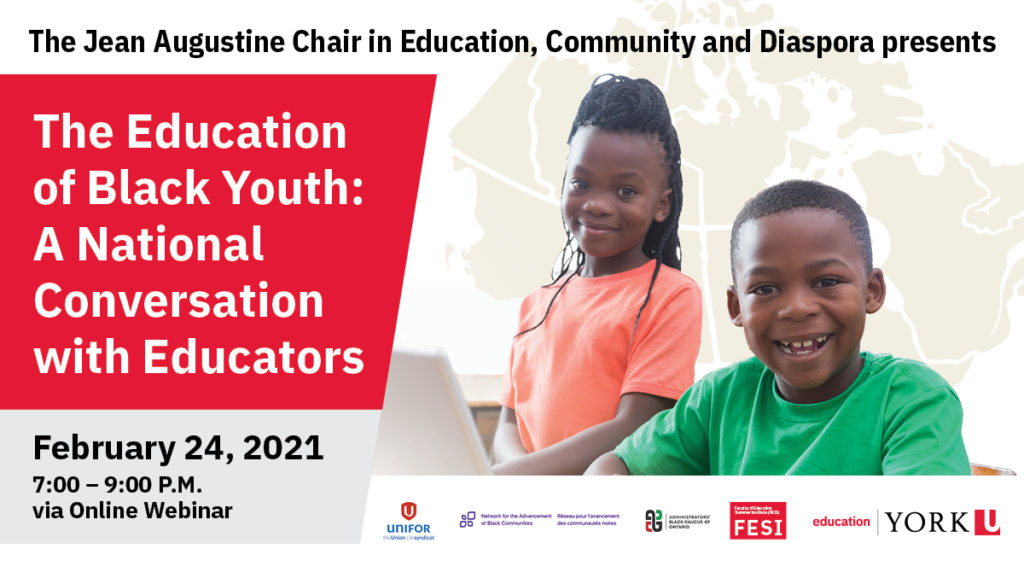 Join us to discuss the similarities, relatedness, and commonalities in the educational experiences, attainments, opportunities and possibilities of
Black student in various regions in Canada. Our panel of educators who currently work as teachers and administrators in School Boards in six
Canadian cities, will enlighten us about issues and concerns of educators, students, parents and community members pertaining to what schooling and education has been like -- and continues to be – for them. We will learn about what has been happening across the country because of the social structures and systemic oppressions they face.
This discussion is taking place at a time when the world, and Canada in particular, is concerned with (and must address) the impact of the inequities in the economic, social, health, and educational situation of Black and other racialized students. While all educators (whether working directly in education, or parallel to education) have a responsibility to equitably serve the needs, interests and ambitions of Black students, in reality, much of the work falls on the shoulders of Black educators.
All educators must address the realities of anti-Black racism that operates in school boards as barriers to the success of Black students. We will be engaging in community-referenced discussions with practitioners who are at the forefront of addressing and dismantling barriers to Black students' schooling engagement and educational achievement.
This event is being presented by the Jean Augustine Chair in Education, Community & Diaspora (York University) in collaboration with Unifor, the Administrators' Black Caucus of Ontario (ABC), the Network for the Advancement of Black Communities (NABC), FESI 2020-21 and the Faculty of Education at York University.
Register online at: fesi.blog.yorku.ca
Registration is FREE
Webinar session URL will be sent once your registration has been received.