Ophthalmoscope
---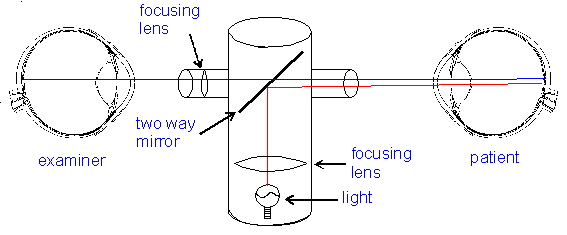 This schematic of an ophthalmoscope shows its design principles. This instrument was invented by Herman von Helmholtz. The red line represents light focused from the bulb onto a patient's retina. The blue line represents light reflected from the patient's retina and projected into the examiner's eye.

The technical term for a two way mirror is a "half silvered mirror." Such a mirror reflects and transmits about 50% of the light. Only the rays necessary for the operation of the ophthalmoscope are illustrated.

Examiner's view gives and idea what an examiner sees while looking through the ophthalmoscope.
---
Table of Contents
Subject Index
Table of Contents [When not using framtes]