APRIL 4, 5 & 6
The Research Office is once again pleased to invite you to their Research Festival. This annual event showcases faculty and student research and celebrates the research achievements of our community.
Click on the tabs below to respond to the call for proposal and to nominate a colleague to the Principal's Research Excellence Award which is scheduled to take on April 6th afternoon. More information about the Research Festival will be shared shortly.
Event Schedule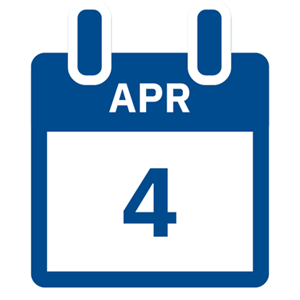 CRLCC Research Events
*Research presentations on April 4 will be exclusively on Zoom.

https://yorku.zoom.us/j/95464669538?pwd=ZmlsajFpVjV5aXpMRXJaNFIwWE5DQT09
Meeting ID: 954 6466 9538
Passcode: 859651
Register here to attend the CRLCC research events
---
10 h 00 | 10:00 AM
Brian Morgan
Curve of the Earth: Album Reflections, Pedagogical Connections
11 h 00 | 11:00 AM
Muriel Péguret et Eric Keunne
Leçons apprises d'une expérience télécollaborative (ARI / GNL) au niveau universitaire en français
13 h 00 | 1 PM (CANCELLED)
María Constanza Guzmán and Alejandro Zamora
Community Narratives and Making the Humanities Public
14 h 00 | 2 PM
Lancement de livres | The launch of two books
Modératrice| Moderator Hind Ben Salama
Joshua Price Translation and Epistemicide: Racialization of Languages in the Americas (The University of Arizona Press 2023)
Tarek Shamma (coeditor with Myriam Salama-Carr) Anthology of Arabic Discourse on Translation (Routledge 2022)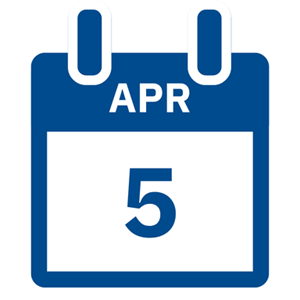 Student Research Exhibition
Register here to attend Student research showcase events
12 P.M. to 1 P.M.
Launch of the Student Research Showcase. Refreshments will be served.
---
1 P.M. to 2:30 P.M.
Student In-person Presentation
Centre for Excellence – A224
Register here to attend Student research showcase events
---
Student Research Exhibition
Rebecca Sarchese
G21 Passion Project
GL/LIN 4669 A
Supervisors: Dre. Catherine Lamaison and Dr. Gabriel Levine
Biography: Rebecca is a fourth-year student in the Linguistics and Language Studies program. She has previously collaborated with Dr. Catherine Lamaison on research about accommodations for Deaf and Hard-of-Hearing individuals in oral and written language courses. Passionate about language, linguistics, and disability, Rebecca is always looking for ways to combine these interests in her research.
Identity-first and Person-first Language: An analysis of self-identification preferences among students in York University's Disability community
This project aims to determine whether students with disabilities at York University prefer or are indifferent to person- or identity-first language (ex. "person with a disability" and "disabled person," respectively). This study will also analyze any patterns of preference or indifference among intersecting identities of York's Disability community, including ethnicity, Indigeneity, gender identity, age, and primary language.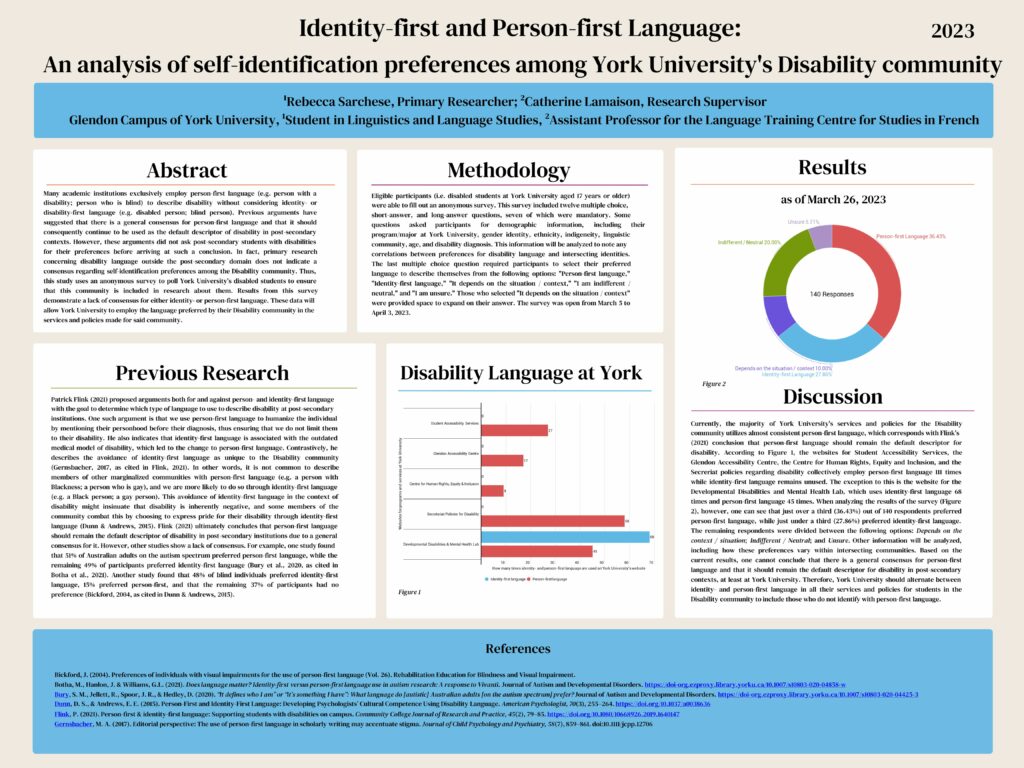 Isabelle Lepage
Comm FREN 5609 – Théories psycholinguistiques et acquisition
Superviseure: Christine Besnard
Biographie: Étudiante en première année au doctorat en Études francophones, Isabelle a œuvré en tant qu'interprète gestuelle en Langue de signes québécoise (LSQ), aide-enseignante à l'école primaire et traductrice de l'anglais vers le français. Présentement traductrice pour la LCBO et assistante professeure à l'Université York, Collège Glendon, elle continue d'étudier le monde de la surdité et l'acquisition de la langue seconde à travers ses recherches. Isabelle a appris la LSQ dès la petite enfance, principalement grâce à sa cousine atteinte de surdité et aux enseignants du Consortium Centre Jules-Léger d'Ottawa. Suite à ses recherches avec le projet Camerise sur l'enseignement du français langue seconde en milieu minoritaire, Isabelle a décidé de combiner ses passions et de se pencher sur la question de l'apprentissage des langues secondes chez la population atteinte de surdité.
Comment les enfants sourds apprennent-ils leur seconde langue (L2)? Un aperçu...
Dans cette recherche, j'offre un survol de la façon dont les enfants sourds apprennent une langue seconde. Je commence par explorer la distinction entre la langue première et seconde de l'enfant; j'analyse les rôles de la lecture et de l'écriture chez l'enfant; l'accessibilité et l'exposition à la langue seconde dans l'environnement de l'enfant sourd. Entre autres, j'explore l'importance des écoles résidentielle et de l'école traditionnelle. Finalement, j'explique l'importance du soutien de la famille.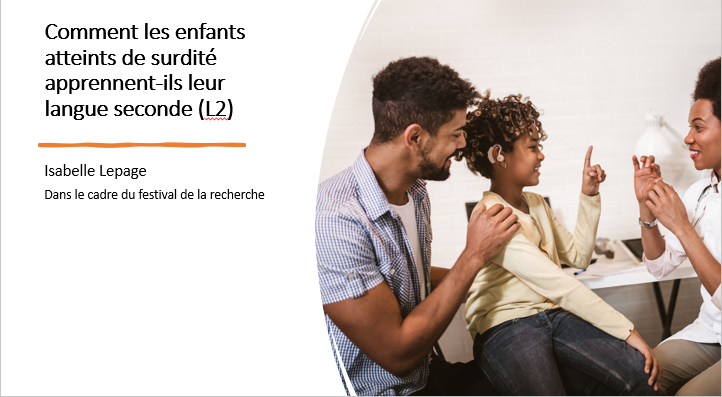 Christiane Marie Canillo
Research Assistantship. Supervisor: Buddhika Bellana
Biography: I am Christiane Marie Canillo, a cognitive psychology research assistant in Dr. Buddhika Bellana's Memory and Meaning Lab at Glendon. My research interests revolve around emotion and cognition, with a current objective to investigate rumination in spontaneous thought in the lab. I also advocate for the United Nations Sustainable Development Goals in mainstreaming global citizenship education, where a passion project with York International led to international collaboration with a non-profit organization in Southeast Asia striving for quality education. My favourite academic courses are memory, cultural psychology, comparative global mental health, and the philosophy of neuroscience.
Detecting rumination in the dynamics of spontaneous thought
Rumination is a hallmark of depression and anxiety. When ruminating, thought content becomes repetitive, self-reflective and centred around the causes and consequences of our negative emotions. While rumination appears to emphasize a slowing in the dynamics of spontaneous thoughts (i.e., 'stickiness'), traditional measures of rumination rely on static, trait-level self-report. Recently, our lab has leveraged a free word association task to quantify the changing content of spontaneous thought. Here, we test whether self-reported trait-level measures of rumination are predictive of 'stickiness' in a dynamic, state-level measure of spontaneous thought.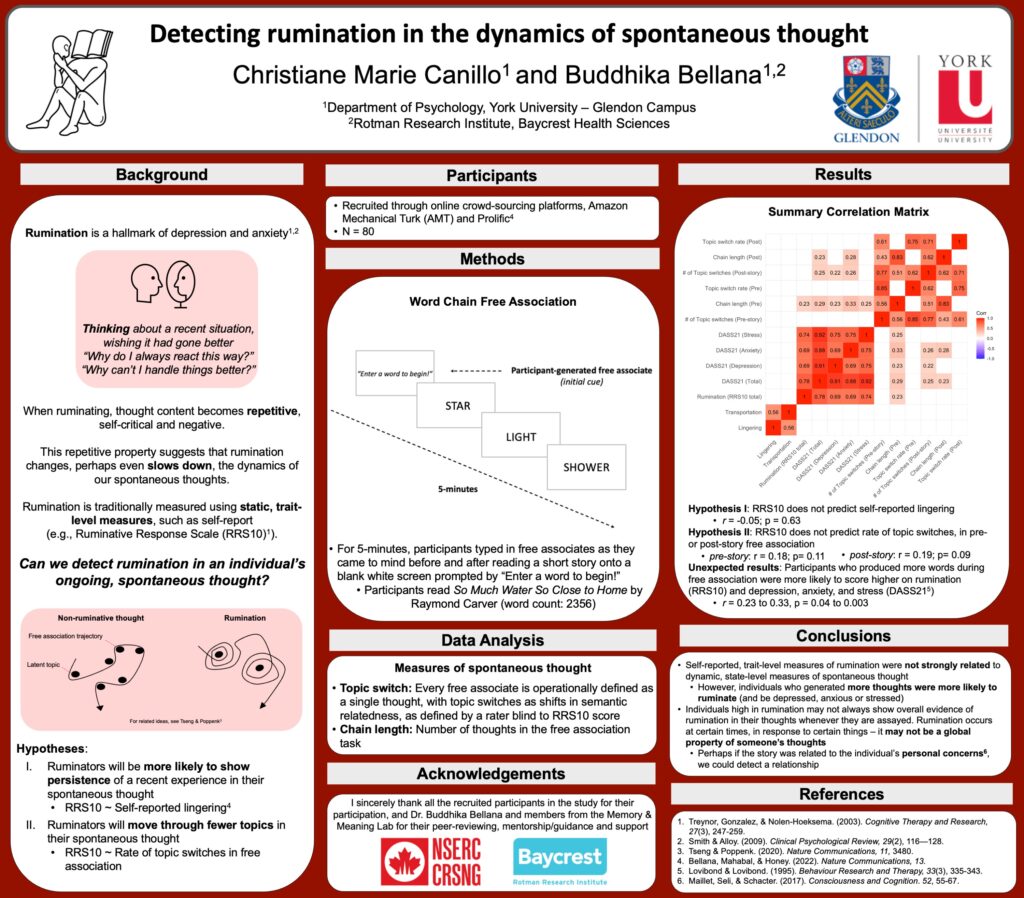 William Fisher
Supervisor: Buddhika Bellana
Biography: I graduated from York in June 2022 with a BSc in Psychology. I currently work here at Glendon as a research assistant in Dr. Buddhika Bellana's Memory & Meaning Lab, and I'm very excited to begin my Master's in the fall with Dr. Bellana and Dr. Andrée-Ann Cyr as my supervisors. My research interests primarily lay in the realm of the cognitive neuroscience of episodic memory, though I love cognitive neuroscience as a whole and love learning in general. Some of my favourite undergraduate courses include Human Neuropsychology, Sensation & Perception I & II, and Seminar in Memory & Cognition.
Quantifying memory transformation with scrambled narratives
Memories transform over time, both in terms of their neural representation and experiential qualities. At the behavioural level, this transformation has been characterized as detailed memories becoming less episodic and more schematic over time. Current measures of these memory transformations commonly rely on time-consuming human scoring, and we lack an efficient and objective measure of this phenomenon. Here, we propose a new, scalable, and efficient experimental paradigm for quantifying memory transformation using event-scrambled stories.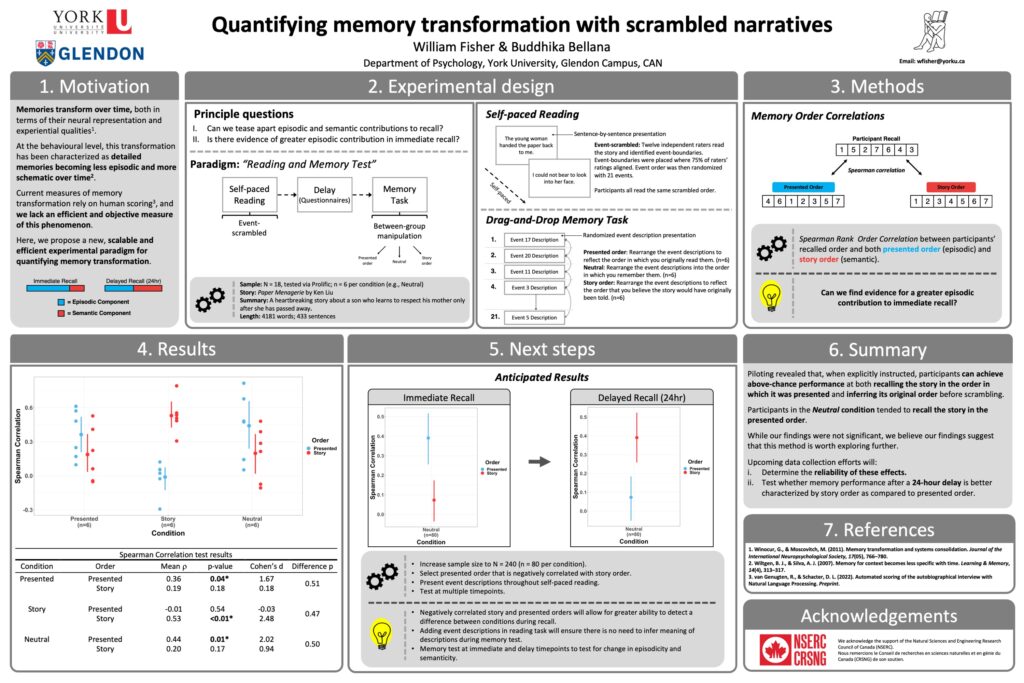 Maria Moncaleano
4th Year- Psychology. Supervisor: Buddhika, Bellana
Biography: I am a fourth-year Psychology student, and I am passionate about studying how the brain works to help make our every day better. Currently, I am interested in exploring how we remember meaningful content such as stories and how these resemble our memory for real-life experiences.
I love classes like Human Neuropsychology and Aging, I am also fortunate to be doing my thesis in the Memory and Meaning lab with Dr. Buddhika Bellana and volunteering at the Levine lab at Baycrest, where I help out with projects in autobiographical memory. I hope to continue my studies in clinical neuropsychology.
Developing and Validating the 'Question Generation Task' to Measure Deep Processing of Stories
The extent to which we engage with a story varies. A compelling story makes us consider how it relates to our experiences. Traditional measures of story engagement either do not capture this participatory aspect or are difficult to quantify.
In this study, I sought to validate a new measure of story engagement: the Question Generation Task hoping that its results would positively correlate with known measures of engagement.
Results provide insight into question generation as a possible measure of how deeply we process a story which can be applied to understand mechanisms underlying the formation of lasting impressions in memory.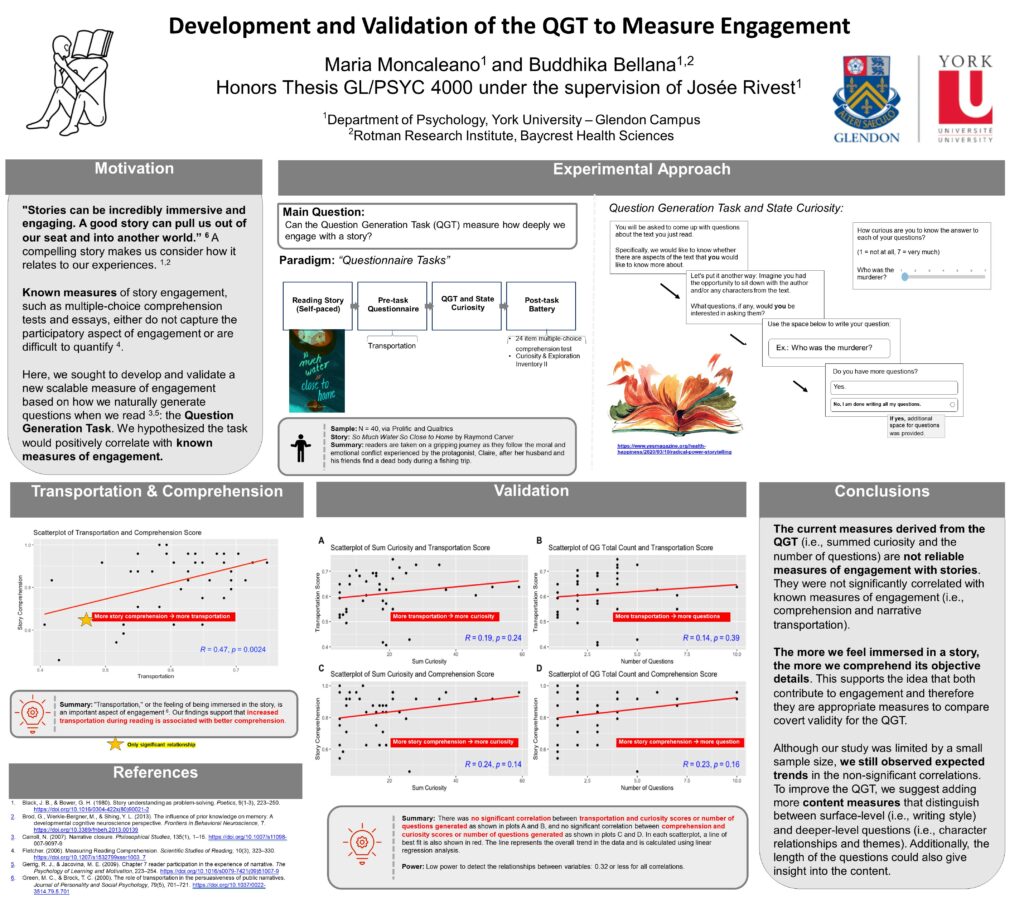 Aylin Adsalan
GL/PSYC4000 A - Honours Thesis
Supervisor: Dr. Gerald Young
Biography: I am a fourth year psychology student. I am interested in the behaviours of groups towards vulnerable peoples. My favourite academic course was abnormal psychology, and I would love to research on the reasons of the behaviours, and subconscious. I have been volunteering, and assisting refugees in the last four years, and I would like to participate in research on groups experiencing post-traumatic stress disorder, the behavioural patterns women are exposed to, and how supportive the behavior of the society towards underprivileged groups is.
Attitudes Towards Women College Students Who Faced Sexual Harassment at Work
This study shall be completed as a requirement of the course PSYC 4000 Honours Thesis. I will use vignettes to investigate whether participants have empathetic attitudes towards female university students who have trouble in their university courses due to the hardship experienced from being sexually abused at their part-time job (out of college) relative to other reasons. A fictitious scenario will describe a female university student with a part-time job. In one condition (Scenario 1), she will divulge that she is sexually harassed at her job and ask for accommodations in her courses due to the negative consequences caused by her harassment. In another condition (Scenario 2), the scenario will describe the same woman without mentioning that her hardship is due to sexual harassment. Participants will rate the woman's likelihood of being granted accommodation. Hence, the measure is giving accommodation by answering the questionnaire positively or not to see how supportive our attitudes towards these woman college students. After agreeing to participate in the study, they will first answer the demographic questions. After that, there will be one scenario for each group of participants followed by a questionnaire and the TEQ (Toronto Empathy Questionnaire to keep the confounding factor a minimum for empathy skills). I will randomly assign participants to do Scenario 1 or Scenario 2 according to their answer to the first sifting question (choose the option that comes first - A or - B). It is predicted that the participants who will be randomly assigned to receive Scenario 1 (Groups A) will have lower or similar scores on giving the accommodation than the control group (Group B), which will be exposed to receive Scenario 2 (no disclosure of sexual harassment).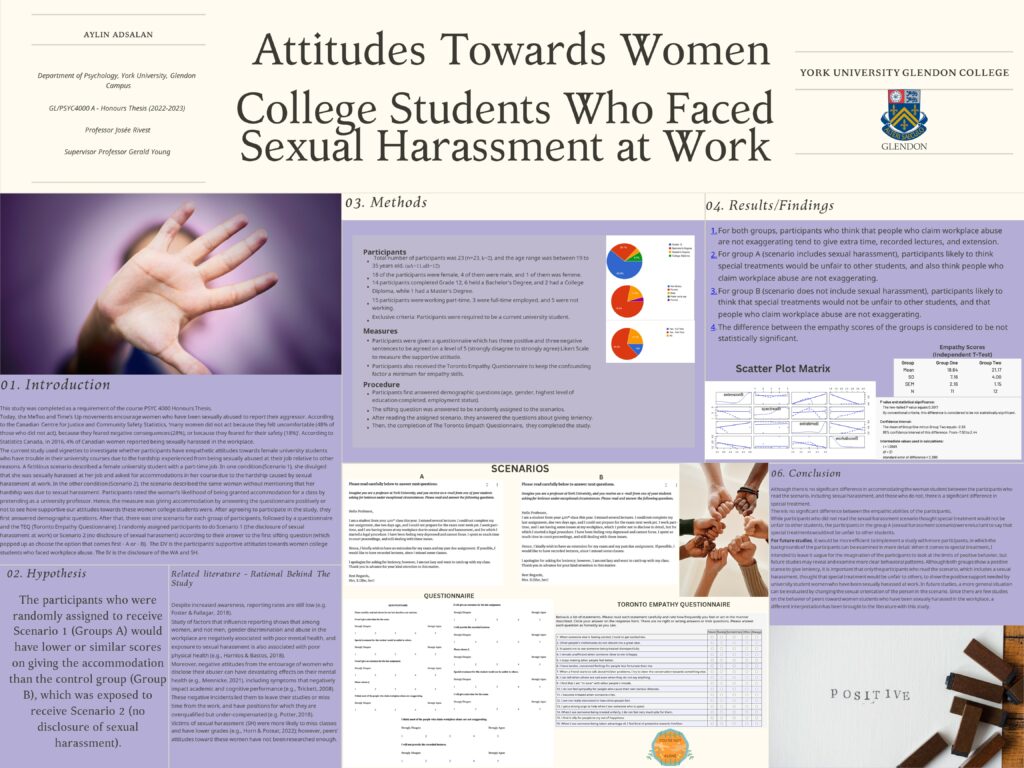 Leyao Wang
G21 Course
Supervisor Dre. Josée Rivest and Dr.Gabriel Levine
Biography: I am a third year psychology student at Glendon. I'm interested in languages, motivation and memory. I want to pursue Clinical Psychology in graduate school.
Comparing the Emotional Charge of Bilinguals' Languages Based on Their Linguistic Similarity
This study explores how linguistic similarity between a bilingual individual's first and second language affects the level of emotional activation experienced in each language. Studies have shown that the first language tends to be more emotionally charged than the second language, and some bilingual individuals report feeling a level of emotional detachment when speaking in their second language. This research compares the emotional reactions of English second language speakers with either French or Mandarin as their first language using the emotional Stroop task. Other factors, such as language learning history and context, can also influence emotional activation in different languages.
Carrie Weiler
G21 Passion Project- SOSC 4669
Supervisor –Dr. Gabriel Levine
I am in fourth year sociology and will be continuing on to graduate studies. I am interested in gender equality and its seemingly rescinding nature recently.
Innovative Community-based Initiatives for Reproductive Rights (G21)
I am examining two case studies - in Sri Lanka among Free Trade Zone workers and women in a rural community in Nepal. These places have drawn upon innovative methods of ensuring access to abortion - ones that can be helpful to other locations.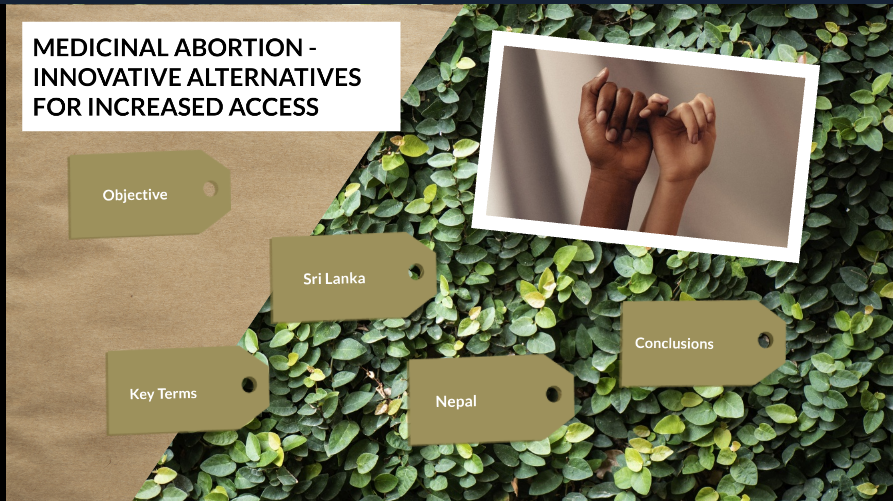 Ghalia El Hayawan
G21 Passion project
Instructors and mentors: Dr.Gabriel Levine and Dr.Josée Rivest
Biography: My name is Ghalia El Hayawan. I am a third year Glendon student majoring in psychology. My current interest include research in psychology, learning new languages. My favorite courses this year are my neuropsychology courses (Psychological testing and measurement and Psychobiology) as well as the G21 Passion project course. These courses have allowed me to expand my knowledge in psychology and honed my research and presentation skills.
The Effects of Auditory Distraction in Different Languages on Bilinguals' Verbal Memory
The goal of this project is to study the effects of distracting speech on bilinguals' performance in an associative-word recognition task —in which the language of the speech distractor and the task are the same (both in French or in English), or different (the distraction in French and the task in English, or the reverse). The results of this project will further explain how the bilingual brain works. This is important in our modern context as bilinguals engage in a world that continues to globalise, with individuals frequently having to communicate in languages other than those they primarily used in their upbringing.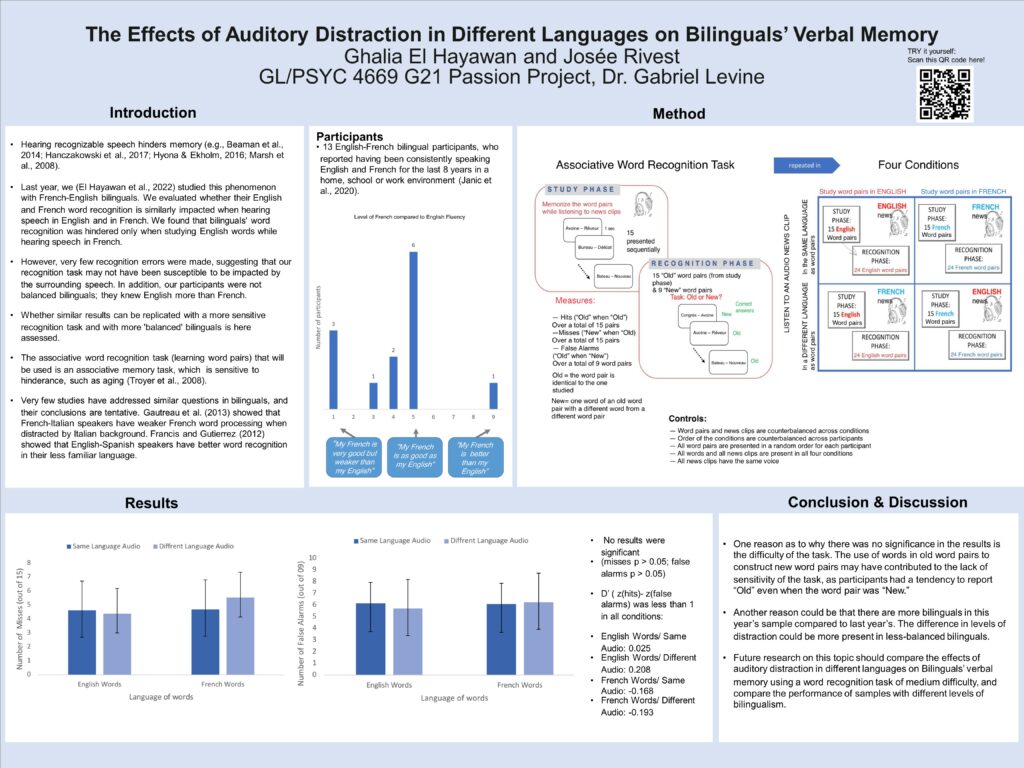 Pranitha Rathakrishnan
2nd Year - Bsc Hons. Psychology
GL PSYC 3525, Intermediate Experimental Psychology
Supervisor- Dr. Stephanie Marion
Biography: I'm in my 2nd year of my Bsc Hons. Psychology degree at Glendon. My research interests are primarily in cognition, memory, and development, especially as they interact with a variety of biopsychosocial factors (eg. socioeconomic status). My favourite courses thus far have been Introduction to and Intermediate Experimental Psychology, and Psychological Testing and Measurement. I'm excited to continue to expand my psychological knowledge and learn about the expanses and possibilities of psychology research over the course of my degree.
The effect of the timing of context on the comprehension of written texts with varying linguistic.
The present study investigates the effects of the timing of context, specifically whether it is given before or after a written prose passage. It also looks at the linguistic fluency of the target material; although the complexity of the meaning and topic of the material is the same, due to changes made to its sentence structure and word complexity, the material is either easier to process (highly fluent) or harder to process (lowly fluent). The study offers a preliminary look into the factors that may influence context's beneficial effects.
Amir Ramic
G21 Passion Project, Dr. Gabriel Levine
Yugoslavian Rock 'n Roll, 1980-1999 (G21)
The Yugoslavian Rock scene of the 1980s and 1990s contains many pertinent details to the structure of SFR Yugoslavia's society, which continues to be one of the more unexplored European states of the 20th century. Owing to the dissolution of Yugoslavia in 1991, there is no great priority in further exploring what once was one of Europe's most influential states, yet despite that, Yugoslavia's influence continues to the present day. The Rock music recorded in the 1980s until the NATO bombing of Serbia in 1999 continues to be massively popular within the Yugoslav successor states. This paper examines the Yugoslav Rock industry and its significant movements along with relevant artists from the years 1980-1999. This timeframe begins with the death of Josip Broz Tito, the leader of Yugoslavia and the moment that is often attributed to the beginning of Yugoslavia's decline. It will end with the NATO bombing of Serbia in 1999, allowing for this project to analyze Yugoslav Rock's most prevalent years as a tool for political discourse and expression.
Biography: My name is Amar Ramić and I am currently a third-year History major at Glendon campus of York University. I am striving to finish my undergraduate and move on to graduate school, eventually earning a Ph.D. My ambition is to become a professor of Yugoslavian history, and as a result, most of the research I do is pertaining to this field. Since an early age, I have had an interest in history, eager to learn anything even if it is not pertaining to my particular interest, and to this day I strive to learn as much as I possibly can about a variety of historical topics. However, I have always had a particular interest in Yugoslavian history, given my background as a Bosniak. My experience as an undergraduate student has so far been illuminating, broadening my perspective of the purpose that history serves in our everyday lives and the ways in which it can affect them. By the end of my undergraduate, I hope to complete York University's certificate of public history, which would serve me well in my future endeavours as a professor of history.
Diego Pereira and Gheshny Jugurnath
3rd year. GL/PSYC3525 - Intermediate Experimental Psychology
Supervisor: Dre. Stéphanie Marion
Biographies: Diego Pereira and Gheshny Jugurnath are third-year students majoring in psychology who aim to pursue a career in counseling or clinical psychology. Diego's favorite subjects in psychology are addiction, anxiety, and depression. He enjoyed taking the Statistics and Experimental psychology courses and is looking forward to the Abnormal Psychology, Psychology of Sexual Orientation, and Drugs and Behaviour ones. Meanwhile, Gheshny loves learning about Psychology and Philosophy, and her areas of interest are stress, grief and dying, and trauma. Lastly, she had a good time taking the Social Psychology, Memory, The Meaning of Life, and Intro to Sexuality Studies courses.
The effects of processing fluency and context on reading comprehension
This study seeks to understand the effects of processing fluency and context on reading comprehension. Previous literature has shown that exposure to context improves comprehension of a corresponding text and that texts low in fluency are more challenging to process. In this experiment, we operationalized the context availability (before or after) and the text fluency (low or high) and randomly assigned participants to one of the four conditions. To measure their comprehension, we used a self-report and a questionnaire. We found small and non-significant effects for both variables, possibly because our sample size was limited.
Angelica Drexler, Paige Lalonde and Aaron Ramos-Cortes
Independent project under the supervision of Dre. Betsey Price
Biographies: Angelica Drexler is a fourth year Glendon student majoring in Biology. Her research interests are in animal behaviour, the effect of language on the brain, and food sustainability. Paige Lalonde is a third year Glendon student majoring in history and minoring in philosophy. Her research interests are in food history, agriculture, urban geography, and childhood education.
Aaron Ramos-Cortes is a fourth year Glendon student majoring in political science. His research interests includes a wide variety of topics, such as political theory, migration, environmental studies, and food sustainability.
The Influence of Economic Downturns in the Prevalence of Agritourism on Canadian Farms
To remain viable and to sustain the livelihoods of agricultural workers, many farms have turned to 'agritourism' practices—the inclusion of attractions on farms whose aim is to entice visitors with entertainment. Farmers have cited economic pressures as influential in their decisions to incorporate agritourism into their business models. The question remains as to how and why agritourism took the role in shaping the survival of small farms in Canadian agriculture. We will investigate the relationship between economic hardship and the incorporation of agritourism into farm businesses, starting with the Great Depression (1929) and ending with the COVID-19 pandemic (2020s).

Madison Walker Grassi
Honours Thesis (GL/PSYC 4000)
Supervisor: Josée Rivest
Biography: Madison Grassi is a fourth-year psychology student at Glendon College, York University, with a passion for studying emotion regulation and human behaviour. She has excelled academically, earning a place on the Dean's List every year. Madison has gained valuable research experience at the Rotman Research Institute at Baycrest Hospital and in the social motivation lab at the university. She has organized successful projects, including a meta-analysis on speech production networks, which is currently being published. Madison intends to pursue a Master's degree in Counselling Psychology and become a licensed clinical psychotherapist to help people overcome mental health challenges.
Anxious Attachment, Rumination, and Grudge Holding in Romantic Relationships
This study explored the mediational role of rumination in explaining why anxiously attached individuals tend to hold grudges after a romantic partner's transgression. A community sample of adults in a romantic relationship (N=665) participated in the study. Results showed that anxious attachment related positively to rumination, which in turn related positively to grudge holding. The study confirmed that rumination mediated the relation between anxious attachment and grudge holding. These findings suggest that rumination could be a key factor in understanding why some individuals with anxious attachment tendencies hold grudges after experiencing a transgression in a romantic relationship.
Jagruti Pershad
GL/PSYC 4000 Honours Thesis
Supervisor- Dr. Josée Rivest
Biography: I am a 4th year specialised honours Psychology student. I am interested in how culture has an effect on an individual's behaviour and cognitions. My favourite course is the Applied research practicum as it involves discussions about different case studies and applying theoretical knowledge to different cases.
Future Thinking, After death beliefs and Wellbeing
The main goal of this study is to examine how older adults with different religious beliefs differ in terms of thinking about their personal future. Previous studies have shown that older adults are less likely to think about their future as compared to younger adults and are more likely to perceive their time as limited (Mello et al., 2022; Carstensen, 2006). Moreover, this limited future time horizon is argued to motivate older adults to prioritize their wellbeing in the time they have left (socioemotional selectivity theory; Carstensen, 2006). However, this theory does not consider that individuals from different cultures hold distinct beliefs in regards to life after death. It is possible that such beliefs impact perception of future time: in those who believe in life after death, the imagined future may not be necessarily limited to this lifetime, but may extend to time after death or to future lives as highlighted by Lester et al. (2001-2002). Thus, we predict that those who believe in life after death will have greater future time extension. The socioemotional selectivity theory would predict that older adults with longer future time horizons would have lower wellbeing, however, there is evidence that those who believe have better wellbeing (Flannelley et al., 2006). Therefore, we hypothesize that future time perspective and wellbeing interact differently depending on individuals' after-death beliefs. Therefore, in this study, we analyze data collected in an online study by the Addis Lab that included the Future Time Perspective Scale, Functions of Future Thinking Scale, WHO-5 Wellbeing Scale and After Death Belief scale.
Ryley Nathaniel
PSYC 4000: Honours Thesis
Supervisors: Dr. Bradley, Buchsbaum; Dr. Buddhika Bellana
Biography: I am in the third year of my Specialised, Honours BSc in Psychology in the Cognitive Neuropsychology Stream. Interests: My research interests include anything related to neuroscience, with specific focuses on interpersonal behaviours and on memory formation. I enjoy courses related to Human Neuropsychology. Research: Honours Thesis research examines the relationship between music and audio and how the cross-modalities aid in working memory of images.
Does music jog associative memory
The role of music and its emotional qualities on the promotion of memories for simultaneously presented visual images. Participants completed an approximately 20-minute memory task, paying attention to images while simultaneously hearing emotional (happy, sad or neutral) instrumental music. Music has the ability to cue visual memory when previously paired, the encoding phase allowed cross-modal priming. Emotionality heightens vividness of memories by simultaneously activating the amygdala and the hippocampus. Participants were then tested with the role of indicating whether an image had been seen before, answering as fast and as accurately as possible.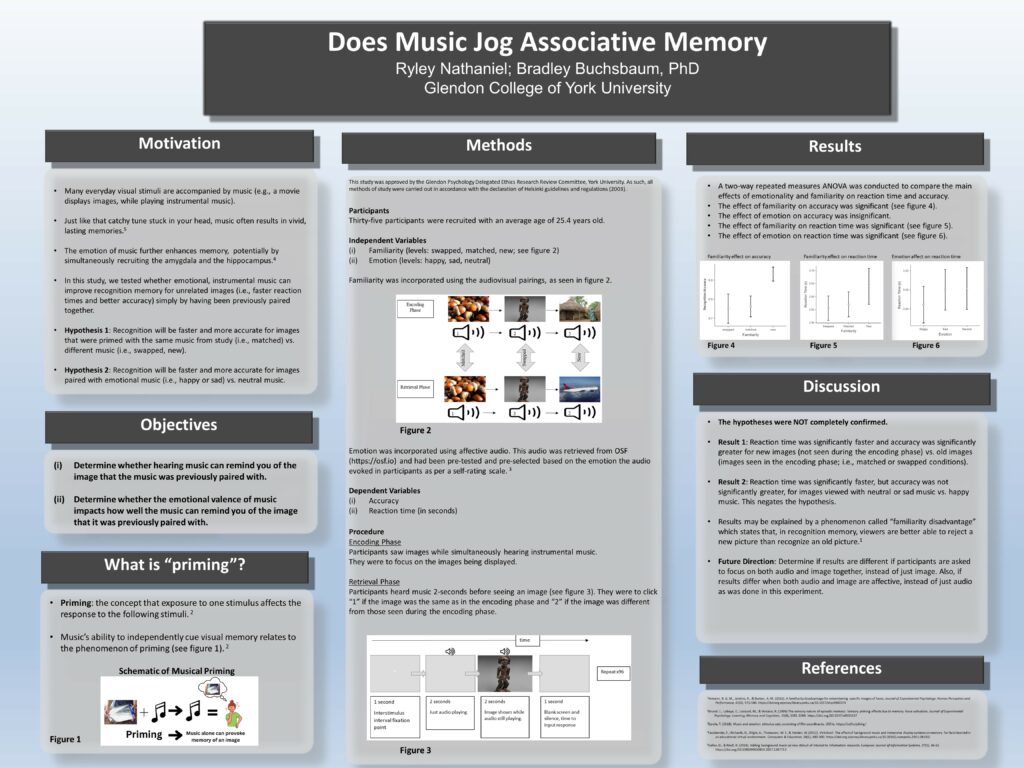 Zaina Aloissi
Specialized Honours thesis : Dr. Josée Rivest
Supervised by Dr. Adrienne Perry
Biography: I am currently in my fourth year of the Specialized Honours Psychology program here at Glendon. I am interested in how environmental and biological factors can influence the lives of individuals with autism along with their families. I am also interested in researching the best ways that we can provide services for them. My specialized honours thesis examines symptoms of autism in children with autism and their siblings, in relation to the Broader Autism Phenotype scores of their parents.
Symptoms of Autism in Probands and Siblings in Relation to Parents' Broader Autism Phenotype Traits
Previous research has shown that siblings of children with autism can be at risk for developing autism or milder symptoms known as the broader autism phenotype or BAP (Chawarska et al., 2014). Parents of children with autism may display the BAP as well. Using a large database from the Simons Foundation, we examined autistic symptoms in n=2154 families, each with data from a child with autism, sibling, mother, and father. The Social Responsiveness Scale (SRS, with 5 subscales) was used for children; Broader Autism Phenotype questionnaire (BAPq) for parents. Preliminary results showed very small correlations for autistic children's SRS scores with both parents' BABq scores, contrary to expectation. For siblings, correlations were higher with mothers' scores than with fathers', also somewhat surprisingly. Further analyses are currently underway.
---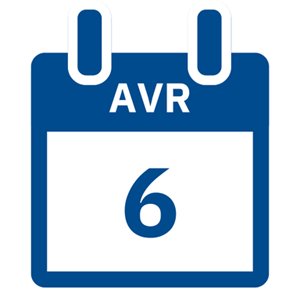 Faculty Research Showcase
12: 00 pm to 1: 30 pm- Glendon Hall. Ball Room.
Dr. Gillian McGillivray
Associate Professor, Glendon College, Department of History
The Entangled Labor Histories of Brazil and the United States: Forging Transnational Links across the Myths of Exceptionalism
---
Dr. Josée Rivest
Associate Professor, Glendon College, Department of Psychology
Percevoir sans voir -le syndrome de Charles Bonnet et Voir sans percevoir -la maladie d'Alzheimer dans le cortex visuel
---
Dr. Marie-Hélène Larochelle
Associate Professor, French Studies
Communauté monstrueuse, comprendre les marges de la littérature
---
Principal's Award
2pm to 3 pm.
Glendon Hall. Ball Room.
Refreshments will be served.