---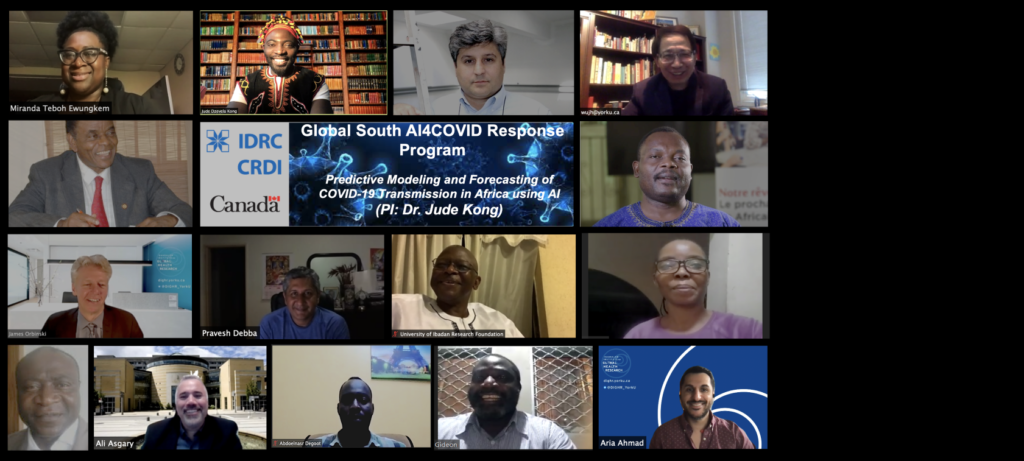 International Collaboration
Controlling COVID-19 in Africa
Researchers from York University are joining with organizations across Africa to predict the spread of the COVID-19 pandemic and provide modelling that will help national policymakers from across Africa manage the virus in real-time.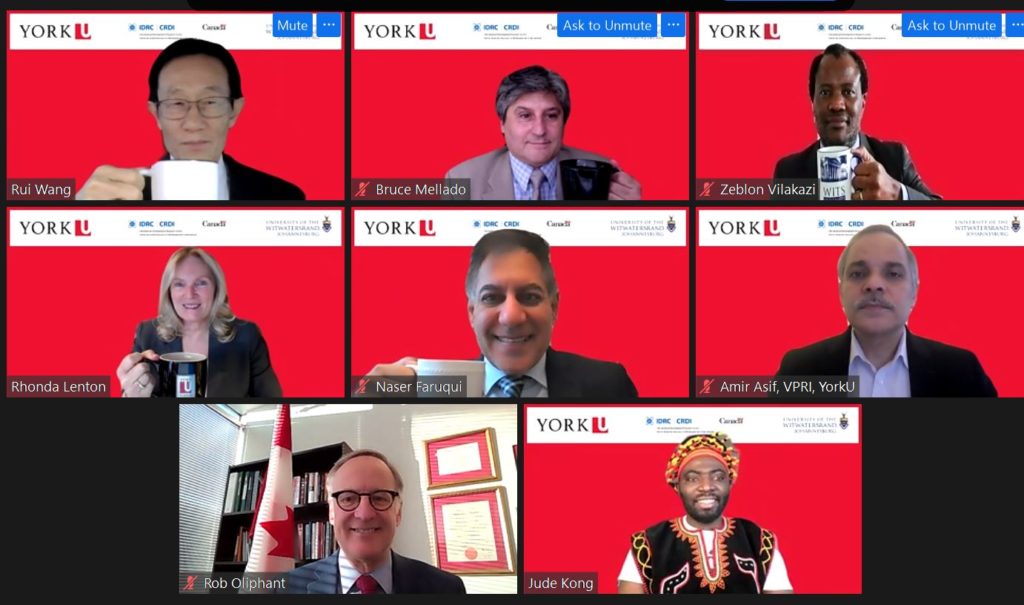 Collaboration to tackle COVID-19 in Africa and future disease outbreaks
On Jan 27, 2021, York University and the University of the Witwatersand in South Africa signed a Memorandum of Understanding (MOU) on promoting collaborative activities including student exchanges, faculty and researcher mobility, research cooperation and future joint project development. This institutional partnership builds on and will continue to strengthen the successful collaborations between the two institutions through the Africa-Canada Artificial Intelligence and Public Health Data Modelling Consortium and the IDRC funded project Predictive modeling and forecasting of the transmission of COVID-19 in Africa using Artificial Intelligence led by York University Assistant Professor Jude Kong, Department of Mathematics and Statistics, York University and member of the National COVID-19 Modelling Rapid Response Task Force, and Professor Bruce Mellado, School of Physics, Faculty of Science, University of Witwatersrand. The project received more than $1.2 million from the International Development and Research Centre (IDRC).
For more information, please visit the York News website.
Ghana
Trans-Atlantic Migration Conference: African Diasporas in Solidarity in cooperation with the Centre for Migration Studies at the University of Ghana
In August 2019: Associate Professor Gertrude Mianda (Glendon Gender, Sexuality and Women's Studies and Director, Harriet Tubman Institute) is co-organized the Trans-Atlantic Migration Conference: African Diasporas in Solidarity with Prof. Joseph Teye Director of the Centre for Migration Studies within the University of Ghana (August 6-9, 2019). It brings together scholars and researchers studying the topic of migration and diasporas from Canada, Ghana, Nigeria, South Africa and the US. Other York faculty members and researchers involved in the Conference include are Prof. Joseph Mensah (Geography); Dr. Jeffrey Squire (Social Science); Dr. Sylvia Bawa (Sociology) and four (4) PhD students.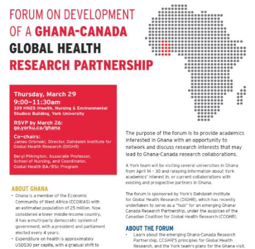 Faculty of Health Feasibility Visit to Ghana in April 2018
Prof. Beryl Pilkington (Global Health), Prof. Joseph Mensah (Geography) and Julie Hard (Manager, International Relations, Dean's Office) travelled to Ghana to meet with potential research collaborators and learn more about health services and research in the Ghanaian system of higher education.
Dahdaleh Institute for Global Health Research (DIGHR)
In March 2018, Faculty of Health and the Dahdaleh Institute for Global Health Research (DIGHR) organized and hosted the Canada-Ghana Global Health Research Partnership Forum, to review and discuss plans for a Ghana-Canada global health research collaboration. Dr. James Orbinski, Professor and Inaugural Director, Dahdaleh Institute for Global Health Research delivered the keynote presentation entitled, The Changing Landscape of Global Health.
Kenya
The Borderless Higher Education for Refugees (BHER) Project in partnership with two universities in Kenya – Kenyatta University and Moi University
BHER sees accessible and quality education as an essential opportunity for all youth and aims to make educational programs available where refugees need them.
The BHER training program has been developed with the unique challenges of refugee camps in mind.
Provides gender-equitable teacher training programs to working, untrained teachers who can then contribute back to the community, increasing and improving education in the camps overall.