---
Germany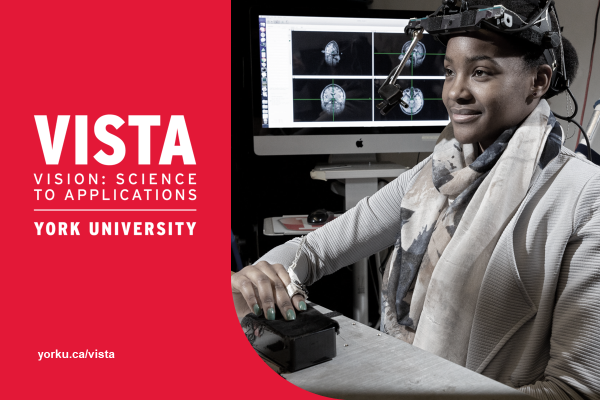 Vision: Science to Applications (VISTA) 
VISTA and Brain in Action are prime examples of jointly funded interdisciplinary research and scholarship between York University and the Germany. The projects received funding awards from Canada's NSERC and German Research Foundation (DFG).

German State of Hesse' highly reputable universities that are partners to VISTA - Philipps University of Marburg and the Justus-Liebig University of Giessen.
Lead York University researchers for the VISTA project are Prof. Doug Crawford, Canada Research Chair in Visual-Motor Neuroscience; Distinguished Research Professor in Neuroscience; and VISTA Scientific Director and Prof. Denise Henriques (School of Kinesiology and Health Science).
Faculty of Education has a long-standing strategic partnership with the Pädagogische Hochschule Freiburg and cooperation activities are since 2007 (the last 12 years)
Student Exchange
43 Ph Freiburg students (incoming) have come to York Faculty of Education
32 York Faculty of Education students (outgoing) have gone to PhFreiburg
Faculty Exchange
12 York faculty members have gone to PhFreiburg:
9 PhFreiburg faculty members visited York University within the framework of the faculty exchange:
Research
Prof. Don Dippo has supervised at least two graduate students from PhFreiburg and PhFreiburg has supported an equal number of Prof. Dippo's graduate students who have gone to do research at PhFreiburg.
Approximately 6 -7 more students came to York for research and graduate coursework and PhFreiburg hosted (and generously funded) one of Faculty of Education's former doctoral students who got access to Freiburg libraries.
Teaching and Pedagogical initiatives
Team-teaching: Dr. Kurt Thumlert (Faculty of Education and Institute for Research on Digital Learning, IRDL) is currently in PhFreiburg for faculty exchange; and is collaborating with German MA students and York graduate students to deliver online/ICT-based courses and seminars for Borderless Higher Education for Refugees (BHER) program in Kenya.
Partnership between Faculty of Environmental Studies (FES) and J.W. Goethe University Frankfurt
An example of a multi-layered engagement between York and a German university.
Prof. Roger Keil grew up in the State of Hesse and is an alumnus of J.W. Goethe University Frankfurt (also has an ongoing relationship with the Technical University of Darmstadt).
FES Professors Ute Lehrer and Roger Keil collaborated with J.W. Goethe University Frankfurt Professors Susanne Heeg and Bernd Belina through the SSHRC Research Project 2011 to 2017: A Comparison of Two Metropolitan Regions - In Frankfurt: Eschborn and Hanau, In Toronto: Markham and Barrie - a comparative study of Toronto (Markham and Barrie) and Frankfurt (Eschborn and Hanau) Metropolitan regions from 2011 to 2017.
An active student exchange program between York and J.W. Goethe University Frankfurt facilitates mobility of up to two graduate students from the J.W. Goethe University Frankfurt per year. They spend a full term at York taking courses for credit.
Professors Lehrer and Keil has organized two summer programs in Germany as part of the Global Suburbanisms Project (http://suburbs.info.yorku.ca/). To date, two cohorts of FES graduate students have participated in the summer programs in Germany (in addition to France, China, and South Africa).
July 2019: High-level Visit of the State of Hesse Delegation with university presidents, German Consul General in Toronto and DAAD senior leaders in Toronto and New York City.
France
France has long been significant in York University's international engagement. York has many linkages with French institutions and close relationships with the French authorities in Canada (i.e. Consulate General of France in Toronto).

Visit of the new Consul General of France in Toronto in January 2020 hosted by President Lenton, LA&PS Dean and York International

36 York Partnerships in France: 4 university-wide/institutional; 9 Ontario / Rhône-Alpes; 7 multi-Faculty partners and 16 Faculty-specific partners.
825 co-authored publications between York University and 123 collaborating institutions in France from 2014 to 2019.
York University has academic programs in French Studies: BA & MA at Glendon and Keele campuses; BA in Translation from Glendon's School of Translation and a Maîtrise en Traduction (Français-Anglais) as well as a Certificat en rédaction professionnelle.
Glendon College has dual degree partnerships with EMLYON Business School and Sciences Po, University of Strasbourg.
Schulich School of Business has an active relationship with Aix-Marseille University.
Student exchange. SB and AMU exchange program has a consistent activity (incoming and outgoing) of undergraduate exchange students going to France annually.
Faculty-led programs. Between 2013-2015, SB hosted two (2) AMU faculty-led programs of 30-40 students.
Osgoode Hall Law School has a long-standing exchange agreement with Aix-Marseille University.
York University is a partner to the Ontario Universities International (OUI) and annually sends York University students to OUI academic exchange and summer programs. From 2016-2019, about 45 York students participated in OUI mobility programs.
The French government has bestowed honors on several York faculty members:
Glendon College's former Principal, Kenneth McRoberts, was named Officier de l'Ordre des Palmes Académiques in recognition of his significant contribution to the promotion of French education outside France.
Jean-Gabriel Castel (Osgoode Hall Law School) awarded Officer of the National Order of Merit of France).
Hédi Bouraoui (French Studies) awarded Chevalier de Palmes Académiques.
United Kingdom
Top partner for research collaboration (SciVal)
Top host country for York University exchange students
President Lenton is a Board Member of the Association of Commonwealth Universities (ACU) based in London
There is a significant number of York alumni based in the UK and including Victor Dahdaleh who donated 20 M towards the establishment of the Dahdaleh Institute for Global Health Research
Oct 2019: Global Engagement Delegation from the UK, Australia and Ireland