on The Silent Cry by Kenzaburo Oe. Although Noriko Takata, a student of clinical psychology in Japan, is pleased with the group's struggle with the novel, she disagrees with some of the observations. "As far as literature goes, there are no taboo subjects left any more," she says. "Oe is not the only one who describes what Daniel Jacobs calls 'taboo subjects,' especially Oe has always mixed literature with politics."

Takata also advises our writers to better understand the Japanese mentality. "It seems to me that in Japan the handicapped are still regarded as outcasts," she says. "Moreover, Oe was already a famous super-elite novelist when Hikari was born so that he has the luxury of rejecting others' pity. It is true that 'having a mentally challenged child is not the end of the world,' as noted by Maria Nadeau, but in a society like Japan, parents feel ashamed of having a retarded son."

These remarks have provoked discussions among our writers in the classroom. The status of the mentally challenged in Japan aside, human rights issues in China have triggered most of the debates. While a few respondents caution us against undue bias, others upbraid Beijing for its high-handed measures to suppress the pro-democracy movement.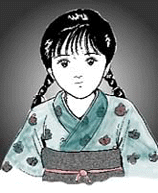 "I really, really enjoyed reading your responses to some of the literature you are studying," says Tara Goldstein, assistant professor of cross-cultural education at the University of Toronto. "Your responses are thoughtful, creative, and insightful. The issues you raised in your work reminded me of an article I read several years ago in Ms. Magazine: 'Cha Ling Talks with Robin Morgan.' Chai Ling was a leader of the democracy struggle at Tiananmen Square, and Robin Morgan is a prominent American feminist writer and thinker." Goldstein sent us a copy of the interview so that the writers could add it to their own dialogue.
In the interview Cha Ling tells Robin Morgan: "But for myself, what I want most right now is to become a real woman." Her new mission in life has raised a few questions. Now that Cha Ling and her husband are both in the West, is the democracy movement a thing of the past for her? "It grieves me to note that Cha Ling, a spokesperson for China's democracy movement at Tiananmen Square, has become a mere echo of Robin Morgan, her so-called 'jie jie' (older sister)," says one respondent. Another poses the same question asked by some Chinese journalists that night Cha Ling went dancing: "How can you dance when people are suffering?"
Other responses to the Tiananmen Square incident center on A Higher Kind of Loyalty, by Liu Binyan. Sinologist Geremie Barme of the Australian National University, for one, suggests that the writers take "something of a more sceptical view of the literary luminary of China." An anonymous reader cites numerous human rights violations worldwide that he or she deems more outrageous than the 1989 killings in Beijing. "Let us not confuse the issues," the reader says. "This is not at all to justify what happened in Tiananmen Square, but just to help see things in perspective."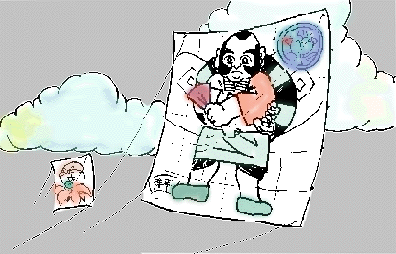 Two French Canadians, however, applaud the people who have the courage to defy the communist authorities. The pro-democracy movement, says Huguette Fontaine, opens "a window of hope to the Chinese people." Ghislaine Pharand, a literacy promoter from Montreal, lauds "the sense of poetry," especially the kite image used by Liu. "The kites flying freely in the open sky, going wherever they please, in direct contrast to the incarceration of human beings."
Also noteworthy is a factual error pointed out by Daniel Metraux in the article "Tribute to Humanism: 1957 Revisited," by Michael Kociuba. "The Yankees did not win the World Series in 1957," Kociuba concurs. " I basically took a blind shot in the dark due to time constraints. The true World Series champion was the Milwaukee Braves. They defeated the Yankees in seven games, according to The New York Times."
On the whole, responses to the first three issues of Road to East Asia range from requests for further information to commentary on the journal, Billy Lo's illustrations, and individual articles by the writers. A sampling:
Gail Ogivilie, staff at the municipal government of Edmonton, Alberta: I am intrigued by Kevin Perkins' analysis of Kogawa's Emily and Abe's sand woman. We as individuals can be fooled by the perception that our liberal society can be changed at will to meet our personal psychological needs. We cannot change society's past and have only limited control over the present. While it is most important that we have the political freedom to fight for social change, we still must live within the bounds of our society and must find an existential peace coinciding with our own social boundaries if we are to be happy. As well, we should admire rather than denigrate those individuals who are able to find the strength to live contentedly within more authoritarian societies than our own.
Your journal provides a learning experience for those who have not previously encountered the culture of East Asia. The writers introduce dominant themes and conflicts existing within each nation and invite comparisons to Western culture. Their incisive comments provoke one to want to read the literature for oneself. Your electronic journal shows that the writers are producing good quality and thought-provoking discussions. With ever-increasing multi-culturalism, it becomes crucial that Western society understands the issues and problems of other cultures.
Makoto Ueda, professor, Stanford University: The worlds Abe and Oe create in their fiction are very complex and inhabited by people whose existence is more symbolic than social. The heroine of The Woman in the Dunes is portrayed as the opposite of the nameless city woman (Niki's girlfriend), who is the typical woman in contemporary Japan. A close reader of the novel would have noticed the intended contrast between the sand woman and the city woman.
Brian Castro, Australian novelist, Melbourne:The "Issei and Nissei" article is a fascinating synopsis by Kevin Perkins on Joy Kogawa's Obasan. I enjoyed the approach via Kobo Abe's The Woman in the Dunes, which must have been one of the most interesting books written in Japan over the last half century. This comparison brings into focus not only the differences in cultural and historical interpretations, but highlights the crucial readings of gender which necessarily come to be questioned whenever Japan and the roles of race-gender-culture and all their implications are thrown together. Perkins is probing and succinct.
Michael Kociuba's "Dream Warrior Takes on Sleeping Giant" is a forum on China with that country's most famous dissident journalist Liu Binyan. The questions are timely, though some could have been more specific and contextualized, given Liu's vast knowledge of what changes are going to come about in China. Nevertheless, a tasty introduction by Kociuba sets the scene for greater engagement.
One can only say that given the thirst for East Asian literature in Australia, this journal serves a very important function: it enables writers, journalists, professors and students to keep in close touch with whatever is written by, about and on, those exiles, emigrants and offspring from East Asia who have not been absorbed willy-nilly into their host cultures.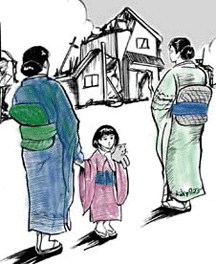 Saundrea Coburn, clerical staff, Toronto: Billy Lo's illustrations attract the reader's attention and persuade her to find out what lies behind the picture. Nice composition of people, juxtaposed against a bombed-out landscape.
I admire Hyon's mother for her faith in God despite adversity in the article "Advent of Christianity" by Sarah Tan, with May Yuen and Kevin Perkins. She reminds me of the stories I often hear from WDCX, a religious radio station based in Buffalo, New York. It broadcasts stories about people who are persecuted for their faith in that part of the world.
It also amuses me to note that Sukhui in "A Taste of Forbbiden Love," by May Yuen et al., is so consistent in her attempts to be someone she isn't. But people are like that, always wanting to live in a make-believe world. Her follies, which could be universal, keeps me interested in the article.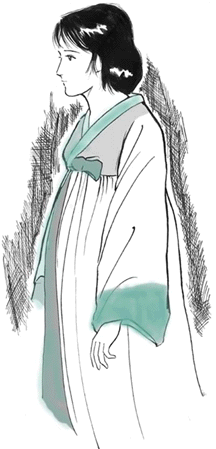 Angela Lai, Vancouver: The books the writers discuss sure sound interesting. All those summaries make me want to read those books!
Sherry Medwin: I enjoyed reading your commentary on Oe. I recently read his novel Nip the Bud, Shoot the Kids, and was both impressed by and engaged in his writing. I was fascinated by your notes about Oe's mixed reception in Japan. Thanks for your thoughtful contributions here.
Hanh Luu, student at Knox College: I find the information you present on the Internet to be very informative. But I am searching for videos that could be shown in the classroom.
Michele Micheletti: Thanks so much. I am looking for information about East Asian literature and philosophy.
Vivian Casper, professor of English at Texas Woman's University: Road to East Asia is interesting. The students seem earnest, and they write well.
Richard Wilbur, American poet laureate and Pulitzer Prizewinner: "I don't have a computer, and the Internet is only a rumor to me, but I have enjoyed looking at [the] students' imaginative responses to Liu Binyan's A Higher Kind of Loyalty. (Printouts of the articles were made available to Wilbur.)
David Kelly, instructor at Australian Defence Force Academy: This is a very promising location. Please keep it up.
Laurie Kern, Librarian, International Christian School, Hong Kong: I'm glad to have discovered your web page. I am always on the lookout for Asian literature in English. This is an interesting resource for me.
James Brown, Policy, York University: I have just given myself a tour of your site. I think it's a well organized, beautiful and tasteful site. Just wonderful.
Marianne Kelley, academic advisor, Founders College, York University: What great work you're doing on the Web with your students.
Patrick Taylor, professor of Caribbean studies, York University: I am very impressed! This is a very creative approach to East Asian literature in English, one that seems to generate a lively participation of students in the works that they are reading. I am also impressed at the way this Web page has been constructed. It provides a very good forum for the electronic publication of student work. It also provides training in writing, editing and computers. This is an excellent class project and should be shared with other instructors.
We would like to thank everyone for taking the time to submit commentary on Road to East Asia, which is now indexed by various homepages and search engines, including the Centre for the Support of Teaching at York University, the Computer-Assisted Writing Centre, also at York, and Vienna University in Austria. Recently James Hynes, who teaches publishing on the Internet, used our journal for demonstration at the School of Continuing Studies, the University of Toronto. Earlier this month, the Australian National University added our journal to their Register of Leading Asian and Pacific Studies Electronic Journals.
A separate report on reader responses to Vol. 1, no. 1
(Illustrations: courtesy of Billy Lo, Eastern Image Canada

)
---
Editors and Writers: Maria Nadeau, Han Ki-Dongt, Sarah Tan, Kevin Perkins,
Michael Kociuba, Jennifer Henry, Sekou Russell, May Yuen, and Daniel Jacobs
Instructor and Founding Editor: Isabella Wai
---
Copyright © 1996 by the author. Information from this article should be attributed to the author.