ISSN 1205-3597



Road to East Asia
A journal on contemporary East Asian literature in English
Welcome to the World Wide Web Home page of Road to East Asia
Written by students of FC1750.06
at Founders College, York University
Vol.2, no. 1 November, 1996
---
Wrestling with fate
by Neena Gill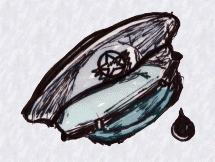 "Every nation has the government it deserves," says Joseph De Maistre. Citizens who do not fight for their rights by standing up to their government are doomed to live in a country where freedom does not exist and where the needs of its people are not met. For instance, Gao Xingjian in his play The Bus Stop portrays a young woman who represents the disillusioned masses of China complying quietly with Beijing's rulings and abandoning themselves to fate. Unless action is taken against human rights violations, the Chinese people will continue to live unhappily in an undemocratic society.

In The Bus Stop, the girl's disillusionment is caused by her fear of going against all powerful fate. She waits for a bus, so that she may go into town to meet a last-hope blind date. She, however, lacks vision, and is blind to the reality. "It's pitch black," she says. "I can't see a thing." The young woman fails to see that she can take charge of her own destiny rather than leaving it to the bus company. Its disregard for the public parallels that of the Chinese government, both potentially corrupt and unreliable. By the same token,the Chinese people, waiting for the authorities to fulfil earlier promises of wealth are disillusioned.

Although time continues to dim her young charms, she continues to wait for the bus and hesitates to disrupt the bus company's transportation services since it is against the law to do so. The woman demonstrates her submissiveness in her obedience to authority. She only takes such an innocuous action as shouting for the bus to stop although it never does. Perhaps Gao suggests more drastic measures are necessary if the Chinese people want their voice to be heard. Furthermore, the woman shows her ungainly compliance when she "follows the crowd" at the bus stop and when she refuses to wear floral dresses because no one else wears them in the suburbs.

As a representative of the Chinese masses, she lacks initiative to fight for a better future. The people must face reality and abandon the illusion that reliance on fate is the correct way to deal with problems they have with their government. On the contrary, active participation in running the political system is the only approach to reforming an administration.

Gao, Xingjian. "The Bus Stop." Trans. Geremie Barme. Trees on the Mountain. Ed. Stephen Soong


and John Minford. Hong Kong: The Chinese University Press, 1986, pp. 379-85.

---

Copyright © 1997 by the author. References to this text should be attributed to the author.

---

Editors and Writers: Jessica Martin, Daniel Sun, Brenda Lo, Kevin Hodgson,
Julie Shim, Shelly-Ann Gunness, Candice Wong, Derrick Choy
Hilaneh Mahmoudi, Megan Donnelly, Benjamin Bacola, Neena Gill
Instructor and founding editor: Isabella Wai

We would greatly appreciate your comments. Please click here.