ISSN 1205-3597



Road to East Asia
A journal on contemporary East Asian literature in English
Welcome to the World Wide Web Home page of Road to East Asia
Written by students of FC1750.06
at Founders College, York University
Vol.2, no. 1 November, 1996
---
Idealist finds love in hate
by Kevin Hodgson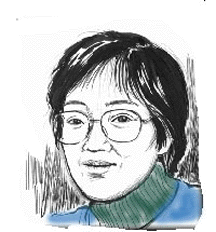 If anyone has a just cause to feel despair for himself and animosity towards the world, it would be Dai Houying's He Jingfu, a victim of unrequited love, social outcast, and political scapegoat. However, rather than indulging in self-pity and acquiescing to fate, he finds hope in despair and love in hate, and uses the past "as a gauge against the future." Although an idealist he may be, He Jingfu precipitates social and political changes in China, advocates freedom and believes that an "ideal world isn't so far from the real world."

While at university, He Jingful discovers, for the first time, the notion of love in the form of Sun Yue, a studious student with versatile talents. But his love is not returned. His political activity was initially a desperte attempt to inspire the girl whom he loves but cannot love. However, his activism earns him the label of a rightist during the Cultural Revolution and is forced to discontinue his studies and rehabilitate via manual labor. But as an outcast, he studies philosophy in secret and becomes convinced that the concerted effort of the Chinese people, "like bricks in the Creat Wall," will overcome surmountable obstacles to achieve freedom.

Moreover, although he suffers both personal humiliation and public discrimination during his life as a tramp, he does not regret his actions and both pities and criticizes people who feel sorry for him because he knows that most Chinese people are not really for actions. He acknowledges that he is a minority, but asserts that he is so only because most people "stand back," making him "stand out."

Although orphaned by his people, He Jingful has taken his love for Sun Yue and given it to humanity. His quest for truth and freedom is not for personal gain, but to improve his people's lot. For He Jingful understands that synonymous with freedom in a repressive regime are martyrs and further suffering. By continuing to cherish humanism and denouncing misinterpretations of Marxism, he shows that he is willing to be a martyr for his people, that any gain the Chinese people make down the "long road" towards realizing his ideals outweighs his personal loss.

Bibliography

Dai, Houying. Stones of the Wall. Trans. Frances Wood. London: Michael Joseph, 1985.

---

Copyright © 1997 by the author. References to this text should be attributed to the author.

---

Editors and Writers: Jessica Martin, Daniel Sun, Brenda Lo, Kevin Hodgson,
Julie Shim, Shelly-Ann Gunness, Candy Wong, Derrick Choy
Hilaneh Mahmoudi, Megan Donnelly, Benjamin Bacola, Neena Gill
Instructor and founding editor: Isabella Wai

---

We would greatly appreciate your comments. Please click here.