ISSN 1205-3597



Road to East Asia
A journal on contemporary East Asian literature in English
Welcome to the World Wide Web Home page of Road to East Asia
Written by students of FC1750.06
at Founders College, York University
Vol.2, no. 1 November, 1996
---
Humanizing Marxism
by Julie Shim and Daniel Sun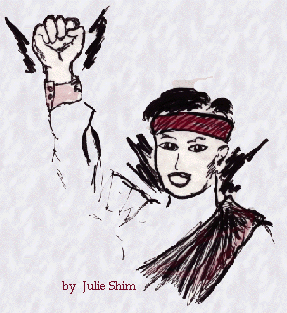 Against all odds, He Jingfu in Dai Houying's Stones of the Wall strives to humanize communism in his student days, while he is in exile, and after his return to mainstream society. He is a romantic lover, a compassionate friend, and a human rights activist even at the risk of his personal freedom. While he celebrates life with the woman he loves, in private he cries for humanity.

Although He Jingfu believes that communism is a viable political system, he is forever in search of a more humanistic application of it. In 1957, he was branded a "Grade One Criminal" for his defence of a fellow student who wanted to visit his mother living overseas because she was ill, and was expelled from Shanghai University to work in the countryside. He took two books with him -- The Dream of the Red Chamber (an 18th-century novel which espouses Confucian teaching and familial obligations) and The Selected Works of Marx and Engles. Wandering like a Buddhist devotee of old for years, he hoped to find a compromise between two seemingly conflicting ideologies.

To speak of He Jingfu, one cannot ignore his compassion for his fellowmen although he has hardly any close friends. He does not indulge in self-pity, but does mourn for his own life in the presence of Zhang Yuanyuan -- a mentor and surrogate mother. Yet adversity only strengthens his character. For many of his exile years working as a peasant, he was "Old He," his identity half concealed just like anyone who has been branded a rightist and has become a tool of class struggle. He Jingfu's concept of humanism seems to stem from a need to work out individually an answer to the problems in a communist state rather than to reform China's administration. Such efforts are partly motivated by his feelings for Sun Yue, who was already romantically involved with the man she later married. Doing his research on humanism and Marxism, he "pours" his love for her in his diary and writes her amorous letters. The actual purpose of his work seems to find out how one could freely express one's sentiments without being accused as a rightist or reactionary.

On the whole, He Jingfu is an intellectual who has been swept away by the waves of history which he could hardly resist. He is a survivor in the end after a brush with death which has forced him to reclaim his life. Inadvertently he becomes a mentor for the students he teaches at the university that expelled him earlier. Although he says he is not serious enough to be a leader, it seems fate has always other plans in store him.

Bibliography

Dai, Houying. Stones of the Wall. Trans. Frances Wood. London: Michael Joseph, 1985.

---

Copyright © 1997 by the authors. References to this text should be attributed to the authors.

---

Editors and Writers: Jessica Martin, Daniel Sun, Brenda Lo, Kevin Hodgson,
Julie Shim, Shelly-Ann Gunness, Candy Wong, Derrick Choy
Hilaneh Mahmoudi, Megan Donnelly, Benjamin Bacola, Neena Gill
Instructor and founding editor: Isabella Wai

---

We would greatly appreciate your comments. Please click here.