On United Nations internationally designated days, McLaughlin College lends our voice to these special occasions. Through talks and other commemorative activities, these events prompt action and raise awareness of global issues such as racism, war and human rights. Find details on our events below.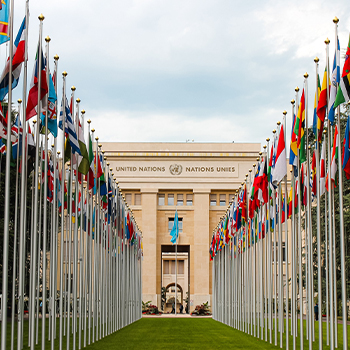 Chair: Professor David DeWitt
Moderator: Professor James C. Simeon
Panelists: Professors Richard Caplan, W. Andy Knight and Sandra Whitworth
UN International Day of Peace Commemoration and Special Panel Presentation
September 21, 2021
The International Day of Peace ("Peace Day") is observed around the world each year on 21 September. Established in 1981 by unanimous United Nations resolution, Peace Day provides a globally shared date for all humanity to commit to Peace above all differences and to contribute to building a Culture of Peace.
The 2021 theme for the International Day of Peace is "Recovering better for an equitable and sustainable world". We invite you to join the efforts of the United Nations family as we focus on recovering better for a more equitable and peaceful world. Celebrate peace by standing up against acts of hate online and offline, and by spreading compassion, kindness, and hope in the face of the pandemic, and as we recover.
Each year McLaughlin College recognizes a number of UN International Days with Special Panel sessions to further the UN's call for education, public awareness on issues related to peace. This UN International Day is perhaps one of its most important. All are invited to join us for our World Day of Peace Special Panel session via Zoom Webinar.
Past Events