Muhammad Shah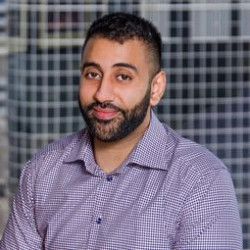 BA Honours, Communication Studies 2013
Currently: Investor Relations Supervisor: Private Equity and Real Estate

What I have been doing: Since I have graduated from York in the Communication Studies program, I have gone on to develop a career in investor relations. I deal with the back office of some of the world's largest Private Equity firms, and have gone on to become a Supervisor within my field. Additionally, I plan on taking steps to further my education through seeking accreditations and possibly returning to York for an MBA program.
Comments about the program: The Communications studies program at York University has been integral to my success. This program helped me to understand all that is going on in the media and communication. Some courses that stood out to my specifically are:
Popular Music as Communication and Culture: This course is one of the best courses I have taken at York University. Regardless of if you are a Communication Studies Major or not, this course should be at the top of your list. Dr. Phil Rose has a unique way of unpacking and helping you understand Music in a unique way, which, ultimately gives you a new perspective. What stood out to me about this course was the content and the ability for Dr. Rose to articulate things in a way that were easy to digest. He used personal experiences to help us understand unique concepts. To this day I still remember his anecdote about how difficult it was for him to publish his thesis about Pink Floyd as academics did not consider Pink Floyd to be 'high class music'.
Print! The history and Culture of the Printed Word: I cannot say enough good things about this course. From the content, to the unique teaching methods, and ultimately the professor (Anne MacLennan), everything was perfect about this course. Anne is able to connect with all students in a distinctive way, without sacrificing the content of her course. Anne had the ability to present information in a way, as if it was just a normal conversation, yet she was still able to effectively teach her course content. This is another course that is a must to take; not only did this course help me understand the medium of Print, but it helped me develop the skills needed to understand how to effectively communicate with my audience.
Communication Theory: Another great course, taught by Dr. Amin Alhassan. While the content isn't the most exciting, this is another course wherein the professor really made this work for me. Dr. Amin Alhassan has an interesting history as he has taught both in Ghana and at York University. His teaching methods and ability to make complex subjects easy to digest, is what really made this course work for me. Again, a good course to take if Dr. Alhassan is teaching.
Last updated February 2019