On July 6th, 2019, students from SP 3000 and SP2000 had the opportunity to join the Latin American community in Toronto and to participate in a Community Conversation event organized by Julio Fonseca and sponsored by the Department of Languages, Literatures & Linguistics and the Faculty of Liberal Arts & Professional Studies. Faculty members, representatives from York International, and members of the Diplomatic Mission of Cuba to Canada also participated in the event. The keynote speaker was H.E. Josefina Vidal Ferreiro, Ambassador of Cuba to Canada. Ambassador Vidal Ferreiro made an informative presentation about the new Cuban Constitution, which was recently approved through a referendum. She covered a wide range of issues including the impact of that Constitution in other Latin American countries and the challenges that Cuba faces today within the geopolitical context of the Caribbean region.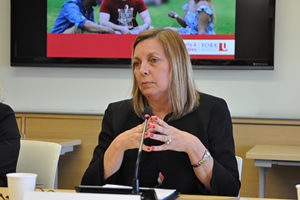 The Ambassador's presentation was followed by a Question and Answer period in which she answered a variety of questions from the audience and made comments about the political situation in Cuba, its socioeconomic system, the environment and gender equality.
As part of their summer courses, students enrolled in Spanish 2000 and Spanish 3000 had the chance to reflect upon the topics addressed during the Community Conversation.  Sana Shaban, a student enrolled in SP3000 wrote:
"A global perspective is a crucial part of success in an academic and practical environment. It is something York University prides itself on, and something its students strive to achieve.
The Community Conversation was an unequivocal opportunity to develop a more profound understanding of the different cultures, histories and perspectives that form the Canadian mosaic and the international community.  H.E. Josefina Vidal Ferreiro provided very knowledgeable insights into the progression of Cuba and, for me, the information she shared sparked connections to my education at the Schulich School of Business, as part of the iBBA program. I got to see first-hand the implementation of free-trade, and how it intersects with socialist values- something I did not feel was possible beforehand. I delayed a trip to attend this conversation and I'm very glad I did. The small size of the event ensured that a conversation flowed freely to maximize learning. I would encourage that such events be hosted in the future; students of all majors have a lot to gain by attending such conversations."
Jim Miller, a student from SP2000 wrote:
"What I liked about the event was that we got to meet an official representative of the Cuban government. This afforded us the opportunity to gain an insight into Cuban policy making - specifically the intensive consultations that led to the changes in the Cuban constitution. This was invaluable because this information was not filtered through the usual media channels with its inherent biases. I appreciated that fact that we were able to ask the ambassador direct questions with no limits on the topics. My only regret is that the ambassador had only a limited amount of time to be with us. I would love to attend similar events in the future."