Andrea Coelho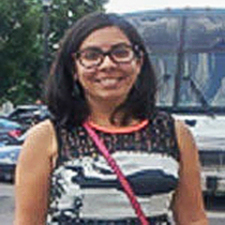 Portuguese & Luso Brazilian Studies '16
The Importance of Portuguese
Having studied Portuguese, I now have a greater knowledge and appreciation for my culture and the history of the Portuguese-speaking world. I care deeply about the local Portuguese community and continue to volunteer. However, I also enjoy relaxing on my patio after a stressful day with some great Portuguese and Brazilian literature. I particularly love reading books by Jorge Amado and José Luís Peixoto.
Studies, Work and Volunteering
After graduating from York, I went on to study Government Relations at Seneca College (Post-grad diploma). I have been working at Ontario Ministry of Children and Youth Services. I will be starting a new position in communications at IESO in September.
I continue to volunteer as an advisor to the Toronto Catholic District School Board, assisting the board and the Partners in Motion advising team to develop solutions that will solve the academic underachievement issues of Portuguese-speaking youth in Toronto.
Travel after York
After graduating from York, I travelled to Cuba, Dominican Republic and Portugal.
Future plans
In the near future, I plan to become a lobbyist. I will continue to travel. I cannot get enough of it. Still on my to do list are: Angola, Brazil, Scotland, Iceland and New Zealand.