Diana Morales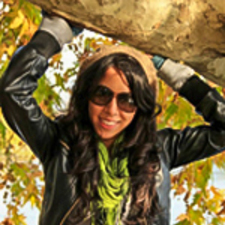 Major in Visual Arts and Minor in Spanish '10
Studies, work and volunteering in Spanish
After graduating from York, Diana pursued a Masters Degree in Spanish at the University of Toronto, in which she was able to keep learning about the Spanish culture and language. She was encouraged through her courses to further explore the relationship between literature and the visual arts, which she had begun to research as an undergraduate student at York. Diana also worked as a Spanish TA during her MA and through this opportunity she learnt a lot about second-language acquisition and teaching. Diana has also volunteered as an audio assistant for the Spanish audio guides at the Royal Ontario Museum. Her Spanish and Visual Arts background helped her get this unique opportunity, which she pursued while she continued to volunteer as a mentor in the DreamCatcher Mentoring Program, which connects high school students in the Yukon with mentors in their interested career fields. Through these varied endeavours, Diana has met and been able to inspire a lot of dedicated students with diverse interests and career goals, which she has found to be a very rewarding experience.
Travel after York
After finishing her MA, Diana travelled throughout Europe for four months. She started off in Russia and Latvia, where she got to experience the beauty, culture and hospitality of those countries and then spent three months living in Paris, where she practiced her French, improved her culinary skills, and got to take in the history, art, and architecture of this unique city. These travels will undoubtedly have prepared her for the exciting new adventure on which she is about to embark…
What the future has in store...
Diana would like to open her own murals and designs business and eventually run her own arts & crafts store with workshops for children. At the same time, she would love to continue pursuing higher education such as completing a PhD in the Visual Arts, Spanish, or both. In the meantime she is working as a translator for the Art Gallery of York University, as well as an Office Manager for a Health & Fitness company. No matter where her work and studies taker her, though, she hopes to always keep travelling!