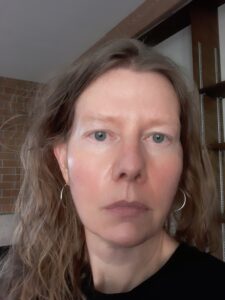 The Department of English is proud to welcome award-winning Canadian poet, Karen Solie, as our first ever Writer-in-Residence. Between January 7 and April 30, 2023, Karen will be available for manuscript consultations with York students, faculty and staff who are working on prose and poetry projects. She will also be holding a reading at the end of January and hosting four events in the coming months. Anyone interested in meeting with Karen to discuss their writing can sign up here for an appointment.
Karen is the author of five collections of poetry. Her third, Pigeon (Anansi, 2009), won the Griffin Poetry Prize, Trillium Poetry Prize, and the Pat Lowther Award. A volume of selected and new poems, The Living Option, was published in the UK in 2013, and was a Poetry Book Society Recommendation. The Road In Is Not the Same Road Out (Anansi, FSG, 2015) was shortlisted for the Trillium Book Award, and her most recent collection, The Caiplie Caves (Anansi, FSG, Picador, 2019), was shortlisted for the T. S. Eliot Prize and Derek Walcott Prize.
Her work has been translated into seven languages and has appeared in journals and anthologies across Canada, the US, the UK, Europe and Australia, including in the sixth edition of the Norton Anthology of Poetry. She has taught writing at universities and writing programs across Canada and the UK. She was the 2022 Holloway Visiting Poet and Lecturer for the University of California, Berkeley. She is currently a member of the creative writing Faculty at the University of St. Andrews, Scotland.
Consultations:
Four meetings per week will be held by appointment only
Appointments can be made here through Calendly at least two weeks prior to each meeting
Submission: Three poems or twelve pages of prose; .doc or .docx files only
Office location: 628 Atkinson Building
Events:
Introductory solo reading (end of January)
Two workshops in February (one before and one after reading week)
March panel/gala event
If you have any questions about the Writer-in-Residence program, please contact:
Pasha Malla: pmalla@yorku.ca
Associate Professor, Creative Writing
Department of English
Faculty of Liberal Arts & Professional Studies