On February 6, the Department of English honoured award recipients at the annual English Achievements & Awards Reception. The program offers a number of awards each year, including prizes and scholarships that recognize the achievements of majors and minors in English and Creative Writing. Several awards were established to honour former faculty members; one honours the Department's retired faculty; and one was established by a former Chancellor of York University. In addition, prizes are awarded for the best essays written in courses at each year level. Most of the awards are supported by donations from former faculty, alumni, and affiliated community members. The Department also fêted the winners of the 2021-2022 T.A. Award for Excellence in Teaching, the Stephanie Stavro Scholarship in English, and the LA&PS Digital Composition Prize (3000-Level). This year's awards reception – the first one since before the pandemic – was held in a bright, balloon-festooned dining room in the Schulich Executive Learning Centre. It was organized by the English Department with the support of staff members Michelle Hong and Rose Crawford.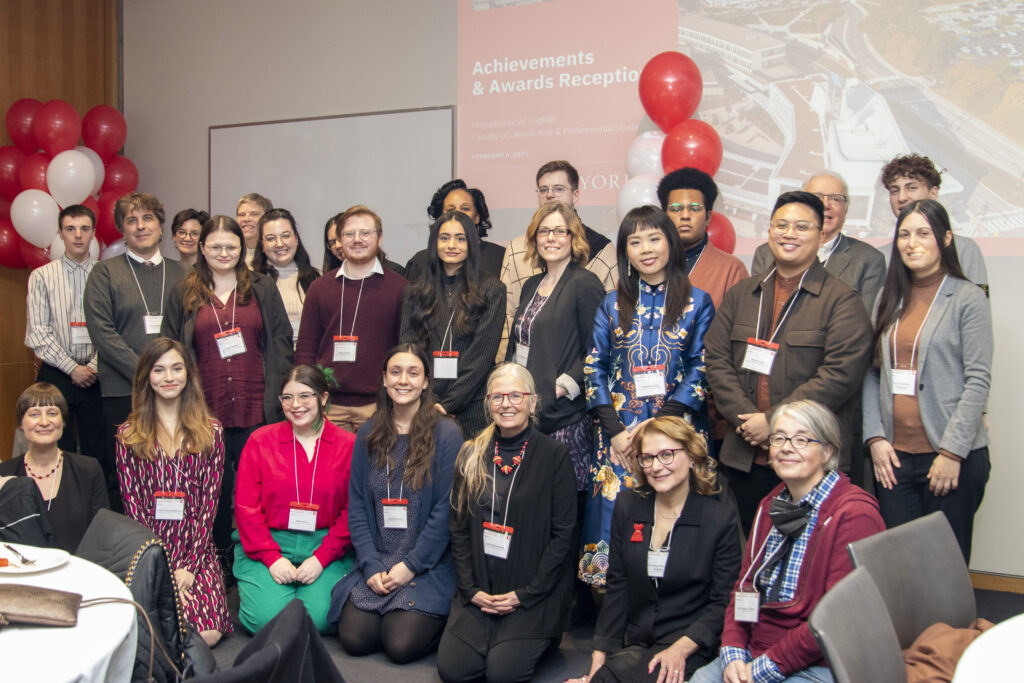 The event began with opening remarks by the Chair of English, Professor Tina Y. Choi, and Associate Dean, Teaching & Learning, Professor Anita Lam. Both Professor Choi and AD Lam extended warm congratulations to the award winners and spoke about the pleasure of being able to honour students in person after a three-year hiatus. The Undergraduate Program Director of English, Professor Stephen Cain, presided over the ceremony. Faculty members who had nominated students for prizes presented the awards to the winners, speaking in glowing terms of their students' work. Many award recipients took to the podium to express eloquent thanks to their professors, families, and friends. Following the formal ceremony, award winners and their guests, faculty, and staff mingled over sandwiches, treats, and beverages.
"It is such a delight to celebrate our wonderful students," said Natalie Neill, a Teaching Stream Professor in the Department. "We are so proud of their accomplishments."
Read full story on YFile.
---
Warm congratulations to all the winners and honourable mentions! The following is the list of winners:
Best 1000-level Essay Prize 2021-2022
Winner: Tia Buckeridge for "Poke the Bear: Deconstructing Hegemonic Culture and Gender Norms in Satire"
Honourable Mention: Sarah Paiva Spadafora for "The Cut That Always Bleeds"
Best 2000-level Essay Prize 2021-2022
Winner: Lisa Sterrett for "A Postmodern Caribbean Commodity"
Best 3000-level Essay Prize 2021-2022
Winner: Kirandeep Bhanot (2022 Recipient of the LA&PS Digital Composition Prize) for 'Man vs. The Horrors of Nature in Green Romanticism: "The Rime of the Ancient Mariner" vs. "Darkness"'
Honourable Mention: Judith Nancekivell for "The Function of Music in As You Like It and The Tempest"
Best 4000-level Essay Prize 2021-2022
Winner: Vanessa Spagnuolo for '"I'm sorry. Me too.": The Disruption of Oppression in Harlem Duet and its Predecessor'
Honourable Mention: Raven Lovering for "Audible Visions: Synaesthetic Synergy in the translation of The Hours from novel to film"
The Avie Bennett Prize in Canadian Literature 2021-2022
Winner: Sebastian Fess for "The Cost of Building a Nation: The Representation of Immigrant Workers in 'Towards the Last Spike' and In the Skin of a Lion"
The Brian Hepworth Memorial Prize 2021-2022
Winner: Adrian Grek for "The Unbearable Weight of Huffing Opinions About the Mind-Brain Problem"
The Department of English Retirees' Scholarship 2021-2022
Co-Winner: Jelem Cuary
Co-Winner: Jordan Gionet
The Elizabeth Sabiston Prize 2021-2022
Winner: Zoe Kavouris for '"am I not a gracious proof": Manipulating Constructions of Femininity in "The Defence of Guenevere"'
Honourable Mention: Ashlei Stewart for "The Enchanting Queen: Examining Cleopatra's Sexuality in Antony and Cleopatra"
The H.K. Girling Literature Prize 2021-2022
Winner: Tiger Thompson-Davidson for "Oedipus Rex: Monarchical Exploitation and Contemporary Class Struggle"
The June McMaster-Harrison Memorial Prize 2021-2022
Winner: Robert Candoni for "After Arthur: An Attempt at Describing a Post-Arthurian Text"
The Lucille Herbert Memorial Scholarship 2021-2022
Co-Winner: Abbie Mauno
Co-Winner: Kaila Gallacher
The Matthew Ahern Memorial Prize 2021-2022
Winner: Caio Popovic
The Stephanie Stavro Scholarship in English 2021-2022
Winner: John Batista
The TA Award for Excellence in Teaching 2021-2022
Winner: Maybelle Leung