On Oct. 1, the 2019-20 Canadian Writers in Person Lecture Series presented renowned musician and author Tanya Tagaq. York University Teaching Assistant Dana Patrascu-Kingsley sent the following report to YFile.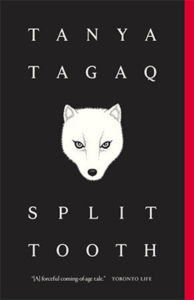 Musician and author Tanya Tagaq visited York University on Oct. 1 to talk about her Giller Prize-nominated book, Split Tooth, as part of the Canadian Writers in Person Lecture Series. During her visit, she gave a moving performance that included Inuit throat singing and reading from Split Tooth.
The book started as a diary that Tagaq wrote for herself. Most of it was written over the past 15 to 20 years, though some of the pieces are over 30 years old. Tagaq said that she sees putting her work out as "an act of resilience."
According to the publisher, Penguin Random House Canada, in Split Tooth, "Tanya Tagaq explores a world where the distinctions between good and evil, animal and human, victim and transgressor, real and imagined lose their meaning, but the guiding power of love remains." In it, mythological storylines intertwine with real events.
The book combines poetry and prose, and Tagaq spoke about the relationship she sees between the two: "I'm very interested in sound and the ideas that sound can make…. Because I work with sound, poetry and prose don't make a difference to me. It's all cadence."
Originally published on yFile.