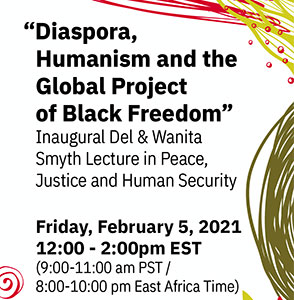 We are thrilled to invite you to the Inaugural Del & Wanita Smyth Lecture on Peace, Justice and Human Security. As we take action against anti-Black racism as a Faculty, this lecture series offers a space for community building, knowledge sharing and mobilization. Starting this series off with a multi-national perspective, our first lecture brings together influential scholars/thinkers from Canada, the United States, and Kenya for a conversation about the possibilities and limitations of Black Freedom, moderated by Christina Sharpe.
Lecture Details:
Title: "Diaspora, Humanism and the Global Project of Black Freedom," Inaugural Del & Wanita Smyth Lecture on Peace, Justice and Human Security
Date: Friday, February 5, 2021
Time: 12:00 - 2:00pm EST (9:00-11:00 am PST / 8:00-10:00 pm East Africa Time)
Attendance: Free and open to the public.
Register: Please register for the event.
See full size poster - pdf
Speaker Details:
K'eguro Macharia is an independent scholar from Nairobi, Kenya, and author of Frottage: Frictions of Intimacy across the Black Diaspora (2019)
Zakiyyah Iman Jackson is Assistant Professor of English at the University of Southern California and author of Becoming Human: Matter and Meaning in an Antiblack World (2020)
Rinaldo Walcott is Professor in the Women and Gender Studies Institute, University of Toronto, and author of The Long Emancipation: Moving Toward Black Freedom (2021)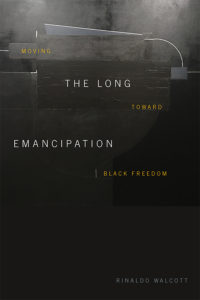 We look forward to coming together online for this event and hope to see many of you there.